Virtual reality in entertainment is one of the most exciting areas of metaverse-related development. It can instantly transport you to some of the world's most notable events. And VR can even bring people's imagination to life. But make no mistake, the futuristic promise of VR entertainment is a modern-day reality. And you're about to see some of its best examples.
Quick Menu:
Virtual Reality in Entertainment Is an Important Part of the Metaverse's Larger Whole
Virtual reality in entertainment offers endless possibilities. But the reason for this potential is solidly rooted in the metaverse. The metaverse is best conceptualized as a merger between the physical and online worlds through various new technologies. You can fully immerse yourself in metaverse virtual worlds by donning a VR headset. But connections are the fundamental metaverse meaning.
You can connect to it in different ways for different experiences. Game consoles, computers, and smartphones will provide different metaverse experiences. But all these methods still access a shared, socially oriented realm that's always on and which your actions influence permanently. The metaverse is still in development, and people are still determining how it'll turn out. But you can experience it for yourself right now. And you'll find a full overview of the metaverse in the article "Metaverse Guide; Understanding The Basics Will Open Up a New World".
What Is Virtual Reality?
Of course, virtual reality in entertainment is itself an example of virtual reality (VR). Virtual reality encompasses technologies that envelop users in worlds of computer-generated imagery. You simply don a VR headset, and you're instantly immersed in a virtual environment that can feel incredibly realistic. You'll see objects, landscapes, and even other people perfectly rendered through your headset's display. And you'll also be able to hear realistically generated sounds through the headset's audio output.
You embody yourself in VR with a metaverse avatar and can then explore virtual realities. This could involve anything from stepping into video games to sports training, workouts, and even practicing virtual surgeries within the medical school. The first VR implementation is arguably a 1950s theater system called Sensorama. It used 3D film, vibrations, and smells to immerse moviegoers. In the article "Virtual Reality; Discover VR, Its Components, Technology, and Players", you can discover more about VR.
What Is the Difference Between Virtual Reality, Mixed Reality, Augmented Reality, and Extended Reality?
While VR is one form of extended reality (XR) and the most important to virtual reality in entertainment, it's not the only way to access the metaverse. Augmented reality puts a digital overlay in front of users and can even incorporate artificial objects. The most significant difference between AR and VR is in scope. AR augments existing reality, while VR creates a new virtual one.
Mixed reality can be thought of as a midway point between the two. It uses projections, like holograms, to send immersive imagery out into the world. You can learn about AR in the article "Augmented Reality; Learn About AR Tech, Use Cases, Devices, and More!". And the new realm of MR is laid out in "Mixed Reality; Everything to Know About MR Technologies". Finally, you can learn about XR in general in the article "Extended Reality; How is XR Changing the Digital World?"
Receive Metaverse Information & Related Topics
What Is the Entertainment Industry?
The last piece of the puzzle that is virtual reality in entertainment comes from defining the true scope of the entertainment industry. The entertainment industry is sometimes also known as show business or show biz. But whatever you call it, the industry is a huge part of the world economy. Show biz includes the more obvious elements like music, film, and TV. But theater, live performances, and even vaudeville are also a part of it. Likewise, the industry includes the mass media companies which control and distribute all of those properties, and more, to the general public.
6 Virtual Reality in Entertainment Branches
The definition of the entertainment industry is quite broad. As such, it's best to subdivide it into separate branches when discussing virtual reality in entertainment. Some technologies and techniques can be shared among all of these branches. But each branch also has unique elements that open up new opportunities.
Film & Cinema
The film was one of the earliest examples of virtual reality in entertainment. Even events as auspicious as the Cannes Film Festival were early adopters of VR. In fact, in 2016, it became the first to broadcast presentations and VR shorts within a dedicated VR section. The increased interactivity of VR means that the future may well meld games and movies together. Imagine not just watching a movie but genuinely being part of the experience. VR video production and the devices to play their results produce extraordinary experiences. And ones that dramatically change how people can interact with their entertainment.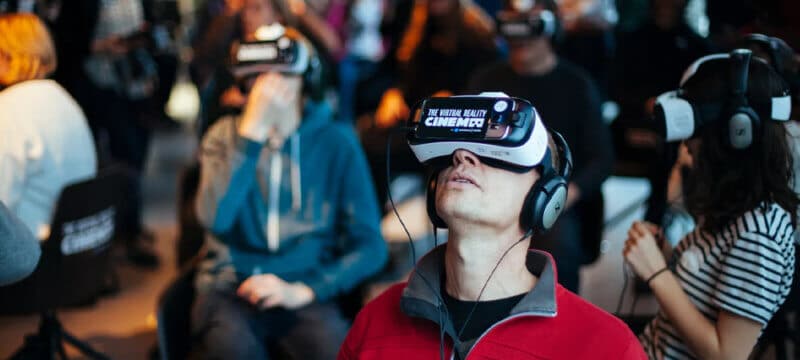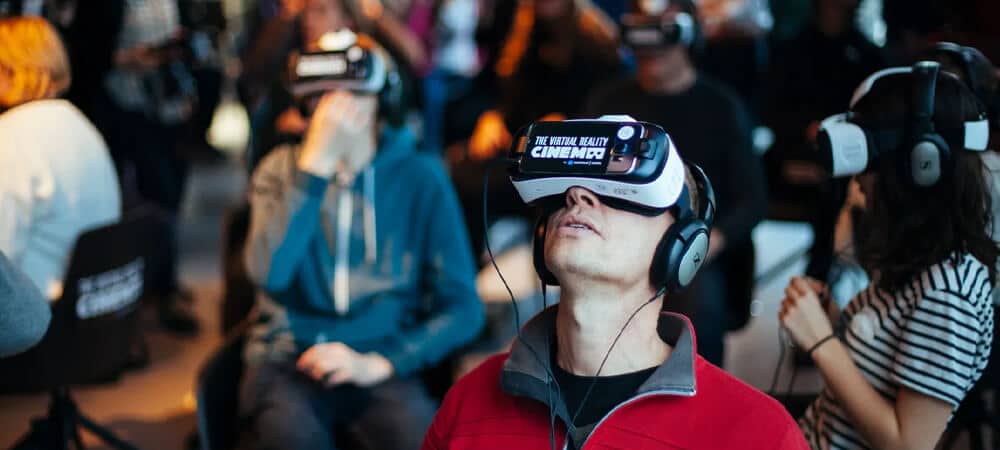 Image attribution: Architectural Digest
Museums
Virtual reality in entertainment is indeed a futuristic technology. But it's also one that can help people, especially kids, explore the wonders of the past. Interactive displays with VR are one of the best ways to get children interested in learning about the past. After all, look but don't touch isn't a concept most kids find particularly appealing. But adults and children alike can use VR to experience historical events as if they were there. And this can greatly impact what people take away from museums, heritage sites, visitor centers, and many related areas.
Galleries
Virtual reality in entertainment systems like the Art Gallery VR app are changing how people experience art galleries. Standard hardware like laptops and tablets are already making art a more interactive experience. But the Art Gallery VR app takes that to the next level by opening up the flow of information. If you've ever found yourself wondering about the history, context, or other elements of an exhibit, then you're hardly alone. But the virtual reality app makes it easy to engage in question and answer sessions instantly, create paintings if inspiration strikes, and fully immerse yourself in the subject matter.
Music & Nightclubs
What if you could transport yourself to the best nightclubs and concerts by just putting on a headset? That's one of the ways that virtual reality in entertainment is changing people's relationship with music. Virtual venues like Shelter VR act as an entire platform for the latest music. And platforms like Wave VR and VRChat allow people to attend virtual reality concerts from anywhere in the world. One of the exciting things about VR's relationship to music is how it lets you tailor your experience to meet your needs, whether you're looking for nightclubs, concerts, or more.
Arcades
Quarter-munching arcades have an undeniable appeal to gamers. Unfortunately, they've become a scarce commodity in the physical world. But that doesn't mean you can't experience some of the best arcades for yourself through virtual reality in entertainment. VR arcades take several forms, but Warehouse VR is the most popular. A Warehouse VR experience encompasses a large area where you can wander around while exploring a virtual world. And in this context, that means getting a chance to wander through the video game arcade of your dreams. And some virtual arcade games are even exclusive to the platform.
Theme Parks
Most theme parks are in a constant state of development. The best theme parks will typically change, grow, and adapt to the possibilities presented by new technologies. So it's unsurprising that virtual reality in entertainment has converged with theme parks. VR can be a fantastic tool to teach new park employees how to work with the location's equipment safely. And it opens up the possibility for a new type of attraction. VR increases park attendance, provides guests with greater awareness of the area, cuts costs when VR can replace enormous construction projects, and makes everything safer.
4 Real-World Examples of Virtual Reality in Entertainment
The various forms of extended reality have reached almost any industry you could imagine. And virtual reality in entertainment, in particular, has some inspiring examples. But while there are several VR entertainment projects out there, the following are among the most notable.
Louvre
The Louvre is one of the most popular, and indeed the largest, museums worldwide. Among other exhibits, the Louvre is home to the Mona Lisa. And Leonardo da Vinci's masterpiece is only one of the museum's treasures. Thanks to virtual reality in entertainment, you can now take a Louvre tour for yourself. "The Mona Lisa: Beyond the Glass", experience is just one of the options available to VR enthusiasts. You can also pick from specific themes. The available VR tours include "The Body in Movement," "The Advent of the Artist," and "Founding Myths: From Hercules to Darth Vader."
Video: Mona Lisa: Beyond the Glass at The Louvre 
Virtuoso VR
Metaverse companies have created various new and exciting ways to engage with their favorite entertainment options. But virtual reality in entertainment also opens up possibilities for personal creativity and expression. Virtuoso VR lets anyone create and play music within a virtual musical sandbox. It doesn't matter if you've never played any instrument before. The system's six instruments work with Tempo Sync and preset scales to keep you sounding great. You can use Empads to set up a custom drum kit, deftly press the keys of a 3D Oorgan and more. It even provides a virtual microphone for vocals.
Video: Virtuoso – Launch Trailer 
Dubai VR Park
The Dubai VR Park was one of the first examples of virtual reality in entertainment to merge augmented and virtual reality in the Middle East. This innovative technique can be enjoyed in any of the eighteen rides and park activities. Adventurers, gamers, and everyone in between see the park as a fantastic utopia in the middle of beautiful Dubai. While the park has some wonderful attractions, the Burj Drop deserves special attention. It simulates decent down the Burj Khalifa. It's a fascinating experience where you can really feel like you're fighting gravity while suspended above the ground.
Video: A look inside Virtual Reality Park in Dubai Mall
VRChat Nightclubs
VRChat is an important name in the world of virtual reality in entertainment. The VR-based social platform is notable for the control it gives users. For example, you can adjust the volume as desired and use almost any user-made avatar which strikes your fancy. This freedom extends to some amazing nightclub parties during the weekends. You can rave in the head of a giant robot in Mass. Shelter offers a club experience set within a sci-fi story. Users who enter a phone booth in VRChat might find their way to Ghost Club. And these are only a few of the possibilities.
Video: Shelter 3.0 | SHELTERVRCLUB
From Virtual Reality in Entertainment to the Business World as a Whole
If you keep up with metaverse news, you've undoubtedly seen VR appearing in various contexts besides virtual reality in entertainment. VR is a tool, medium, platform, and many other powerful options all rolled into one. And this versatility means that it's essentially applicable to any industry. You can currently find VR being used for tourism, hospitality, fitness, healthcare, and so much more. And each industry brings its own unique spin to it. You can see how other industries are using VR in the article "Virtual Reality Industries; An Overview of All Sectors Using VR".
Augmented Reality as a Mirror to Virtual Reality in Entertainment
There's no question that virtual reality in entertainment is already showing impressive results. But it's not the only form of extended reality to make inroads into the professional sectors. Augmented reality is an incredibly popular option because most modern smartphones can run AR apps without any additional hardware or extra costs. And this ease of adoption has led to industries as diverse as shopping and food services picking up on the trend. You can discover just how widespread professional AR use already is in the article "Augmented Reality Industries; An Overview of All Sectors Using AR".
Virtual Reality in Entertainment Extends to Other Media
No discussion of virtual reality in entertainment is complete without looking at the impact of the NFT on the world. Many people's personal NFT meaning is synonymous with digital art. And NFTs have impacted both visual and audio-based mediums. But NFTs also influence metaverse crypto and technologies that deal with unique digital assets. NFTs enable artists to make unique costumes, items, and avatars for the metaverse. Some metaverse brands have even created NFT-based digital animals within their online games.
Discover the true impact of NFTs in the article "NFT Meaning for Various Industries; How NFTs Disrupt Digital Markets".
The sheer scope of virtual reality in entertainment makes it clear that the two are inherently linked. But this convergence is a work in progress. And it's one that you can personally experience by jumping into the world of VR.
Did You Like This Article About Virtual Reality in Entertainment?
You might also be interested in the following articles: