Metaverse money-making opportunities are some of the most intriguing aspects of this futuristic new technology. Historically, new frontiers have always come with new untapped markets and opportunities. For example, the American West's gold rush made countless people rich in a new land. And you'll soon discover how to make money in the metaverse – the modern frontier.
Quick Menu:
The Foundation of Metaverse Money
One of the reasons why metaverse money-making opportunities are abundant and profitable is thanks to a deeper metaverse meaning. In particular, it exists as a 3D, persistent, social environment. The metaverse is a merger between the physical and digital worlds. And it's experienced in new ways by using different metaverse devices. For example, you can fully immerse yourself in a virtual world by using a VR headset. And in contrast to virtual reality, you can use other forms of extended reality, like augmented reality, with devices like smartphones to bring digital elements into the physical world. Or mixed reality, which takes that to the next level. It's always online, available, and experienced in different ways with different technologies.
The metaverse removes barriers, whether physical or temporal. Even better, it's still "fully" in development, with features always appearing. And while nobody knows how the metaverse will evolve, it will be an important part of the future. But while it's part of the future, you can also experience it here in the present. You can discover more about the metaverse in the article "Metaverse Guide; Understanding The Basics Will Open Up a New World".
What Are Non-Fungible Tokens (NFTs)?
No discussion of metaverse money would be complete without first bringing up NFTs. An NFT, or non-fungible token, is a unique digital identifier. You might have seen images referred to as NFTs. But the term NFT is less about the image and more about why it can be considered unique, much like there's only one true Mona Lisa portrait, even though countless prints are out worldwide. By "minting" digital content, you can create an NFT tied to the metaverse blockchain. The blockchain, a digital ledger, programmatically verifies digital content as unique. This process is used with NFTs, metaverse crypto, and countless other technologies. You'll even find various NFT marketplaces where you can mint, buy, and sell NFTs. You can find a full guide to NFTs in the article "NFT Guide; Everything You Need To Know About NFTs".
How Much Money Can You Really Make in the Metaverse?
When people discover the various metaverse money-making opportunities, they usually ask a follow-up question. How much money can you make? The good news is that there's no limit on potential earnings. But the answer is partially dependent on how you're making money. Programmers, artists, copywriters, customer support, etc., can all expect different pay ranges. For example, digital apparel creator Nikki Fuego makes $40,000 a month creating fashion for Metaverse avatars. ZipRecruiter reports that game designers make between $60,000 to $80,000 annually. And AR/VR engineers working on the metaverse can make between $60,000 and $80,000 annually.
How to Make Money in the Metaverse? 11 Ways!
There's a nearly infinite number of metaverse money-making opportunities. But the following ideas are some of the most exciting ways to start.
Buy & Sell Metaverse Real Estate
Digital real estate is already a booming business within the metaverse. And these metaverse money options are constantly appearing in metaverse virtual worlds like Decentraland, Otherside, and The Sandbox. Sales might be made directly. But people earn good money by acting as real estate agents within the metaverse. These online transactions are already both common and profitable. While individual metaverses have different ways of handling deals, they're usually tied to NFTs and can be bought and sold in common NFT markets. And it's almost certain that the real estate market will continue to grow alongside the metaverse.
Receive Metaverse Information & Related Topics
Video: Metaverse Real Estate Boom: Why Investors Are Buying Virtual Land | WSJ

Open a Virtual Store
The importance of e-commerce grew alongside its technological infrastructure. People bought more products online when they could see images. But the next iteration of e-commerce is within virtual worlds as a metaverse money option. Customers can move beyond static images and wander around digital stores to check out goods. And more and more companies are transitioning into metaverse brands by creating stores within virtual worlds. Even standard business practices like product flipping can be found in the metaverse. You can easily stock virtual stores by buying digital products at a lower price and reselling them for a profit.
Video: First real-time full metaverse shopping experience

Play Play-to-Earn (P2E) Games
Blockchain games have recently become something of a buzzword. People are drawn into the exciting world of play-to-earn games where you can earn metaverse money in cryptocurrency. The model has a lot to offer for gamers who can now earn money for completing quests or finishing challenges. Games like Axie Infinity catch gamers' attention by rewarding them based on performance. And metaverse-based games are an incredible niche for developers. Whether making your own games or creating them for other companies, it's a fantastic time to enter this emerging market.
Video: Axie Infinity: Origins – Official Gameplay Trailer

Rent Metaverse Real Estate
Real estate investors in the physical world often rent out properties. And the same concept can also be applied as a profitable metaverse money-making option. Metaverse companies often operate by bringing concepts from the physical world into the digital. In this case, renting out your digital assets to generate income. Just like in the physical world, profit is largely determined by a location's proximity to local hotspots like town centers or famous landmarks. And likewise, you can often save money by renting out a location to display your products, services, art, etc. The practice benefits every party.
Create & Sell NFTs
Non-fungible tokens are one of the most important metaverse money-making options. They can serve as artwork, avatars, entry for participation in voting with a DAO, and so much more. Images might be the most popular form of NFT. But you can let your creative spirit loose and become a digital artist and merchant. People have made NFT-based songs, paintings, videos, and almost anything you could think of. Tools like VoxEdit make the processes easier than you might suspect. And you can even give minting privileges to others and make a profit for every sale of the design.
Video: VoxEdit – Free 3D Voxel Art Software – Animated Megaman Timelapse

Metaverse Tour Guide
The world is huge, but the metaverse is far vaster in comparison. That scope makes finding the most amazing sights a bit of a challenge. It's such a huge domain that people can build up a reputation as explorers of this digital domain. And those who've done so can leverage it for metaverse money-making opportunities. You could create your own tours and charge for access. Or you could provide information to help people understand the context. For example, it's possible to take tours of different historical eras of Hong Kong in The Sandbox. And that's just the beginning.
Video: Alpha Season 3: Hong Kong Walker: Kowloon Walled City – The Sandbox

Delve Into the Metaverse Marketing World
Marketing is an important part of any business venture, and metaverse money-making is no exception. As the metaverse becomes more popular, it's becoming increasingly common for companies to want to become a part of it. But to do so, they'll need marketing specialists who have experience with the metaverse. This metaverse marketing can take a variety of different forms. For example, if you have a writing talent, you might want to try creating and selling marketing materials or templates. Or you might work directly with a company to help them transition their branding and advertising.
Become a Metaverse DJ
Socialization is a big part of the metaverse. But just like in the physical world, people are always excited about a good party. And if you're looking into money-making metaverse options, you might want to consider being the life of the party as a DJ. Platforms like Tribe XR can help you learn the basics of the profession. But part of the fun comes from the fact that you're helping to bring a profession that genuinely makes people happy into a new platform. And you'll even be able to do so from the comfort of your own home.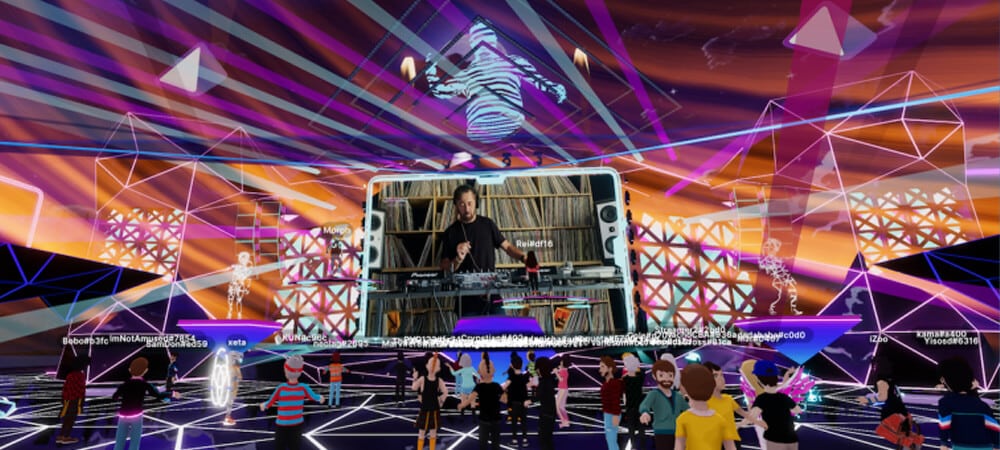 Image attribution:
PYMNTS
Invest in Cryptocurrency
Cryptocurrency investments are a proven metaverse money-making option. However, it's volatile and requires research, expertise, and a choice between the two main strategies to use for investments. You might focus on long-term profit. Or you could try to focus on short-term profit. While there are many options, investments in Decentraland (MANA), Cryptovoxels (VOX), and The Sandbox (SAND) are popular. As people use the metaverse grows, so do the associated tokens. And investing in security token offerings (STO) and initial coin offerings (ICO) can be a solid strategy if you're familiar with the relevant metaverse.
Video: Understanding SAND and What to Do With It

Create Accessories for Metaverse Avatars
Metaverse avatars are one of the most important factors in your virtual identity when you're exploring and socializing in the metaverse. So it's little surprise that people want to "dress" their avatars with various types of fashion, accessories, gadgets, or even weapons. And this can turn into a profitable metaverse money-making option if you have some skill in 3D design. Modern metaverse marketplaces often provide design toolkits to make this process even easier. The potential for metaverse-based design can be seen by how many big names are already a part of it. Even Gucci and Tommy Hilfiger offer avatar accessories.
Video: Front row in the metaverse! Enter Tommy Play on Roblox and discover the bustling otherworldly city.

Open Metaverse Art Gallery
The 3D worlds of the metaverse redefine how people approach most aspects of life. And that also extends to art. You can channel your artistic impulses in a new way by creating metaverse-based art galleries. A metaverse art gallery can contain NFTs, various types of art you've created or curated, and much more. This also provides you with several metaverse money-making options. For example, you might charge an entrance fee for your gallery. Or you could make money by offering direct sales, charging fees from other artists to present their works, or advertising for commissions.
Video: THE WORLDS FIRST NFT ART GALLERY TOUR

Metaverse Money in the Larger Workforce
You've already seen some metaverse money-making options, but they're just the tip of the iceberg. There are many jobs out there related to the metaverse or associated services. And the number of careers intersecting with the metaverse is constantly growing. Some will certainly match up perfectly with your interests. It's best to approach the issue by looking at the type of job you're interested in and then focusing on the qualities needed for those positions. And you'll find out how to do so in the article "Metaverse Jobs; Learn Everything About Your Career in the Metaverse".
Choosing a Career Path Around the Prospect of Metaverse Money
The search for metaverse money-making opportunities is often similar to traditional career paths. A job working with the metaverse might involve different techniques and technologies. But the basic concepts are the same as what you'd find in the traditional workforce. However, there are a few caveats to keep in mind. For example, as a tech-focused industry, you'll want to put more care into your online presence and presentation. For example, using tools like LinkedIn is essential. You can find everything you need to walk this exciting path in the article "Metaverse Careers; Click Here to Start Your Metaverse Career"
The final element of metaverse money-making is your own sense of determination. You've got the tools for success in the metaverse. It's just a matter of deciding to go for the gold and making those metaverse dreams come true.
Did You Like This Article About Metaverse Money?
You might also be interested in the following articles: