In this series, we interview the founders and CEOs behind Metaverse companies. The metaverse is fully in development, and many different technologies are involved in this process. These inspiring people are at the frontier of developing a future where the online and physical worlds merge.
In this interview, we talk to Jason Low about his company and views on the metaverse. Jason is the founder and CEO of Virtualtech Frontier. Virtualtech Frontier is an experiential event and virtual development company focusing on creating next-generation engagements within the virtual space and the metaverse.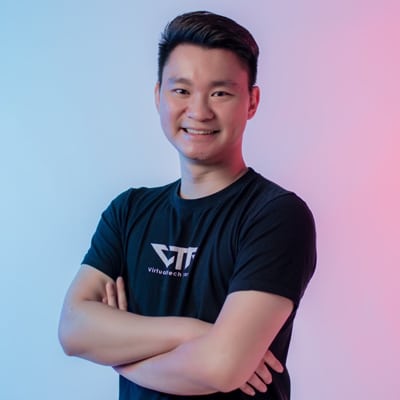 Can you tell us a bit about yourself?
I've been involved in tech for as long as I can remember. Twenty-five years ago, my father told me that Bill Gates was the wealthiest man in the world. And from that day onward, I'd set my eyes on the goal of becoming involved in technology.
It's let me become involved in developing AR, VR, and MR technology over the past seven years. And building for the metaverse is the latest foray into our team's growth.
What is the metaverse, according to you?
Apart from a 3D virtualized platform, I believe you need to have the five pillars to make a platform a metaverse. The five pillars are Gamification, Social, Education, Work, and Commerce. This metaverse development model is what we believe makes a trustworthy metaverse platform. Thus, we hold that merging social and digital economic elements is the actual factor that makes the metaverse a working system.
When and how did you realize the metaverse was going to be real?
Everything from surviving the pandemic to securing new partners and investment from 500 global has been challenging. On the one hand, getting people to believe in the future of engagements and interaction via our technologies hasn't been too hard. Most corporate clients or stakeholders believe that virtualized immersive technology will only get bigger and more significant in the future. People and corporations interact and engage with each other across all types of metaverses. Deep down, I know this can only move forward.
According to you, what does it take for the metaverse to become mainstream?
We'll know that the metaverse has become mainstream when people across any industry decide to get on board with various use cases. Likewise, the mainstream acceptance of the platform will be apparent when we see recurring usage patterns from people and industries within the metaverse. We have to look at sustainable use cases across the industry and worldwide to make the metaverse fully mainstream.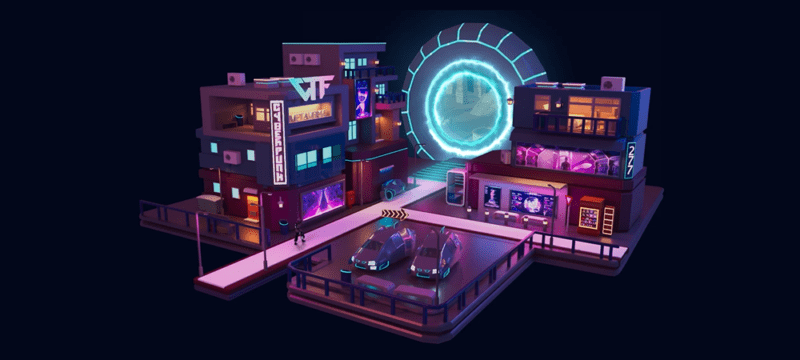 What triggered you to start your metaverse company?
My co-founders and I have been drawn to the idea of developing things outside the norm since we were young. We've found mixed reality tech to be both highly challenging and yet, at the same time, fascinating. The metaverse is the latest frontier in virtual technology, and with constant demand from our enterprise clients, it was a no-brainer to transition into developing technology for the metaverse.
What's the story behind your company?
There's a stigma that local education has always been limiting. But my computer science studies at UTeM provided me with significant exposure to the future of augmented and virtual reality. And it was there at UTeM that I'd meet my current co-founder – Eugene Ng. We also recruited my high school friend back in Sabah, Othniel Naga. The three of us then completed our first small team of AR and VR developers together.
We began in Melaka but quickly shifted to KL to partner with a marketing agency that serves various fortune 500 companies. During that time, we'd develop interactive technologies for our clients. Just to name a few of our clients, this included Microsoft, Intel, AMD, and Acer. Our latest venture, Virtualtech Frontier, was a pandemic baby company that started in 2021 with the inclusion of new co-founders into the business. We would then go on to start our first company in 2015.
What does your company solve?
We are currently working on a Metaverse as a service (MaaS) platform called Mitoworld.io that focuses on productizing and templatizing enterprise use cases. It would enable anyone, anywhere in the world, to easily own their metaverse. Aside from Mitoworld, we also provide consulting and educational services for companies interested in the metaverse. Many of these companies still require fundamental knowledge about this new industry.
John Radoff describes the value chain of the metaverse with 7 layers. In which layer(s) does your company operate? Can you give an example?
A lot of our efforts focus on the experience layer. We believe great experiences produce great longevity and recurring demand for usage in the metaverse among our target audiences. Our company believes in an engagement that can only be experienced in 3D virtual space. Cracking this fundamental core has become the key focus of our daily breakthroughs.
Who were the people who have been the most helpful in getting you to where you are today? How did they impact your life and your success?
We all know that the process of building a metaverse isn't a walk-in-the-park kind of situation. And that means our investors are the fundamental believers in our journey. Our early corporate clients and believers have also been the key people in our journey toward the metaverse. They're the ones who not only trust us, but also give us excellent ideas and points of inspiration to work toward.
What do you hope the metaverse will look like in 10 years?
I hope that in ten years, the virtual and metaverse inclusion industry will have intertwined with the daily lives of the general population. That we'll be able to engage in great virtual experiences without limitations. This would include great immersive technologies like haptic suits or kinetic hardware. But these technologies wouldn't just need to be developed. They'd also need to be affordable enough for every household to own them.
How do you envision your company's role within the metaverse in 10 years?
We envision ourselves as one of the key players who'll provide metaverse technology for everyone. We believe in our unique methods of experience design. And that it's something that will be enhanced down the road as we develop more technologies surrounding this layer. Greater and more affordable hardware will be released in the future. And we're excited about what sorts of experiences we'll be able to build in the metaverse with great integration from other players in the industry. This would create a truly interoperable experience.