Smart glasses, AKA data glasses, are among the latest iterations of metaverse technologies. They offer similar but distinct capabilities compared to VR headsets. These glasses are still quite new to the market. But as with most metaverse-related tech, development is moving rapidly. And you're about to see the 10 best glasses on the market.
Quick Menu
Smart Glasses and the Metaverse
People often think of the metaverse in terms of virtual reality. As a realm that you enter by putting on a VR headset that replaces your view of the physical world. But VR is only one part of the metaverse. It's better to consider it a parallel digital universe alongside the real world. It's always immersive, boundless, social, and decentralized. But you can access it through game consoles, computers, phones, and smart glasses. Each device offers a different perspective on the metaverse. Use a headset to replace your view of the physical world with the digital one. Use data glasses, and you can augment the view of the physical world with a metaverse-based augmented reality. You can find a more in-depth look at the metaverse in the article "Metaverse Guide; Understanding The Basics Will Open Up a New World."
What Is Augmented Reality?
Smart glasses usually work with the metaverse through augmented reality (AR) and by integrating digital information with physical reality in real time. In short, AR adds digital information to everything you see around you. Like VR and mixed reality, AR is a form of extended reality. But AR's defined by the fact that it overlays data onto a device that also displays a physical reality. This might mask physical elements, but AR always augments rather than replaces your view of the world. Find a full guide to AR in the article "Augmented Reality; Learn About AR Tech, Use Cases, Devices, and More!"
What Are Smart Glasses?
Smart glasses are wearable computers that leverage those computational abilities to help people in various ways. The glasses often have some form of digital display that overlaps data, or even 3D objects, onto your view of the world around you. Some, like smart sunglasses, are focused on modifying their state concerning environmental changes. For example, if you were at the beach, a pair of smart sunglasses might darken when you gaze up at the beautiful sunny sky. Smart glasses can also be categorized as full AR devices if they incorporate pose tracking.
10 Smart Glasses Brands
Smart glasses are still relatively new. But there are already some fantastic examples on the market. Many emphasize multimedia, others augmented reality, and some specialize in professional functions like extended digital workspaces. The following examples are among the best of the best currently available.
Epson Moverio
Epson has a reputation for imaging and projection-related technologies. But this tech leader is taking those concepts in a new direction with the newly announced Moverio® BT-40 and BT-40S. Each offers a unique twist on Moverio augmented reality smart glasses. One of the most significant advances comes from the device's display system. See-through Epson Si-OLDED powers both design versions with transparency for unused space. And users will also notice the impressive clarity stemming from the system's wider field of vision.
The new Moverio models have full 1080p HD resolution and 34° field-of-view. The BT-40S and BT-40 also combine a fully hands-free user experience with their heads-up display (HUD). With all of the visual elements combined into a singular whole, a user will experience the equivalent of a 120″ screen seen from 15 feet away. And all of this comes in a comfortable glasses-style form factor.
Video: Unveiling the Moverio BT-45 Series smart glasses
Vuzix
Imagine combining the power of your phone, augmented reality, and more into data glasses. That's the premise of the Vuzix Blade Smart Glasses. Vuzix is an American technology firm initially founded in 1997 by Paul Travers. Since then, it's specialized in computer display devices and related systems such as software. Vuzix's worked in this capacity with everything from manufacturing training to military tactical equipment.
This expertise has allowed the company to create the first self-contained augmented reality smart glasses to use waveguide optics for hands-free use in the form of its Vuzix Blade® smart glasses. The waveguide optics focus at a distance of about 1.5m. It's a special visual system that aligns more with the human body's natural way of seeing the world. Vuzix also offers lightweight M400C glasses, which are lighter thanks to external computing systems. This compromise is useful for low-mobility situations.
Video: Vuzix Blade 2 Smart Glasses
Google Glass Edition 2
Google was an industry leader in AR and smart glasses with its introduction of Google Glass. But being an industry leader also meant that the first steps in a Google metaverse were quite limited. The first iteration of Google Glass had limited resolution and controversy over its ability to record video. This resulted in limited initial sales. But Google refocused on professional use with Google Glass Enterprise Edition 2.
These impressive smart glasses use a whole new artificial intelligence engine, enhanced performance, voice command recognition, and computer vision thanks to its powerful Qualcomm Snapdragon XR1 platform. Google's focus on professional use has resulted in a resilient form factor suitable for demanding work environments such as manufacturing floors. It has a 720p video with an 80-degree field of vision. Its multi-core CPU is coupled with 2GB RAM and 32 GB memory. The Glass Pod is even removable for use with safety glasses.
Video: Glass Enterprise Edition 2
Ray-Ban
One of the exciting things about smart glasses is how they combine fashion and functionality into a single high-tech package. And few products highlight that fact, like Ray-Ban Stories. This take on data glasses comes from a partnership between Ray-Ban and Meta/Facebook. The devices combine Meta's expertise with Ray-Ban's prominent style. The result is a sleek pair of glasses that look great but also let you capture some of the most critical moments of your life.
If you've ever wanted to record something but didn't have time to launch a phone app, you'll instantly see the potential of Ray-Ban Stories. The devices don't offer augmented reality support. But they do let you capture the most important moments of all life's adventures in digital format. You can learn more about this new take on stylish tech in the article "Ray-Ban Smart Glasses; Ray-Ban Stories, Features, Prices & More."
Video: Ray-Ban Stories: the new way to capture, share & listen
Bose Frames Audio Sunglasses
Bose Frames are smart glasses that put a strong emphasis on stylish multimedia. This helps to ensure that the Bose Frames are nearly indistinguishable from any other stylish pair of sunglasses. However, the big difference is that these glasses don't just look great but sound great. The headphones output sound through tiny speakers positioned next to the user's ears. Although they're against the ear rather than acting in-ear, the sound is still rich and non-leaking.
There's no need to worry about forcing your musical tastes onto the surrounding world. But you can also rest assured that you'll be able to enjoy music without any hearing loss. And while multimedia is its main focus, The Bose Frames integrate with the Bose AR platform. Bose AR is still in a fairly early stage. But Bose Frame's gyroscope and motion tracking makes them well suited to it.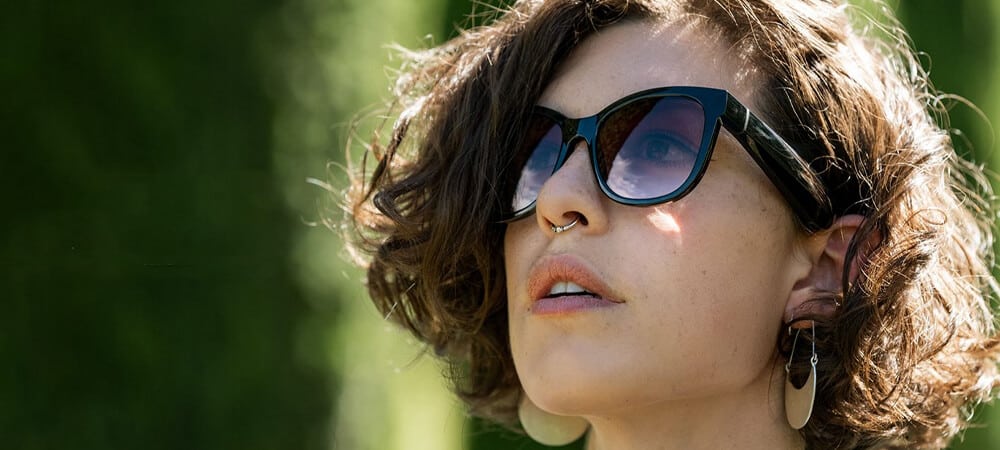 Image attribution: Bose
Spectacles by Snap
Snapchat is one of the most popular video-sharing services on the Internet. And Spectacles by Snap are special smart glasses specifically designed for it. Spectacles use two HD cameras to record short videos at 60 fps and provide support for 3D photos. The device's sound capabilities are equally impressive. The data glasses use four separate microphones to record high-fidelity audio. The glasses also make it easy to connect with your phone for wireless syncing.
This makes managing and exporting data between your Spectacles, Snap, and local phone storage easier. And while Spectacles are designed for Snapchat, you're not locked into that one service. For example, if you take a 3D picture, you can see it through the included 3D viewer or upload it to YouTube VR. The Spectacles are also easy to charge. You simply put them in the charging case.
Video: AR allows us to express ourselves more fully
Echo Frames by Amazon
Amazon's Eco Frames implement a fairly simple concept. Instead of being a gateway to the Amazon metaverse, the glasses act as an Alexa interface. The Echo Frames contain small speakers and microphones that let you use them like standard Alexa devices with Bluetooth audio. The glasses come in black, tortoiseshell, and a design that fades from black into blue. Amazon's smart glasses frame contains buttons for volume under the right stem and another small button for power.
Audio is delivered through two small holes positioned near your ears. The glasses are prescription-ready and IPX4 splash-resistant. This means that they're a perfect complement to your lifestyle. You can wear them as standard prescription glasses while working out or by the pool. The glasses will hold up against even the strongest sweat if you're out on a jog. And charging is made easy thanks to its magnetic pin receiver.
Video: How to use Amazon Echo Frames
Norm Glasses
Norm Glasses are smart glasses that offer some fascinating twists on the familiar data glasses paradigm. One of the device's most important distinctions is that it can help people with impaired hearing and vision. And the glasses also offer some high-tech extras that will help everyone get the most out of these new technologies. Norm Glasses can be operated with voice commands, have a full head-up-display (HUD), and output sound through dual speakers.
Norm glasses also use an Android-based operating system. This lets users install apps in a similar way to standard Android smartphones. And the glasses even integrate with Alexa and related services. This means you don't just get the ability to use voice commands. You'll even be able to use some familiar favorites. It's little surprise that Norm Glasses won 'Best of Innovation' at the Consumer Electronics Show Innovation Awards.
Video: Welcome to the new Norm – Head Up and Hands Free
iVue Rincon
The iVue Rincon is notable for some impressive multimedia specs. The smart glasses can record video in crystal clear 1080p with 30fps. But you can also increase the fps to 60 by recording in 720p mode. And both recording formats will provide you with an expansive view thanks to the glasses' 110° wide-angle lens. The audio support is equally impressive with dual-channel AAC2 stereo recording.
And this powerful package will let you record in a wide variety of areas thanks to impact resistant, 2.2mm thick lenses. Configuration is done by pairing the glasses to a smartphone app for iOS and Android devices. The wifi connection lets you change the iVue Rincon's performance elements, save and share your video, and more. These features make these smart glasses an excellent choice for people who want an action camera in a glasses form factor.
Video: iVUE Rincon – Lens Tilt Instruction
Think Reality A3 by Lenovo
Think Reality A3 by Lenovo offers a whole new type of immersion for fans of smart glasses. Think reality can instantly create multiple displays on desktop and laptop computers without additional software or accessories. These AR-capable powerhouses can create entire and expandable personal workspaces regardless of location. You can bring the glasses as you travel anywhere, from exotic locations to factory floors.
And at every locale, you can use the glasses to bring up a full digital workspace. You will need some custom software for the most extensive mobile AR apps. But the glasses offer a truly remarkable platform for mobile AR work. You can also adapt them to fit your personal style and needs perfectly. Nosepieces and airhorns let them fit almost anyone's head. And interchangeable covers, like safety shields and tinted lenses, can adapt them to different environments.
Video: Introducing the ThinkReality A3
Smart glasses and Contacts
Metaverse companies working with smart glasses have revolutionized miniaturization. Some metaverse brands have even created digital displays as small as contact lenses. Mojo Vision is arguably the furthest in the race to become the first commercially available set of smart contacts. The company has reached the point of testing functional prototypes of its contacts. These are the early days of smart contact lens development. But this field will soon grow into something as amazing as data glasses. Witness the first steps of this new technology in the article "AR Contact Lenses; Learn About Advanced AR Technology."
The Future of Smart Glasses
Smart glasses have gone from science fiction to reality in the blink of an eye. And the fact that you can finally try them out for yourself is a fantastic opportunity. So head out, and take hold of the future.
Did You Like This Article About Smart Glasses?
You might also be interested in the following articles: