Ray-Ban smart glasses have been getting some well-deserved attention. Ray-Ban has made massive leaps forward within the field of wearable technology. Their glasses are as fashionable as they are innovative. But there's far more to these smart glasses than most people would ever imagine. You'll soon discover how to get the most out of this technologically innovative twist on sunglasses.
Quick Menu:
The Ray-Ban Brand
Understanding Ray-Ban smart glasses means understanding Ray-Ban as a brand. The company is best known for its durable, fashionable, and effective eyewear, but Ray-Band is equally defined by innovation. Ray-Ban was originally launched in 1937 with a product line centered around U.S. Army Air Corps pilots. Ray-Ban's green lenses were specially engineered to protect pilots against glare during their flights.
Ray-Ban's eyewear was so effective that civilians wanted them as well. Ourtoorsmen discovered the same benefits that endeared Ray-Ban to pilots. And Hollywood stars like James Dean and Audrey Hepburn were particularly noteworthy in popularizing Ray-Ban's glasses among the general public. Ray-Ban eyewear offered a unique blend of practical functionality and high fashion. The brand reinvented how people relate to the great outdoors and to each other. Now Ray-Ban is doing it again with Ray-Ban Stories smart glasses. Ray-Ban continues to stand at the forefront of cultural change and self-expression.
The Brand Enters the Metaverse with Smart Glasses – Ray-Ban Stories
The story of Ray-Ban's smart glasses begins with a partnership between two major players in the tech and fashion world. Meta is, of course, the company formally known as Facebook, and EssilorLuxottica is Ray-Ban's parent company. These two companies are indisputable leaders in their respective fields. So it's little wonder that a partnership between them has created something remarkable.
Ray-Ban Stories is the first product to enter the market, thanks to this new partnership. The glasses combine Meta's tech with Ray-Ban's style. However, the Ray-Ban Smart glasses aren't augmented or virtual reality systems. They're something new and unique unto themselves.
Video: Ray-Ban Stories
Features of Ray-Ban Smart Glasses – Ray-Ban Stories
The Ray-Ban Stories glasses are equipped with several features. Most of these functions are centered around recording videos or taking pictures. The smart glasses are primarily designed to help you capture typically fleeting moments without needing to grab your phone. But the devices sport some other impressive features. These range from audio playback to voice controls. And all within a form factor nearly identical to standard Ray-Ban glasses.
The Build
One of the most amazing things about Ray-Ban smart glasses is that they look almost exactly like standard Ray-Bans. Ray-Ban's smart glasses use plastic lenses and frames in their base models. And the glasses come in a variety of different colors. The stems and rims on the smart glasses are slightly bigger to allow for the camera, LED, speakers, and battery. Ray-Ban fans will be thrilled to see that they have the same level of variety in the brand's smart glasses as is found in the standard line. And the smart components blend seamlessly into the glasses' overall aesthetic.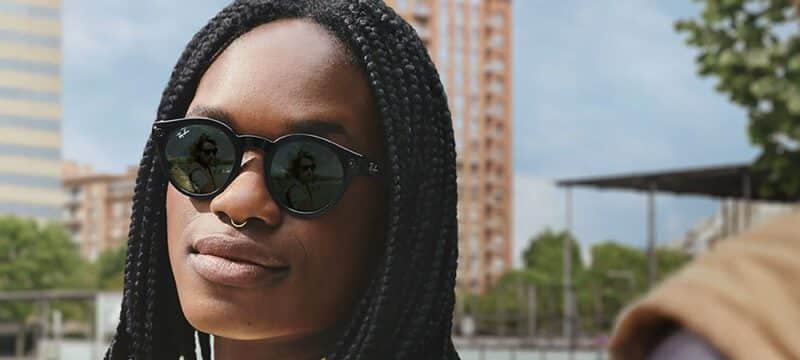 Image attribution: Ray-Ban
Visual & Audio Specs
Ray-Ban smart glasses were designed in part by Meta. And Meta is, first and foremost, a leader among metaverse brands. It shouldn't be surprising to discover that these smart glasses have impressive multimedia capabilities. The glasses have two high-quality 5MP cameras which support up to 500+ photographs or 30+ 30-second videos. Resolution ranges from 2592×1984 for images and 1184×1184 for 30 fps video. Ray-Ban Stories also incorporates two speakers positioned near the wearer's ears. Additionally, they can record audio through an array of three separate microphones. The glasses can also transfer data through Wi-Fi 5 and Bluetooth 5.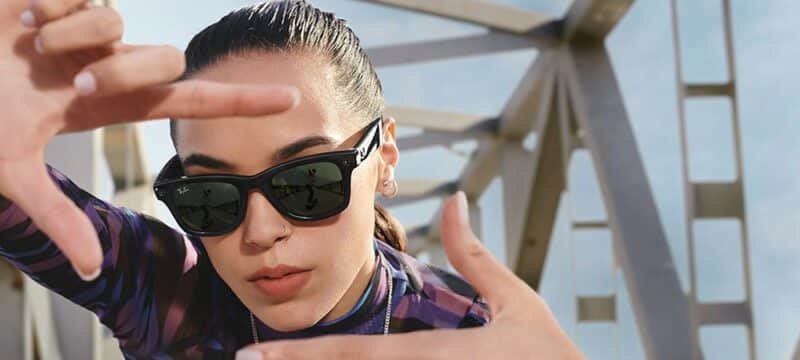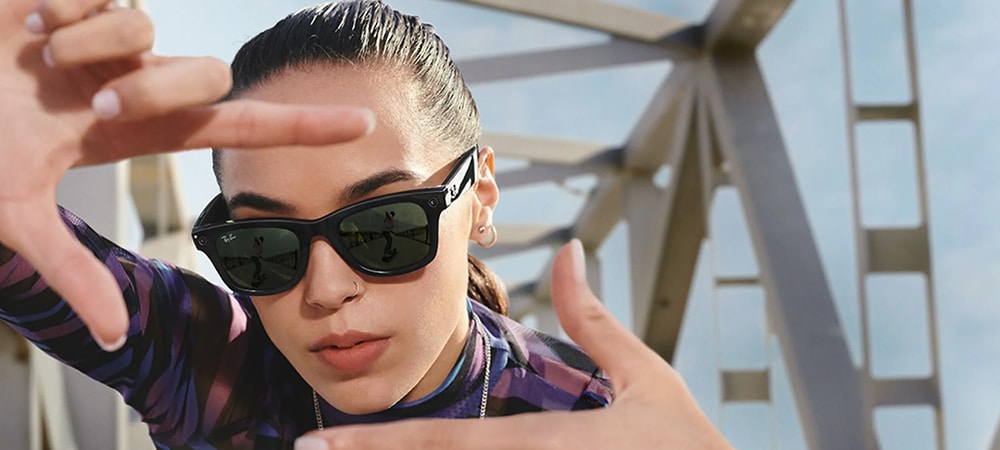 Image attribution: Ray-Ban
Controls
One of the best things about Ray-Ban smart glasses is their user interface. The smart glasses let users start recording with voice commands. And this functionality can also be triggered with a button on the frame's top-right. Feedback is handled through LEDs within the glasses—Green and orange signal battery status. Blue light indicates pairing mode. A white light signifies a problem trying to capture video or images, and a red light indicates an overheated or dead battery. Finally, a second front-facing white light shows the glasses are recording. A small switch will also turn the glasses on or off.
Image attribution: Ray-Ban
Native App
People are usually shocked by the form factor of Ray-Ban smart glasses. You don't typically associate high-performance tech with components small enough to integrate into eyewear seamlessly. This is mainly possible thanks to software distribution between your glasses and phone. Ray-Ban Stories uses a similar strategy to many metaverse companies. When technology can't fit into a small form factor, then it raises the question of whether it can be used through wireless connections.
For example, VR headsets often use a PC's GPU and CPU for most processing. And Ray-Ban smart glasses take a similar approach by linking to your smartphone. The transfer button on the glasses creates a small private network to connect with your phone. The native Facebook View app can then download, store, and edit content from the glasses. This can even be automated to offload stored content in the glasses to the app every day.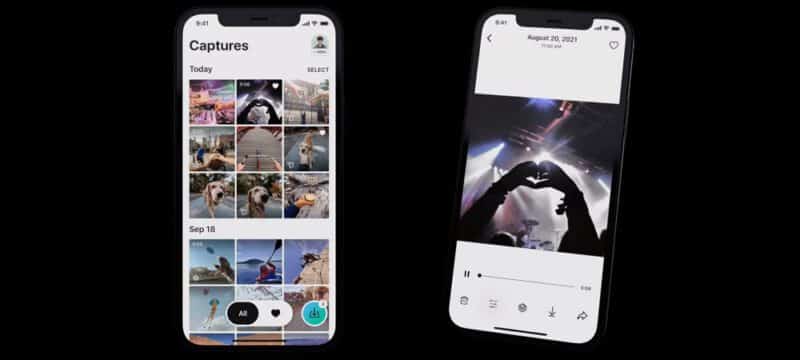 Image attribution: Ray-Ban
Accessories & Charging
Ray-Ban has also made it easy to charge their smart glasses through a special accessory. Ray-Ban smart glasses come with a unique case. The back of the case's right hinge contains an exposed connector when folded back. When glasses are inserted into the case, they touch the connector point and will begin to charge from the case's battery. Basically, the glasses charge whenever they're in the case. The case itself can charge through a standard USB-C port on its backside. The case can fully charge smart glasses up to three times before it needs to be recharged.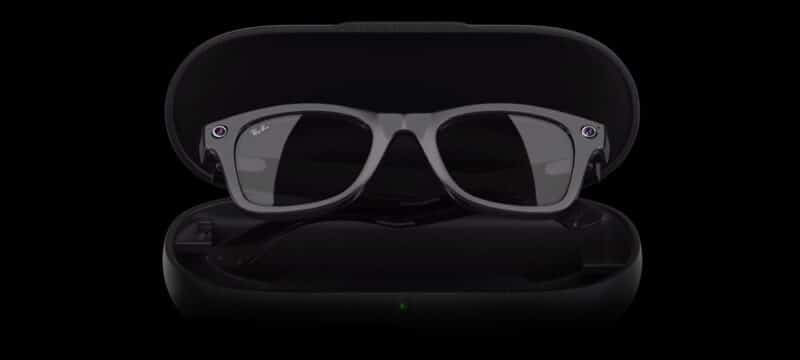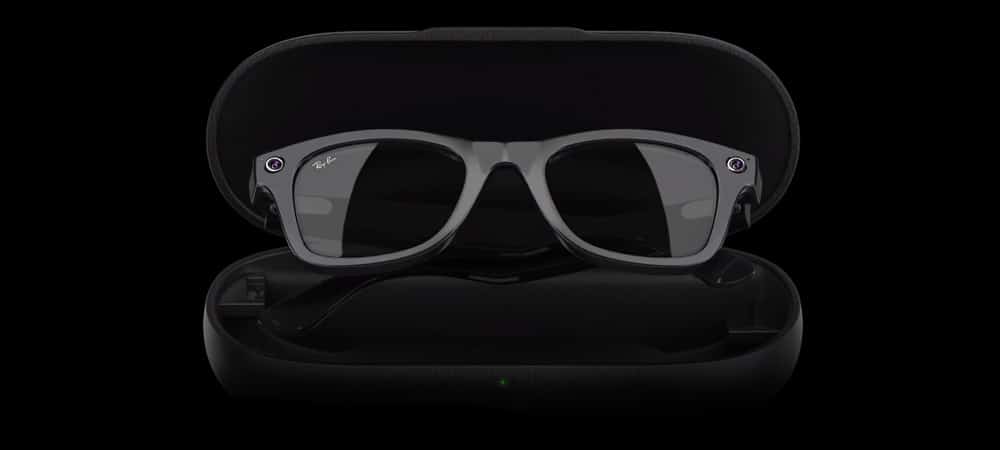 Image attribution: Ray-Ban
The Price of Ray-Ban Stories
Ray-Ban smart glasses are impressive technology, but they're also quite affordable when compared to the competition. However, additional options will impact the total cost of the glasses. For example, polarized or transition lenses are available for an additional fee. The smart glasses can also use prescription lenses. But the cost of doing so will vary by specific type of insurance—additionally, the twenty possible combinations of style, color, size, and lens impact the cost.
Click here to view the official Ray-Ban online store for information on up-to-date pricing.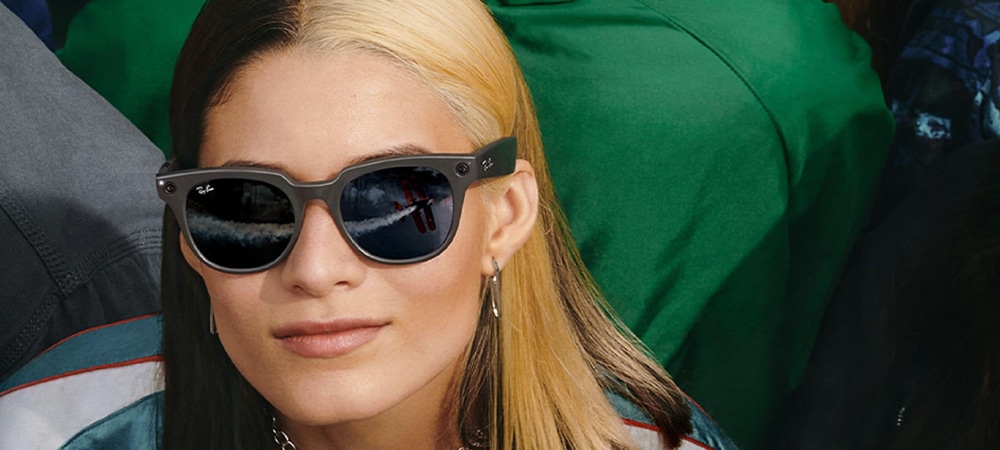 Image attribution: Ray-Ban
Public Feedback & Opinions
The public is only beginning to get used to smart glasses. And unsurprisingly, the average person has some concerns. One of the more common stems from misunderstanding what smart glasses are. Ray-Ban Stories are meant to act as an accessory to phones rather than a replacement. It's a way to capture moments in time without needing to grab a phone or start a specific app. The camera in Ray-Ban Stories isn't as powerful as what's found in smartphones.
Many people are also worried about privacy concerns stemming from always-available recording devices. Meta was well aware of those concerns during development. The company even consulted with advocacy groups to ensure these concerns were properly handled. This included the National Network to End Domestic Violence and the LGBT Technolgy Partnership. The groups have stated that Meta took their concerns seriously. Likewise, they're comfortable with the final design.
The Relationship Between Smart Glasses and VR Headsets
There's a lot of confusion surrounding the relationship between smart glasses and VR headsets. People often assume that smart glasses can be used to enter virtual reality, play metaverse games, or act as an extended display for other gadgets. But all of those activities are the domain of VR headsets.
These devices essentially put you into digital virtual worlds where you can engage in everything from business to musical performances. You can learn more about the differences and similarities between smart glasses and VR headsets in the "VR Headsets; Your Complete Guide to the Top Virtual Reality Gear" article.
Ray-Ban Is Part of a Vast Digital Universe
Ray-Ban smart glasses are notable for all the reasons listed so far. But one of the points that can't be stressed enough is their size. The Ray-Ban smart glasses are one of the first examples of a high-tech device in a tiny form factor. This is something that companies involved in augmented reality have been trying to accomplish for decades.
Ray-Ban's success in making technology fashionable is both a win for the company and the industry. You can discover more of the larger AR universe in the article "Augmented Reality; Learn About AR Tech, Use Cases, Devices, and More!".
Ray-Ban smart glasses offer a unique combination of technology, utility, and fashion. They don't just help you get around in the world. They allow you to capture the most beautiful moments in life and share them with the most important people.
Did You Like This Article About Ray-Ban Smart Glasses?
You might also be interested in the following articles: