Metaverse games are one of the most popular ways to enjoy that digital realm. The metaverse is home to various online games that can be played alone or with friends. But popular metaverse games come up so often that it's difficult to know where to begin. You'll soon see which games are the best of the best.
Quick Menu:
An Overview of the Larger Metaverse
The reason there are so many opportunities for gaming in the metaverse has a lot to do with its size. The metaverse is essentially endless and without any actual boundary. People can only set up so many arenas or stadiums in the physical world. But there's space for any game you can imagine in the metaverse.
On top of that, the metaverse is a shared environment filled with other people. There's always someone around who's interested in joining up within a new match. And even AI-based players can present a shockingly creative challenge.
The boundlessness of the metaverse is further emphasized by the methods people can interact within it. You can use computers, game consoles, and even smartphones to connect the metaverse. But full metaverse gear like VR headsets or AR systems provides the best experience with metaverse games.
And all of this is within a medium that's constantly growing. Metaverse popular games are continuously improving because the metaverse is too. Of course, this overview is only the tip of the metaverse iceberg. You can get a more in-depth understanding of the metaverse in the article "Metaverse Guide; Understanding The Basics Will Open Up a New World".
What Differentiates Metaverse Games From Standard Video Games?
What makes metaverse games different from classic video games? The essential difference is the freedom offered by the metaverse. The metaverse is like a wave in the ocean of web 3.0. It's the continual change that brings with it total freedom. Standard games have set rules created by their developers. But that's not how games are played in the physical world. There you have the freedom to change worlds, pay or earn money, and create your own gear. This is true for popular metaverse games as well.
The metaverse even has play-to-earn games where, as an athlete in the physical world, you'll be able to earn money for your gaming feats. Gaming worlds like Axie Infinity often enable players who've never even had a bank account to make money doing what they love. Classic video games have set rules that imprison players. But metaverse games are defined by the player's freedom.
Receive Metaverse Information & Related Topics
Top 10 Most Popular Metaverse Games
The popular metaverse games all have some similarities. But they're best understood by categorizing them into two separate categories. You'll soon see that each of these categories provides a wide variety of different experiences. Even the most similar metaverse games have a lot to enjoy that's incomparable to the others.
Crypto-Based Open World Metaverse Games
Crypto-based open-world games are based on sandboxes in the physical world. When kids play in a sandbox, they can do and build anything they want. In crypto-based virtual world games, user-generated content (UGC) gives players the same level of freedom.
Sandbox
Sandbox is, as the name suggests, a sandbox-style game. It's available on an impressive number of platforms. Sandbox is available on iOS, Android, and Windows. The game's come to many people's attention thanks to its illustrious player base. Big names like Snoop Dogg and Deadmau5 can be found within the system. And even huge brands like The Smurfs have stakes in the game. What's more, Sandbox has an impressive 7% share in the metaverse as a whole. This brings up the question of how the game has managed to gain such notice and popularity.
Like many metaverse popular games, it has a lot to do with the community. Metaverse games are all about personal freedom. And users within Sandbox have used that freedom to create games of their own with the Sandbox Game Maker. This enables users to create their own games in Sandbox and even monetize them.
Video: The Sandbox New Official Teaser 2021
Decentraland
It shouldn't be any surprise that popular metaverse games would leverage the best parts of the metaverse. And Decentraland highlights the fact that metaverse games can exist in what's essentially an endless and borderless world.
Decentraland offers players an exciting parallel to the real world. And people are using that new land to create their own economy with real estate and digital artists. It has two main tokens for currency. LAND is an NFT that denotes virtual land ownership. And MANA is used as a cryptocurrency to purchase LAND and various virtual goods. Users or even companies can create these goods. Both of these economic tokens are tied into the blockchain.
People who own LAND can customize it with new animations and interaction options. And of course, they can build within Decentraland. However, the actual gameplay elements in the system, such as VR support, are still somewhat lacking.
Video: First look inside Decentraland
Cryptovoxels
Metaverse games are often tied into the blockchain. And Cryptovoxels certainly fits into that as well. In fact, it was created on the Ethereum blockchain using the ERC-721 token. Many of the metaverse popular games feature strong economies. And one couldn't hope for anything stronger than a game literally built from the start on the blockchain. Cryptvoxels has a strong economy filled with virtual land deals, art tied to NFTs, and the ability to modify those assets. It essentially aims to mirror the real world with VR, concerts, and other immersive features.
Cryptovoxels boasts a solid real estate market. Origin City, owned by "The Corporation", is one of the game's central features. But any individual can buy their own land to create or add blocks, insert audio or images, or even give away for free if they want to. All it takes to participate is an Ethereum wallet.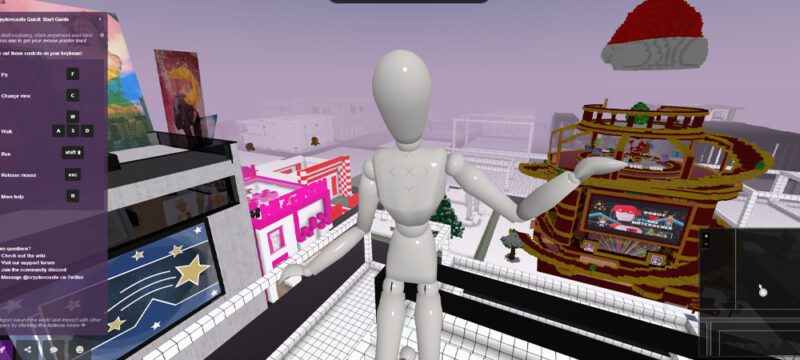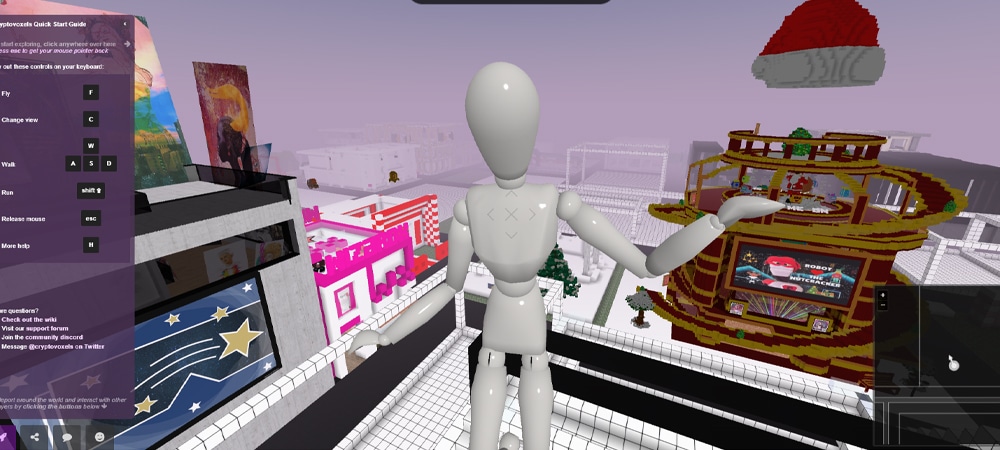 Horizon Worlds
Horizon worlds stands as one of the metaverse games with the most impressive backing possible – Facebook. Facebook, now known as Meta, is heavily invested in the metaverse. Horizon Worlds is its most crucial software-based gaming effort. Horizon Worlds is similar to Facebook in that it prioritizes socialization. You can hang out with up to twenty people at a time. And it's easy to invite your friends and family or meet entirely new people.
Of course, popular metaverse games need solid gameplay. And Meta is bringing that to fruition through players' ability to implement code within the game. For example, players can create script blocks and chain them together to create advanced functionality. Players use that ability to create some of the most advanced and immersive games in the metaverse. One of the only downsides is that it doesn't offer any way to make money yet.
Video: Horizon Worlds | Meta Quest 2
Somnium Space
Somnium Space is one of the metaverse games which takes the idea of an online world very seriously. The developers don't just look to participants as players; they're thought of as citizens.
Unsurprisingly, that focus has resulted in a lot more attention to presentation than many of the other multiverse popular games. Somnium Space has partnered with Microsoft to ensure it can scale to meet any player demand. And the game has a strong focus on virtual reality interfaces. However, it also supports a 2D model that can be used on either desktop or mobile devices.
The strong presentation comes with equally strong creative power. Citizens can create, buy, and sell almost anything within it. The system has full support for external NFTs and allows for the use of ERC-20 game currency. The strong level of scripting supported means that citizens can even weave intractability into the various things they create.
Video: Somnium Space – Your Final Virtual Reality Destination
Roblox
When people talk about metaverse games, it's almost a given that Roblox will come up. Roblox was created in 2006 and grew in popularity within the second half of the 2010s. The free-to-play model has resulted in a large userbase. And the game's virtual currency, Robux, was many people's first introduction to a metaverse economy.
However, Roblox's most significant draw when compared to other metaverse popular games is the level of user-generated content. It's quite common for player-made objects or art to appear within a metaverse-based game. But Roblox is easily the king of user-generated games. Roblox is home to a seemingly unlimited number of games made by players rather than the Roblox company. This overwhelming wealth of content has led to over 164 million monthly active users as of August 2020. With expanded VR support, it's easy to see that Roblox will continue as a popular option.
Video: Roblox 2021 Cinematic
Other Popular Metaverse Games
There's also a wide variety of other metaverse popular games to explore. The next metaverse games fall into a few different sub-categories. They're often open-world, centralized sandbox or NFT and blockchain-based play-to-earn games.
Minecraft
Minecraft was originally created as a browser extension back in the mid-2000s. An idea born in the wake of early Web 2.0 tech has matured into one of the most popular metaverse games. Its distinctive graphical style is notable, allowing players to create blocky but beautiful structures.
The game essentially gives an entire metaverse to every individual player. The player is unleashed into a living world with creatures, nature, and resources to work with. Survival mode even has deadly creatures to avoid. Metaverse popular games tend to have a heavy social element. And Minecraft is no exception to that trend. The game makes it easy to invite friends along for the experience. And Youtube streamers have made Minecraft builds into their own unique genre.
The game even has support for virtual reality. Players can truly feel at home using its VR mode within the vast world.
Video: Minecraft Celebrates the Community!
Illuvium
Illunium adds a unique element of RPGs to the experience of metaverse games. Players are let loose in a giant game world that they can explore to their heart's content. But the game world also allows players to build an army of "Illuvials". These entities aren't just gameplay elements. They're also valuable assets that can be sold or traded as NFTs.
Every Illuvial has unique characteristics and attributes. These include many of the staples of standard RPGs. For example, Illuvials have attack speed, damage capability, etc. The value of an Illuvial functions as a combination of these stats and overall rarity. A strong, rare, Illuvial is also a valuable NFT. Sales are made even easier thanks to a native token called ILV. It even provides membership in the game's decentralized autonomous organization. This means that players get more of a stake in the game the more they participate within it.
Video: Illuvium: Gameplay Reveal Trailer
Sorare
Sorare is a rarity among metaverse games due to its singular focus on one particular sport. Sorare is a fantasy football dream come to life. Metaverse popular games often have a particular draw for different interests. And in the case of Sorare that interest is football and collectible cards.
Sorare has its players take on the role of a manager of sorts. They can create virtual teams made up of five different football players. One interesting point in the process stems from where the football players come from. Players are represented as a blockchain card that sits on the Sorare system.
Some of the cards are essentially licensed digital collectibles. These cards are categorized by their scarcity. They're either limited, rare, super-rare, or unique. The scarcity of these cards comes into play thanks to the blockchain. Each card is a unique item that can accrue value thanks to that scarcity.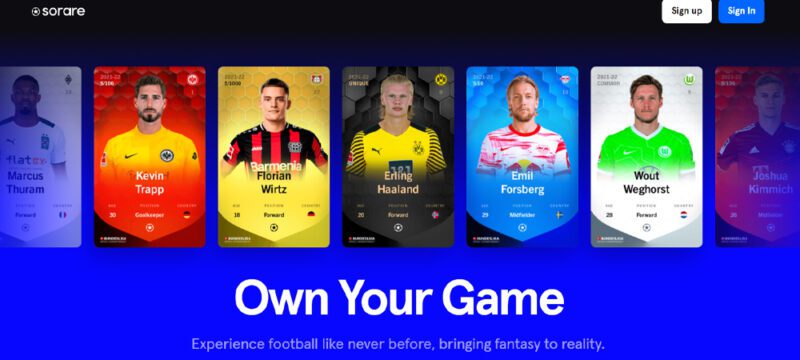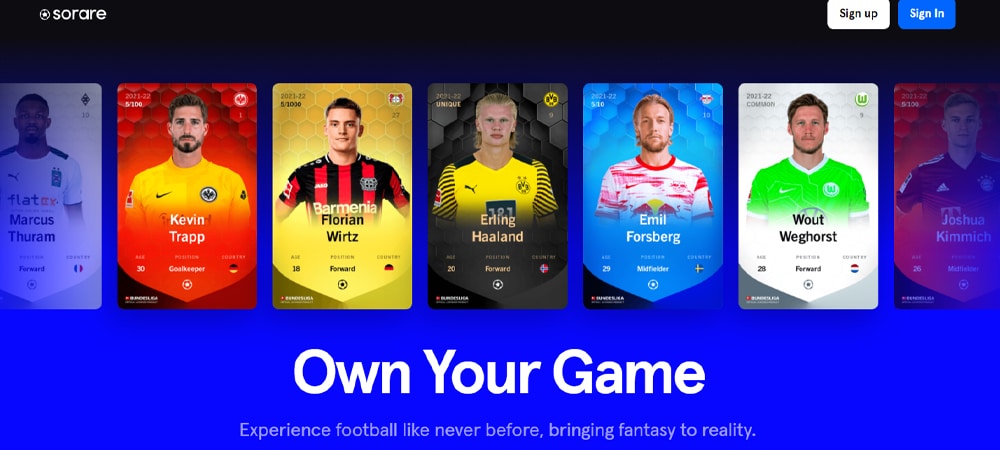 Axie Infinity
Axie Infinity became famous as an early example of a video game economy tied to a virtual ecology. The game gives players the chance to grow creatures similar to Pokémon. These creatures can engage in combat with each other based on body parts and overall type. These include categories such as bug, bird, plant, and more. But there's far more to the game than just raising up the Axies. It's one of the popular metaverse games since a thriving economy has built up around Axie development.
All of the game assets are tied to the blockchain as unique tokens. And because they're unique, they can all be bought and sold by the players. The process of raising the Axies and honing their skills can almost be thought of as akin to animal breeders. And similarly, players can sell their Axies for a profit.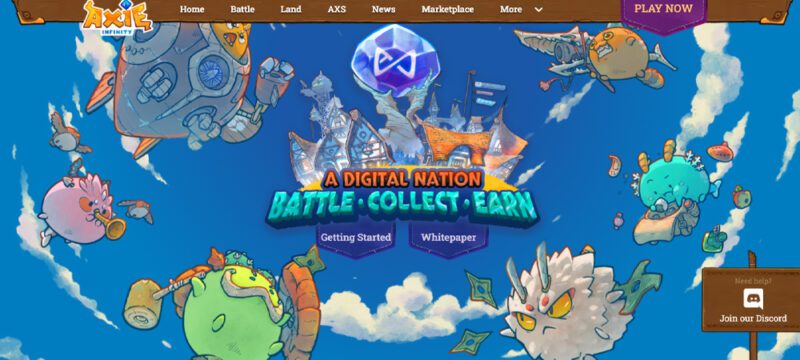 Fortnite
At first glance, Fortnite seems to be just a game about battling other players on a remote island. It's the game that really popularized the concept of a battle royale. And it's true that this competitive shooting game still offers that type of gameplay. But the developer, Epic, has long since moved Fortnite's focus away from the battle royale matches. Those are now somewhat similar to the basketball court within a much larger area. It's there for some fun. But the socializing happens within something called Party Worlds.
Party Worlds are all about social interaction. Players have the chance to express themselves with emotes, outfit changes, sprays, and a variety of other mechanics. Metaverse popular games often have a mix of social and gameplay elements. And Fortnite has one of the best mixes of each. Popular brands like Naruto and Radiohead have even featured cross-promotion with the Fortnite system.
Video: Fortnite Chapter 3 Season 1 Flipped
Metaverse Games and the Facebook Metaverse
The concept of gaming within social platforms will be familiar to anyone who's used Facebook. And Facebook is also taking their gaming experience into the metaverse with their own metaverse games. However, Facebook is also creating unique hardware and software platforms to make the experience even more distinct.
Facebook is rapidly becoming one of the most important companies in metaverse development. They're digitizing workplaces, gaming, and almost every other aspect of life. Facebook's metaverse is a broad subject unto itself. To understand just how everything fits together, you should read the article "Facebook Metaverse; Explained, Examples, Devices, Vision & Critics".
The Impact of Branding on Metaverse Games
You've seen that metaverse games often contain economic incentives. People can create, buy, and sell goods within these platforms. It shouldn't come as a surprise to find how attractive that is to consumer brands.
In fact, some of the biggest names in real-world fashion and fitness brands have a dual presence in both the metaverse and physical world. You can don a new pair of sneakers to run trails in the physical world and have the same in the metaverse. If you're intrigued, you can see how branding within the metaverse is happening in the article "Top 12 Metaverse Brands Selling Their Products Digitally".
Metaverse Games and the World of Web 3.0
Many of the metaverse games intersect with the larger Internet. Players can often earn cryptocurrency, NFTs, or other valuables in the game and use it elsewhere. This usually comes in the form of Web 3.0 related functionality.
Web 3.0 is similar to the metaverse in many ways. It uses many of the same technologies but often achieves very different functionality. The two pieces form a powerful whole. There's a lot more to learn about Web 3.0. And you can find everything you've ever wanted to know about it within the article "Web 3.0 Guide; Clearly Explained With Examples".
Metaverse games have brought something unique into the world. Metaverse popular games bring fun, creativity, and even profit into people's lives. The games are out there right now. And you have the chance to explore them all to their fullest.
Did You Like This Article About Metaverse Games?
You might also be interested in the following articles: