In this series, we interview the founders and CEOs behind Metaverse companies. The metaverse is fully in development, and many different technologies are involved in this process. These inspiring people are at the frontier of developing a future where the online and physical worlds merge.
In this interview, we'll hear from Julie Smithson, the Co-Founder of MetaVRse. She's led MetaVRse in the creation of the MetaVRse engine. Smithson has also helped the company expand into various specializations related to the system. This includes converting clients' 2D content to 3D and deploying that work through TheMall's virtual storefront.
Can you tell us a bit about yourself?
My technological journey started in 2010 when we built the world's first touchscreen DJ Controller. We accomplished that feat before iPADs or Tablets were introduced. From there, we learned more about augmented and virtual realities.
This led to our initial efforts to build innovative solutions for businesses. I've been able to leverage that experience to advise and develop strategic solutions that have transformed the nature of marketing and training.
I also co-founded XR Women. It's a global group of more than six hundred women learning about and implementing immersive technologies in over fifty-two countries.
What is the metaverse, according to you?
The metaverse includes many elements to create an interoperable, immersive, and interactive world. The metaverse is a world of communication, collaboration, commerce, and culture. The metaverse experience is an emergent creation of many different elements. These pieces include a shared underlying architecture and framework, digital assets, multiplayer real-time communications, and digital identities.
These elements are further connected by user-based gamification systems integrated with NFT generation and a blockchain network. The flow of experience with all these elements provides a seamless transition between worlds that will offer an impactful ROX (Return on Experience).
Receive Metaverse Information & Related Topics
When and how did you realize the metaverse was going to be real?
We saw the potential for various applications of these technologies in 2016. And we knew that they could be first applied to business solutions and then become applicable to more everyday issues. Also, as a fan of Star Trek: The Next Generation, I could see how the metaverse would eventually unfold. The term "transport" already describes how I travel through virtual spaces and portals to other worlds. It's all coming together.
According to you, what does it take for the metaverse to become mainstream?
The interoperable metaverse will become mainstream when all necessary elements come together. That doesn't mean we need to wait until then to create an impactful experience that could be deployed on a mobile device or in VR. The metaverse will take a long time to integrate all necessary elements with data plans while keeping security standards in place.
Today, we are building worlds, designing models and digital twins, and the architecture that will shape the Metaverse. It will take time to design, develop, integrate, deploy, and set expectations before the adoption becomes mainstream.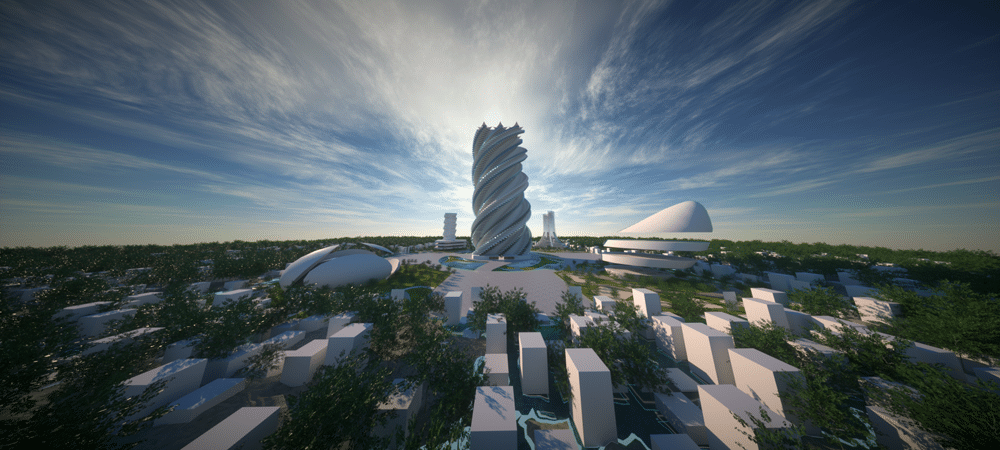 What triggered you to start your metaverse company?
We were already working on touchscreen technology and knew there was more. This led us to build everything focused on learning and exploring these concepts. We called our company MetaVRse in 2016 to signify our focus on building everything. Our company even had a slogan that we built, "eVRything". And we built 360° Videos, a 360° VR Photobooth, AR Portals, WebXR platforms, live activations, VR Tours, and we became consultants for large companies to help them with their 5G strategies.
What's the story behind your company?
MetaVRse started in April 2016 with Alan Smithson, Julie Smithson, and another partner building studio projects for clients. At the same time, Paul Konieczny, Walid Abdelaty, and Sergei Sachkov were building a web-based engine that powered GPS tracking activations. In 2019, our teams merged to deploy the MetaVRse game engine, with our creative studio based in Mexico. We currently have 20 people working under the MetaVRse name.
What does your company solve?
Our company solves the need for a 3D web-based engine to support all elements of the metaverse. This includes hosting immersive worlds, 3D assets, avatar interaction, training or marketing gamification, systems integrations, on-premise hosting, NFT generation, and blockchain payment rails. Our company also offers 3D creation for everyone. This low-code solution provides an easy way for teams to create and design their own experiences.
John Radoff describes the value chain of the metaverse with 7 layers. In which layer(s) does your company operate? Can you give an example?
MetaVRse is in the Spatial Computing layer. We provide solutions that are built and deployed in a browser-agnostic manner. We also create decentralized infrastructures for different human interfaces that support the creator economy. Our company also promotes discovery and experiences through gamification.
MetaVRse is currently working with a client using our system as a 3D viewer integrated on-premise within a learning management system (LMS). That process transformed the 2D instructions of the maintenance procedures into 3D. The transformation aligned with the current 2D learning program. And it gamified the progress and testing by rewarding users with badges on completion.
Who were the people who have been the most helpful in getting you to where you are today? How did they impact your life and your success?
Team. Advisors. Community. Every person in my journey has been incremental to the success of who I am and where the company is today. Some people who joined at the beginning, seven years ago aren't with the team anymore. But they were instrumental in getting us to where we are now. Their passion for innovation and excitement to use the technology and apply it to more than games is eye-opening. And you're inspired when you surround yourself with them.
What do you hope the metaverse will look like in 10 years?
The digital mindset will be natural, and avatar identities will be the norm. How we live, work, and play will have a technical element related to a technosphere system. And this system will, in turn, support every aspect of our lives. Our social lives will also be enhanced through this medium. This effect will grow as systems improve. And it'll also help us face challenges like global climate issues together.
How do you envision your company's role within the metaverse in 10 years?
I believe our company will be looked at as a core infrastructure within the immersive metaverse ecosystem. I see us as one of only a few players with the engine power to support web-based experiences that scale and advance through exponential growth. Our team holds years of experience. And we also have a unique understanding of the true capabilities of this medium. This position allows us to apply the medium to any vertical or industry. And in doing so, we can support the transformation of any process