Oculus Quest 2 is one of the most popular and essential virtual reality headsets currently on the market. Understanding how the device works and how Oculus VR differs from competitors can provide you with a unique perspective on the larger metaverse. You'll soon discover what it has to offer and if it's a good fit for your needs.
Quick Menu:
Reality Labs & Meta
Understanding the Oculus Quest 2 also means learning about where it came from. The Oculus line began appropriately as the main product of a company by the same name. The Oculus company was founded in 2012 but was acquired by Facebook in 2014 and continued to function as an autonomous subsidiary of Facebook until 2018. At this point, it became a brand of Facebook Technologies, LLC. The marketing for the Oculus also changed to "Oculus from Facebook". This move grouped Oculus with other hardware developed and sold by Facebook.
Finally, the Oculus team would be joined by Facebook Reality Labs. This division of Facebook focuses on virtual and augmented reality. When Facebook rebranded as Meta the Oculus Quest 2 became a product of Meta and Reality Labs. In practical terms, the Oculus is highly integrated with the Facebook platform. For example, it uses Facebook logins.
Evolution of the Oculus Quest
The first Oculus VR device was released in 2016. This release, the Oculus Rift, was a landmark moment in the history of virtual reality. The Oculus Rift was a significant leap forward for VR in general. Facebook offered an exciting twist on the idea in 2018 with the Oculus Quest, which ran on an Android variant rather than through a tethered connection to the user's PC. 2019's Oculus Rift S acted as a follow-up to the original Rift. And Oculus Quest 2 followed in 2020. This featured compatibility with both Oculus Rift and Quest style usage scenarios.
Features of Oculus Quest 2
As you'll soon see, the Oculus Quest 2 marks a turning point in Facebook's relationship with virtual reality. It incorporates multiple usage styles to provide you with an impressive level of choice and freedom.
The Build
The Oculus Quest 2 boasts a comfortable 4×5.2 inch design that only weighs 1.1 lbs. This form factor is about 10% lighter than the earlier iterations. The Quest's design is particularly impressive given that the device's battery is powerful enough to run for two to three hours on a single charge. In a dignified light grey color, this streamlined aesthetic also extends to the headset's placement of its four cameras. The Oculus Quest 2 is designed around free-roaming use where cables don't constrict users. But the Quest 2 does support a wired, as well as wireless, connection to your PC.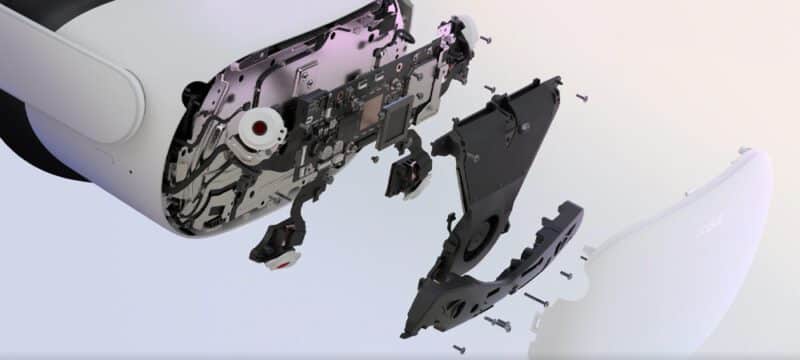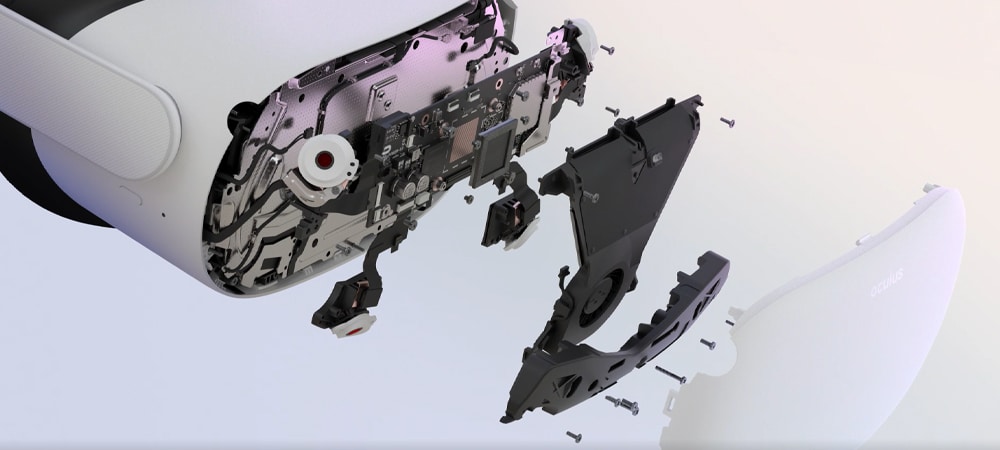 Image attribution: Facebook Store
Visual & Audio Specs
One of the highlights of the Oculus Quest 2 is an improved multimedia experience. The device's display is 50% sharper than the original. Each eye has access to an 1832 x 1920 display. The display integrates with four wide-angle cameras that support a pass-through display. This culminates in six degrees of freedom for users, and safety is assured with its guardian function. These impressive specs are possible thanks to equally remarkable improvements in the system's backend hardware. The Quest 2 uses a Qualcomm SnapDragon XR2 processor. And it's working with 6 GB of RAM and 64 GB of local storage.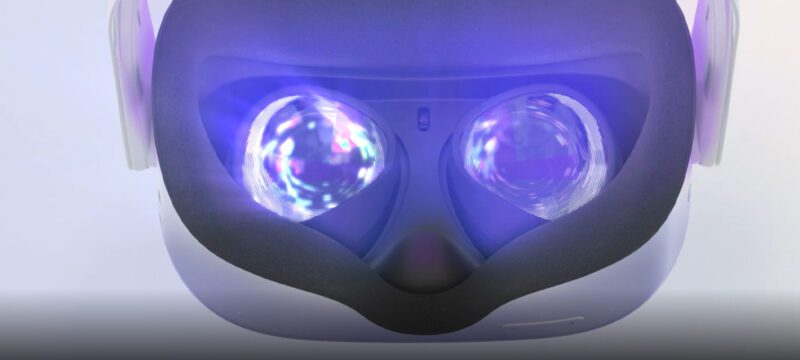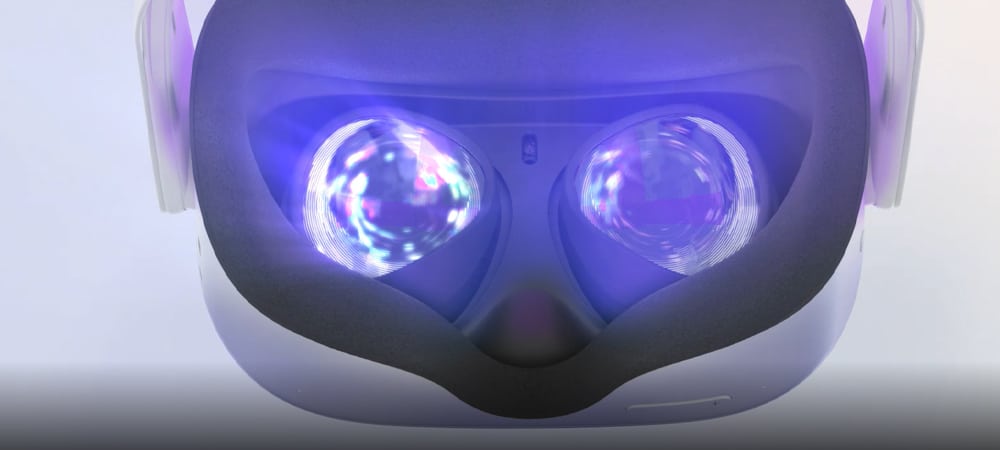 Image attribution: Facebook Store
Controls
Part of what makes the device so powerful is its intuitive controls. The Oculus VR experience is remarkably seamless, thanks to its ease of use. The Oculus Quest 2 supports voice controls for hands-free options. And this intuitive system even extends to automatic hand tracking. It also makes it easy to space lenses by pinching or spreading them into three-set view settings. The headset's form factor also incorporates a physical power button on its right side. And on the lower right side, users will find a volume rocker. The left side holds a USB-C port and headphone jack.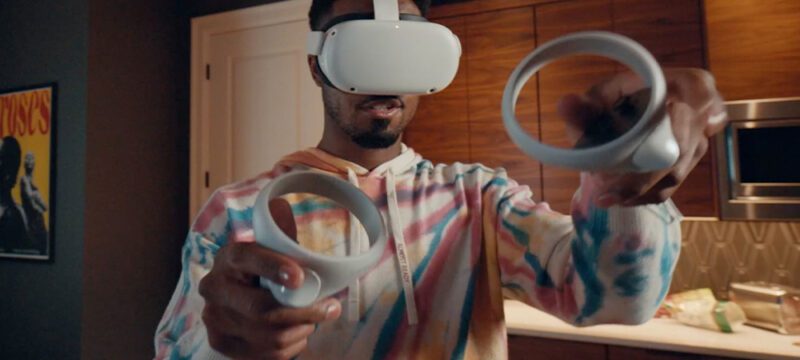 Image attribution: Facebook Store
The Experience
What does it feel like to use an Oculus Quest 2? The experience can almost be defined by the fact that there's something in the Quest 2 for everyone. Fans of everything from shooters to puzzle games can find some fantastic options. And even fitness or meditation apps can be used with the Quest 2. Many of them can even be used for free. The Quest 2 also benefits from its association with Facebook. Facebook, and other metaverse brands, tend to focus on the social elements of technology. And the Quest 2 makes it easy to play with friends.
Video: Oculus Quest 2: First Steps
Oculus Browser
The web is one of the most critical parts of any tech-related experience. The Oculus Quest 2 provides a default option with its own Oculus Browser. The Oculus browser uses the Chromium rendering engine to provide compatibility with both standard sites and those using web-based VR. Even advanced technologies like NFT can be used the same way you would with a normal browser. The Oculus browser takes this further by adding extra power to the Chromium backend. Developers can provide additional virtual reality functionality by leveraging the browser's special API. Firefox fans can also use Firefox Reality.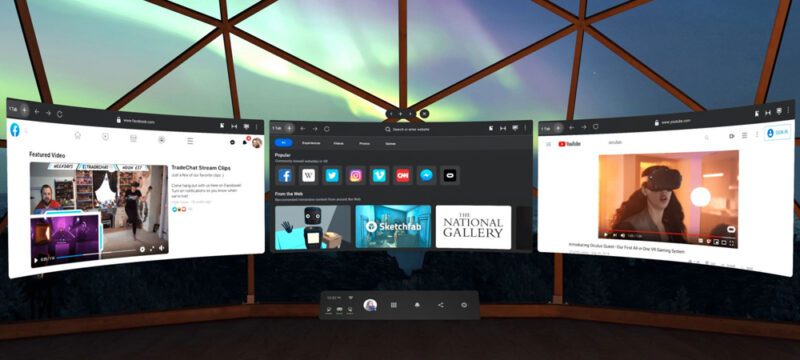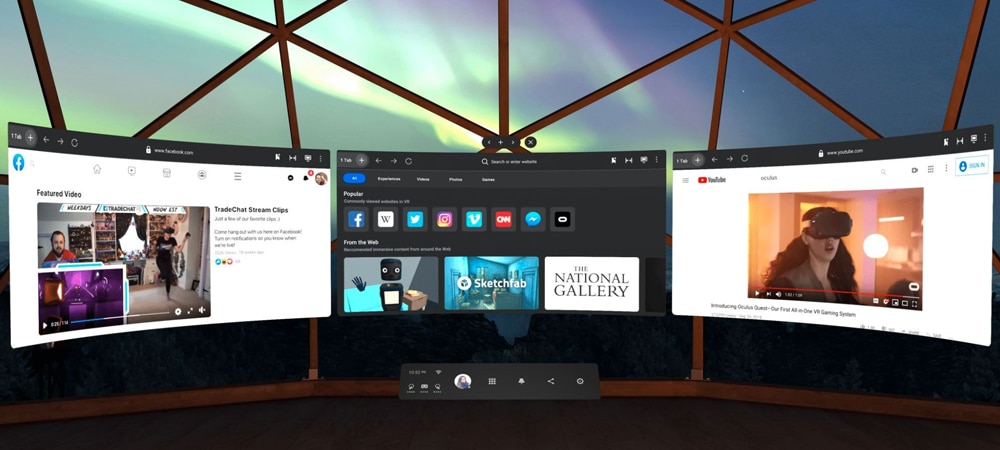 Image attribution: The Gamer
Oculus Quest 2 Accessories
You can also make use of a wide range of accessories with the Oculus Quest 2. The Oculus Touch Controllers are the most commonly used accessory. These devices completely redesign the original Oculus Touch Controllers that deliver even better gesture tracking. But this is only the tip of the iceberg. The Quest 2's apps and games range through many different genres and simulated pastimes. This ranges from fishing to golf. And many of these activities have specialized accessories. For example, you can find VR golf clubs and fishing reels to use with the Quest 2.
Video: Unbelievably fun fitness is ready | Meta Quest
The Price of Oculus Quest 2
The Oculus Quest 2's powerful features do come at a high cost. But with that said, the Quest 2 is an affordable VR solution with a lower price point than the original entry-level Oculus Quest. And a choice between the 256 GB and 128 GB models gives you even more flexibility to weigh features against total cost. It's also important to remember that the Quest 2 can be used without additional components.
Click here to view the official Oculus online store for information on up-to-date pricing.
Public Feedback & Opinions
The overall public opinion of the Oculus Quest 2 has been highly positive. Most of the reasons are readily apparent. It delivers an extremely high-quality virtual reality adventure at a reasonable price. And the Oculus VR experience doesn't even require a powerful PC or console to use. There are many people out there who are looking for a VR system that doesn't require a corded PC connection. The Oculus Quest 2 is the only device that can do so. And on top of that, it still provides an option for wireless and wired PC connections if desired.
The most common complaint about the Quest 2 stems from its connection to Facebook. Many people dislike the fact that the Quest 2 requires a Facebook account. And with that account comes Facebook's data monitoring and mining. But that's still a relatively minor complaint compared to the Quest 2's benefits.
The Oculus Quest 2 and the Larger Metaverse Ecosystem
The metaverse is one of the most exciting parts of virtual reality. And a large number of metaverse companies have created their own advanced hardware and software solutions. Almost every industry is leveraging VR and the metaverse in some fascinating ways. This also translates into new interactive elements to make use of those services.
New headsets, AR glasses, and devices like smart gloves or treadmills appear all the time in exciting forms. You can explore the larger world of VR hardware in the article "VR Headsets; Your Complete Guide to the Top Virtual Reality Gear".
Oculus and the Wider World of Virtual Reality
Undoubtedly, the Oculus Quest 2, and the Oculus brand in general, have played a big role in popularizing VR. The original Oculus marked a point where VR was truly ready for the average home. And the Quest 2 shows how that original idea can become even more powerful and user-friendly.
But it's important to keep in mind that the Oculus is also one component of an entire industry's work on VR. The article "Virtual Reality; Discover VR, Its Components, Technology, and Players" shows you how all of the tech companies form a powerful developmental force.
The Oculus Quest 2 provides people with a fantastic entry point to the metaverse. It packs a surprising amount of power into a light and easy-to-use form factor. This makes it an excellent headset for both new and experienced users.
Did You Like This Article About Oculus Quest 2?
You might also be interested in the following articles: