Apple glasses are one of the world's most anticipated releases. Apple's primarily responsible for popularizing smartphones, smartwatches, and digital music. Most agree that it could do the same thing with smart glasses. And Apple's secrecy on their glasses has made many people even more curious. But wonder no more, you're about to discover everything currently known about Apple AR glasses.
Quick Menu:
Some Background on Apple Inc
Understanding Apple glasses goes hand in hand with understanding Apple Inc. This is because Apple's business methods have always centered around innovation. Currently headquartered in California's Cupertino, Apple is the world's largest IT company. And it reached that position by building up a strong reputation for usability and inclusiveness. Apple often brings complex technologies to the public. This was true with the first generation of iPods, iPhones, and even the Apple II and iMacs.
Apple's innovations are so far-reaching that many people aren't even aware of how much the company has shaped the technological landscape. For example, the Apple II microcomputer didn't just help popularize home computers. The devices also popularized graphical user interfaces and higher-level programming languages like Pascal. And you can thank Apple for the ease with which you can buy digital media. Apple's name is truly synonymous with the idea of bringing technology to the general public.
What Is Apple's Metaverse Strategy?
At this point, even casual observers of tech trends know that almost every major company is getting into the metaverse in one way or another. This has led many to wonder when Apple will join the other Metaverse companies. The often surprising answer is that Apple is already a key player in metaverse-related technologies. Apple's iPhones are arguably the single most popular way to use augmented reality. And Apple's easily topped other metaverse brands with its software development kits (SDKs). However, there's a lot more going on with Apple. Records show that Apple's been researching these technologies since the late 1980s.
As you'll soon see, all signs point to some exciting new hardware that's just on the horizon. Apple's ready to expand past phones and into dedicated hardware. You can read more about the company's relationship to the newest tech landscape in the article "Apple Metaverse Strategy; Apple's Strategy for the Digital Universe."
Apple's Extended Reality Technologies
Apple has been quite secretive about its exact plans for the metaverse and extended reality. However, public records dating back over 20 years show they're dedicated to the concept. Apple tends to wait until they can do something perfectly before jumping into the market. And this helps to explain why it's taking a while for Apple to release dedicated hardware devoted to extended reality and the metaverse.
You've probably already used Apple's first forays into extended reality – the iPhone. Every iPhone has the technology needed for augmented reality. And newer models have some specialized gear that makes AR even smoother. These first steps into AR will probably help power future dedicated extended reality devices. Likewise, Apple glasses may be able to tap into the thousands of augmented reality apps on Apple's App Store. Apple already has a solid metaverse-based foundation.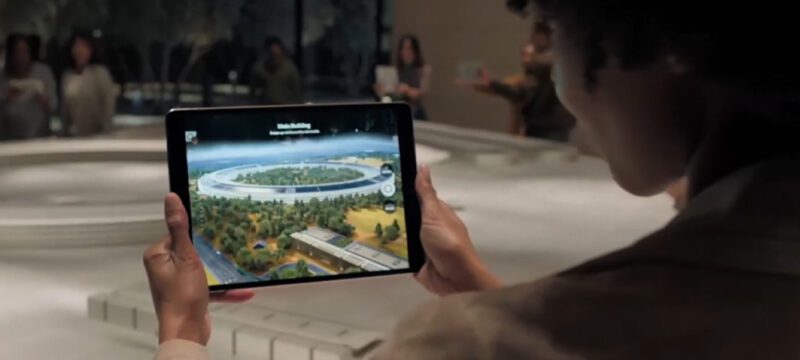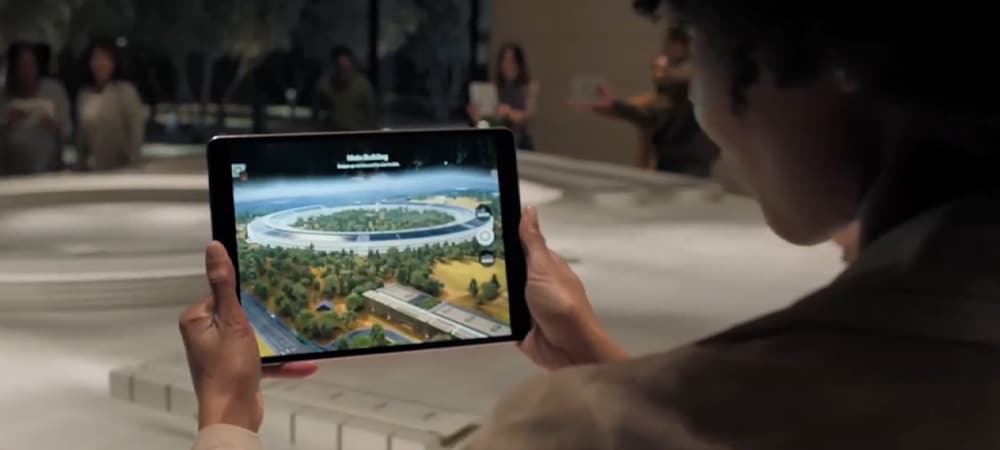 Image attribution: Apple
Apple Glasses & RealityOS
While firm details about Apple glasses are scarce, people have uncovered extremely suggestive information about an upcoming release. One of the most important is references to RealityOS in Apple's other software products. It's generally safe to assume that a RealityOS would be focused on extended reality. This might mean mixed reality. Or it could be virtual reality. And of course, Apple already has vital work for augmented reality. But the idea of an operating system focused on the extended reality of some sort seems to suggest that dedicated hardware is on the horizon. Thankfully, rumors provide some additional context.
Video: Apple realityOS – The Verge
Rumors About Apple Glasses Development
Many rumors about Apple glasses deal with an AR concept called Apple glass. But other sources suggest that Apple might be working on a more VR or mixed-reality-centered approach. And Apple does have a patent for a foveated, predictive, virtual reality system. While there's some merit to the speculation, it's essential to remember that Apple is heavily invested in AR. Apple CEO Tim Cook has even publically stated that he believes AR has more long-term potential than VR. These points, taken as a whole, suggest that Apple is probably working on multiple different extended reality devices.
Image attribution: iDropNews / Martin Hajek
Apple Glasses: Rumored Features
While press releases and the like are scarce, there are strongly substantiated rumors that paint a picture of Apple's plans. The Apple glasses will probably leverage elements of a paired iPhone to provide extra power. It's thought that elements from your phone will be displayed in the glasses. The phone may well act as an additional wirelessly connected processing unit for the glasses. This would allow for a smaller form factor in Apple's glasses since the iPhone's powerful processors could handle much of the heavy lifting. A similar idea is currently used in the Vuzix Blade smart glasses. And those devices have more than proven the merit of tethered smart glasses.
An additional patent from Apple suggests that the glasses will provide something unique, though. They've patented "optical subassembly", which would dynamically adjust the glasses display to the user's prescription and remove the further need for corrective lenses.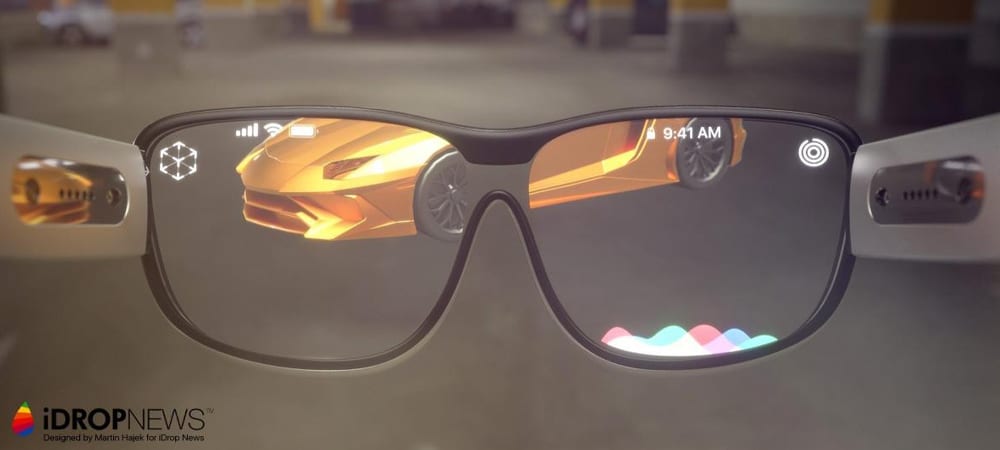 Image attribution: iDropNews / Martin Hajek
Rumored Iris Scanner
Apple acquired the German tech company SensoMotoric Instruments Technology in 2017. This acquisition provided Apple with technologies related to iris scanning. And it's thought that this might factor into Apple glasses development. An iris scanner would let the glasses instantly identify the wearer. This is thanks to the fact that your iris is just as unique as your fingerprint. Apple already uses a fingerprint scanner and facial recognition system to provide biometric security. Iris scanning would provide the company with a third form of security. Iris identification provides the ease of use found in facial identification with fingerprint's extra security.
Apple Glasses Release Date
So far, the concept of Apple glasses is nothing short of amazing. And it's natural for people to be excited about a more lightweight version of the Mark Zuckerberg metaverse. But it's crucial to keep in mind that smart glasses are still a fairly new concept. It's more likely that Apple will lead with the previously mentioned AR/VR headset. Expert opinion puts a release date for such a device around late 2022 or early 2023. Analyst Jeff Pu believes that the glasses might appear in late 2024, coinciding with the second edition of Apple's VR/AR headset.
Apple Glasses As Entry Point for the Metaverse
It's important to remember that Apple glasses will be part of a longer metaverse strategy within Apple. It's true that some trends, such as NFT support, seem to be oddly absent in the company's larger ecosystem. But Apple has been very public about its support for several metaverse concepts.
The company has even played a role in bringing awareness of augmented reality to the public for the first time, thanks to mobile augmented reality games. You can find out everything known about the company's metaverse research in the article "Apple Metaverse; How Apple Enters the New Digital Frontier".
Apple Glasses Are One Part of a Greater Tech Toolkit
Part of what makes the idea of Apple glasses so exciting is that there are already so many excellent metaverse-related devices on the market. It's one of the IT world's most continually evolving and experimental areas.
All of the significant metaverse companies are pushing the cutting-edge in new and exciting ways. Apple is sure to bring its own unique twist to the subject. But this is all the more exciting given that most metaverse devices are uniquely innovative. You can browse some other cutting-edge technology in the article "Metaverse Devices; The Best Gear To Enter the Metaverse".
Apple glasses are going to change the entire world, at least if we take Apple's prior innovations as an indicator. But you can become part of it right now. There's a world of metaverse tech to enjoy while you wait.
Did You Like This Article About The Roblox Games?
You might also be interested in the following articles: