Facebook AR glasses are among the newest cutting-edge developments from Meta. The company's virtual reality (VR) headsets and metaverse platforms have revolutionized the industry. But augmented reality (AR) presents all new opportunities for companies and customers. And you'll soon discover everything you need to know to be ready for this new and exciting take on the metaverse.
Quick Menu:
Meta & The Metaverse
Facebook, now known as Meta, introduced much of the world to the idea of the metaverse. But it's essential to keep in mind that a singular vision largely shapes the company's view of the metaverse. Mark Zuckerberg sees the metaverse as the next stage of the mobile Internet. His work on Facebook AR glasses and VR headset options highlights that principle. The mobile Internet gave people more freedom when using it.
And Zuckerberg believes that the metaverse will take that trend even further. He sees the metaverse as a more active Internet. Where going online means entering a parallel reality. One that can seamlessly transition between an office environment, hiking trails, and even snowy mountains. But Mark Zuckerberg also sees friends, family, and social connections as an intrinsic part of the metaverse meaning. Of course, Facebook itself is a perfect match for his view of a social metaverse.
A Brief Overview of Reality Labs
Anyone who wants to know about innovative new tech will want to keep a close eye on Reality Labs. It's Meta's research and development branch for both hardware and software. The software initiatives include 3-D avatar-based systems and aids to help hardware keep track of environmental geolocation and haptic feedback.
Hardware innovations include the Oculus Rift and Quest VR headsets. And, of course, they're also working on Facebook AR glasses. Reality Labs is working toward a shared, universal, mixed reality experience with the metaverse. They see a future where the metaverse is a dependable part of daily life.
Video: Introduction to Facebook Reality Labs
Meta's Announcement of Project Nazare
The future of Facebook AR glasses is currently taking form in Project Nazare. The company now has some optical offerings on the market. In particular, they've been getting well-deserved attention with a recent Ray-Ban partnership. But Project Nazare promises to take things to the next level with true augmented reality.
Meta's goal is nothing less than a system that can project holograms. The glasses will be able to interact with the cloud, transform people into 3D avatars, and allow for real-time metaverse interaction. While the glasses are code-named Project Nazare, Meta has yet to announce a final consumer-facing name.
Receive Metaverse Information & Related Topics
Details of Project Nazare
Project Nazare is a work in progress whose specs can change anytime. But Meta and Mark Zuckerberg have opened up on some of the glasses' capabilities. Zuckerberg has stated that the Facebook AR glasses could be around 3/16th of an inch (5 mm) thick. In comparison, the average pair of prescription glasses are typically between 2 mm and 6 mm thick. This means that the high-tech glasses will have a similar form factor to standard eyewear. This is especially impressive given that the AR glasses will have sensors, speakers, cameras, and radios.
The glasses are intended to be fully immersive. Users should never feel like they're staring at a monitor or the world through a jar. The glasses will instead be able to fully merge the digital and analog realities into a singular whole. And part of what makes this possible is Project Nazare's advanced hologram display. This system marks Project Nazare as a huge leap forward in wearable smart devices. It's not just that Project Nazare has robust sensors and processors; it's also a huge leap forward in data output to users. It's actual two-way communication between user and glasses.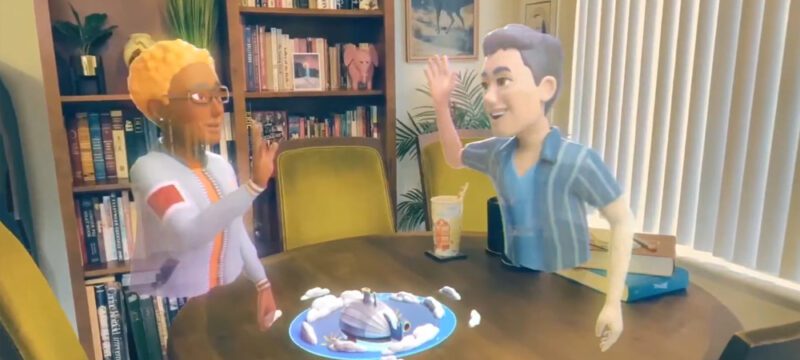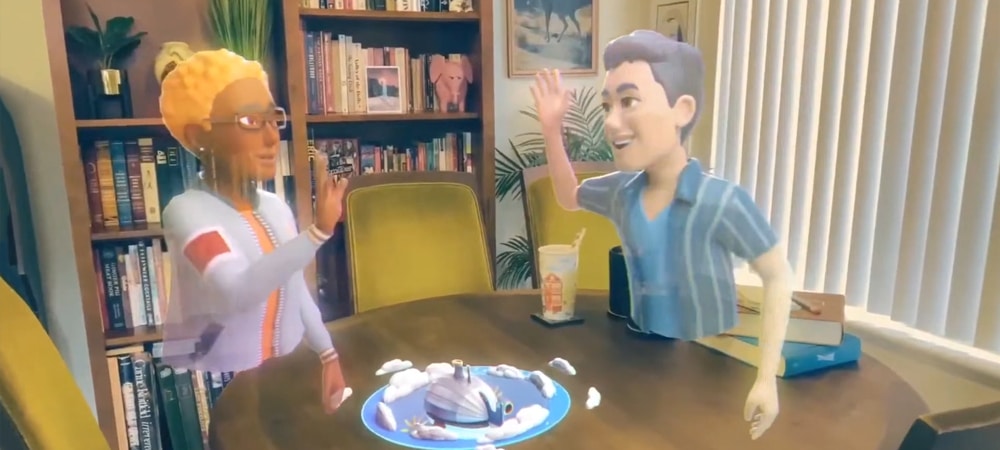 Image attribution: Facebook
Another Meta AR Project: Aria
Project Nazare is undeniably impressive. However, it's far from Meta's only AR or even glasses-related project. The company works on multiple forms of VR headsets. And likewise, they're also working with different takes on Facebook AR glasses. Project Aria describes a type of AR glasses used to further research AR development as a whole. It's essentially a high-tech device that can be used to help develop even more advanced electronics.
Project Aria is highly experimental. But it mainly operates by taking in visual and auditory data from the wearer's environment. Project Aria records even subtle information like eye tracking or geolocation. This information is then encrypted and uploaded to a safe back-end storage system. The ultimate goal for this data is learning and development. 3,000 Facebook employees and contractors will soon use Project Aria to aid future augmented reality research and development.
Video: Project Aria – AR glasses research: The future of interaction
Current Facebook AR Glasses: Ray-Ban Stories
Project Nazare might not have a public release yet. But you can experience aspects of Facebook AR glasses right now. Meta has teamed up with EssilorLuxottica, the parent company of Ray-Ban, to create an intriguing take on smart glasses. Ray-Ban Stories isn't a Meta branded product.
Facebook is instead providing technology and software to Ray-Ban. But the product does highlight Meta's dedication to merging technology and lifestyle. Ray-Ban Stories look like normal if stylish glasses. But they allow you to record the most critical events in your life. You can essentially use them to create your personal story.
Video: Ray-Ban Stories: the new way to capture, share & listen
Features of Facebook AR Glasses – Ray-Ban Stories
Ray-Ban Stories offer a different take on smart glasses. But it raises the critical question of exactly what the glasses can do. This can be best understood by examining the essential aspects of Ray-Ban Stories.
The Build
Metaverse companies often struggle with design elegance. But these Facebook AR glasses are only slightly larger than standard eyewear. In fact, the Wayfarer Stories build looks almost precisely like Ray-Ban's classic Wayfarer glasses design. You even have a range of different colors to choose from. In total, there are currently three other models of Ray-Ban Stories to choose from. Each pair of glasses come with a unique style and different colors of frames and glasses.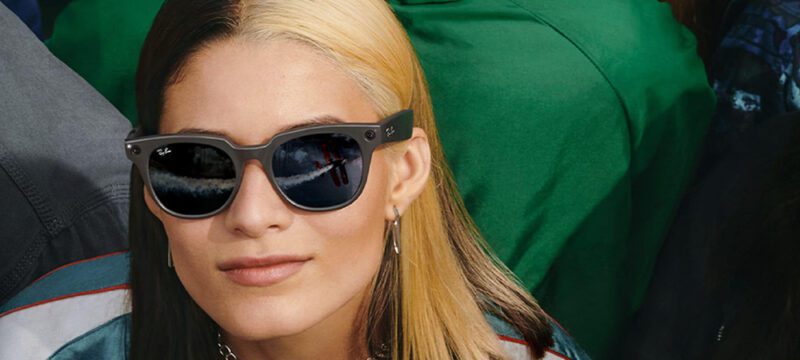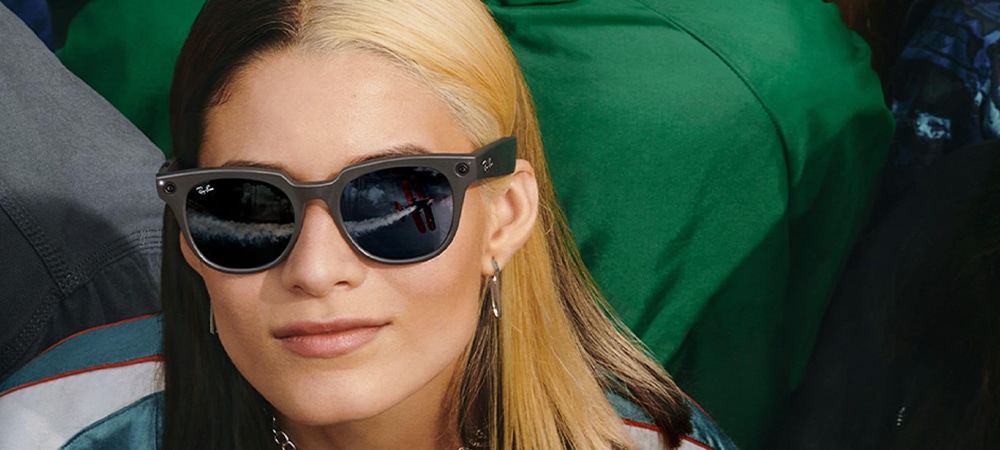 Image attribution: Ray-Ban
Visual & Audio Specs
Facebook AR glasses, and the products of other metaverse brands, have to balance high-tech aspirations against size constraints carefully. However, Ray-Ban Stories packs some impressive hardware into a limited space. It boasts two 5MP cameras that support both still images and video. They can store over 500 pictures or 30 videos around 30 seconds in length, and still images are 2592×1984, while the video is captured at 1184×1184 30 fps. Speakers on either side of the glasses produce an immersive audio experience. This is further complimented with a three-microphone array. It uses BT 5.0 and Wi-Fi 5 for wireless connections.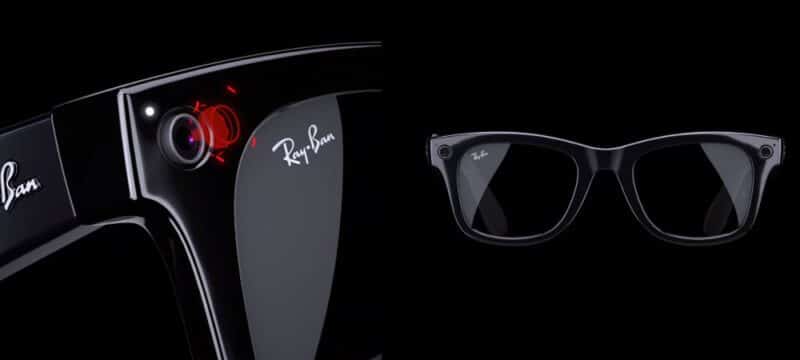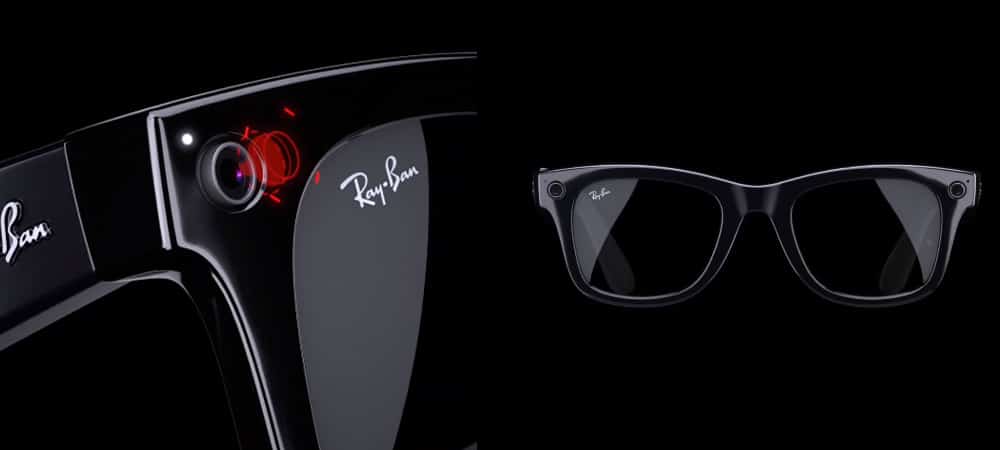 Image attribution: Ray-Ban
Controls
The three-microphone array on these Facebook AR glasses listens for voices. When the glasses hear "Hey Facebook", they'll wait for more commands. However, you can also use physical controls on the glasses. The right side of the glasses has a button to capture images or video, and another switch turns the glasses on or off. A light on the inner side of the glasses shows their current operational status. This can range from green to indicate a full charge to red for a drained battery. They also have a separate front-facing light that turns on when the cameras are recording.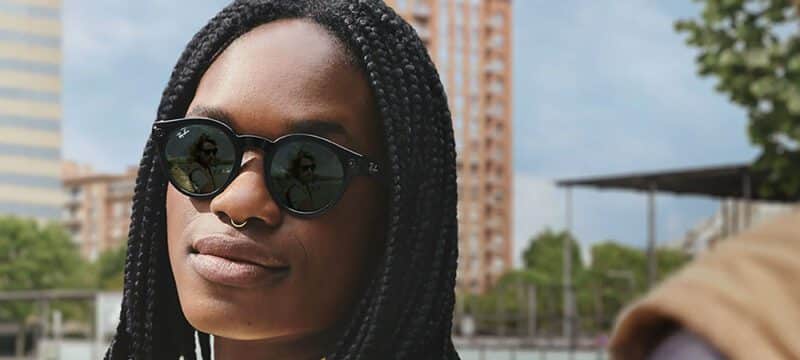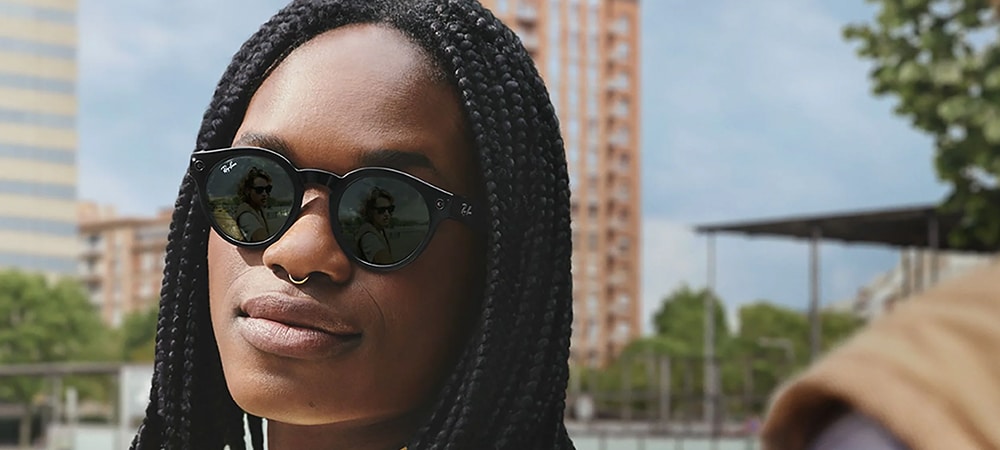 Image attribution: Ray-Ban
Native App
Ray-Ban Stories is heavily integrated with Facebook. After all, they are Facebook AR glasses. And you'll need to log into a Facebook account to get the most out of the system. The dual use of Facebook and Ray-Ban Stories makes it easy to weave events together into a narrative highlighting the most critical moments in your life. The glasses can store a relatively large amount of images.
But active users will want to use the Facebook View app regularly to transfer media from the glasses to their phones. This makes your phone into something along the lines of a secondary camera roll. The app also gives you the option to do some light media editing. You can splice together media to create montages. Or you might want to add animated effects to still images. The camera's native app makes blending your experiences into a story easy.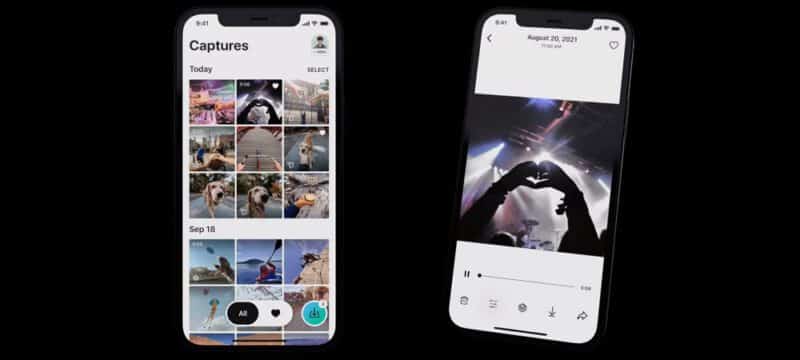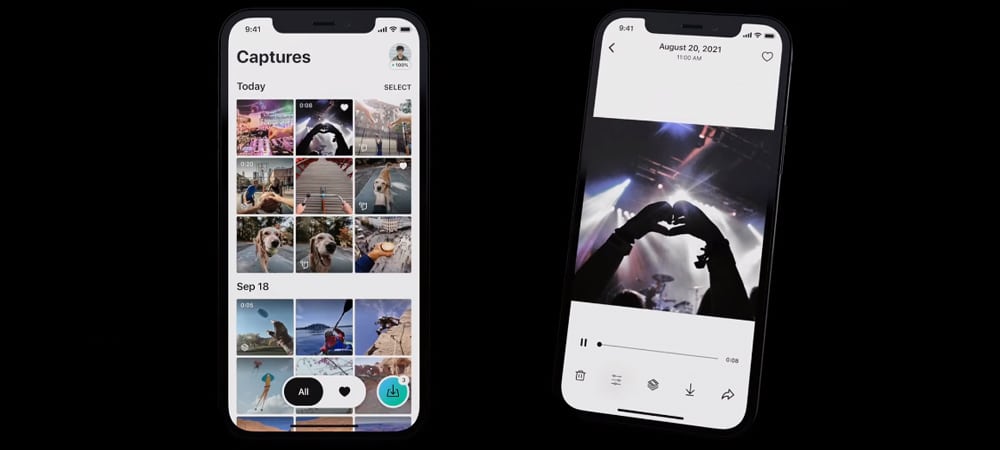 Image attribution: Ray-Ban
Accessories & Charging
The idea of charging one more accessory might not sound appealing. But this pair of Facebook AR glasses makes it a seamless experience you don't need to think about because the glasses charge when you put them in their case. Folding the glasses exposes a hidden connector on the right hinge. This acts as a charging point when the glasses are in their case. The case itself has a strong enough battery to charge the glasses three times before it will itself need recharging through a USB-C port. Much like the glasses, the case exemplifies Ray-Ban's style and aesthetic.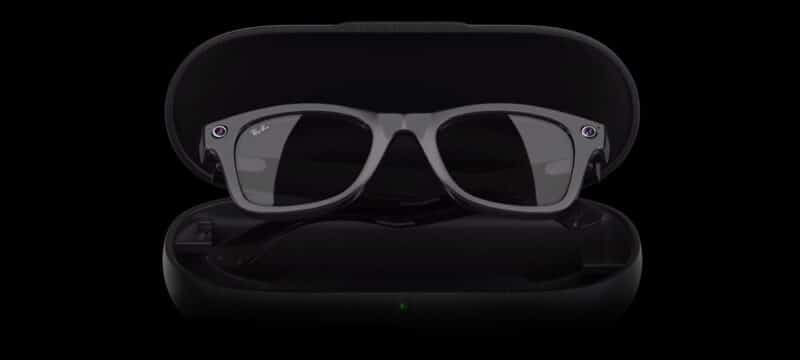 Image attribution: Ray-Ban
The Price of Facebook AR Glasses
You might assume that Facebook AR glasses are inherently pricy. After all, they're both high-tech and high-fashion. But the cost of the glasses is mitigated by the fact that you can customize them. For example, adding polarization or transition to them adds to the price. And prescription lenses will raise the cost even more. But this varies by insurance coverage. The price is also impacted by the choice of the Wayfarer, Round, or Meteor frame styles.
Click here to view the official Ray-Ban online store for information on up-to-date pricing.
Public Feedback & Opinions
Public opinion on this initial pair of Facebook AR glasses has been highly positive regarding style. Ray-Ban Stories are generally considered to have the best aesthetic design and form factor among all of the available smart glasses. Reception is less positive when it comes to the specs. The cameras are almost certainly less potent than what's on your phone.
It's also important to keep in mind that the glasses aren't meant as a smartphone replacement. The smart glasses are there for the moments when you'd miss a shot if you had to use your phone. A unique smile, natural wonders, and other events are hard to capture with phones. Some people are worried about privacy concerns. But Meta has worked with advocacy groups, including the NNEDV and LGBT Technology partnership. The advocacy groups say that Facebook took their concerns seriously and are comfortable with the results.
Facebook AR Glasses and the Larger Facebook Metaverse
At this point, it should be clear that Meta is deeply invested in augmented reality. But Facebook AR glasses are only part of the company's larger vision of the metaverse. Mark Zuckerberg is working on an entire hardware and software ecosystem to bring the metaverse into people's lives.
This includes everything from metaverse games to various tools that can help you build your unique metaverse creations. And people on both consumer and corporate levels are jumping aboard. You can dive deeper into the Facebook metaverse in the article "Facebook Metaverse; Explained, Examples, Devices, Vision & Critics".
Virtual Reality Headsets and Facebook AR Glasses
Facebook AR glasses provide a method of interacting with the metaverse that's different from what most people expect. But there are several other ways to work with the metaverse than Facebook augmented reality glasses. Tech gear like headsets is an obvious example. But controllers, gloves, suits, and even treadmills can further expand your view of the metaverse.
And these options are also providing various industries with new ways to benefit from the new technologies. You can explore some of the most exciting metaverse gear in the article "VR Headsets; Your Complete Guide to the Top Virtual Reality Gear".
An Even Deeper Dive Into Augmented Reality
You've seen many reasons why people are so excited about Facebook AR glasses. But some of the excitement also stems from the overall concept of augmented reality. Facebook is providing one take on this larger concept. But where there's one implementation, it's clear that more will follow. AR technologies are still in a relatively early stage of development and deployment.
But it's clear that AR tech is turning science fiction into science fact. You can examine the full scope of the augmented reality landscape in the article "Augmented Reality; Learn About AR Tech, Use Cases, Devices, and More!".
Facebook AR glasses are still in a fairly early stage. But that also means that it's the perfect time to get on board. State of the art is moving fast, and Meta is constantly moving forward with new ideas.
Did You Like This Article About Facebook AR Glasses?
You might also be interested in the following articles: