The Roblox metaverse is both one of the essential parts of the metaverse and one of the easiest to overlook. This is in large part because Roblox began as an online game engine. But over the years, it's steadily grown into one of the largest implementations of the metaverse. And you're about to discover why the platform's so beloved.
Quick Menu:
Starting Out With the Larger Metaverse
The Roblox metaverse is itself one part of the larger metaverse. Some of these platforms seem to be almost distinct from each other. For example, some metaverse implementations use virtual reality headsets to immerse you in a digital universe fully. In contrast, other systems use augmented or mixed reality to bring digital content into the physical world. And methods to access these myriad realms include a wide range of devices. You might don VR headsets like the Oculus Quest 2. Or you might use compact but high-tech glasses to access augmented reality. And your smartphone is almost certainly capable of some forms of augmented reality.
But no matter how you access the metaverse, it'll function as an always-on, highly social system. It's a world where you can interact with real people and leave a lasting mark on the digital universe together. It's a limitless 3D domain whose decentralized nature means it can implement innovations like NFT. This makes it both entirely in development and also highly emergent. But you can jump into it right now. You can discover more about the various forms of the metaverse in the article "Metaverse Guide; Understanding The Basics Will Open Up a New World".
Understanding Metaverse Games
Most forms of extended reality are a perfect match for gaming. And this means that the world is reliving the earliest days of video games and Internet development. Back in the day, companies were constantly inventing new takes on gaming. And the metaverse is ensuring that this same creativity can rise up again. Metaverse games like Axie Infinity make it easy and fun to earn real money as metaverse cryptocurrency. Metaverse games are also different in not having the same firmly set boundaries as classic video games. It's a shared virtual space that emphasizes freedom and exploration.
For more information about metaverse games, read "Top 10 Popular Metaverse Games To Explore Right Now".
What Is the Roblox Metaverse?
The lack of set boundaries in metaverse games is what makes the Roblox metaverse so special. Roblox is often discussed as a game, but that's not really the case. Roblox is better described as a combination of a game engine, development tools, and an online storefront for games. If you've ever used Steam, then imagine what that system would be like if every game in it was connected through a 3D hub interface.
That's essentially what Roblox is. However, it's important to note that the hub interface is often just as much fun as the games. The hub is the world in which games are housed and played. Part of Roblox's appeal also stems from the creator tools. The system makes it easy for users to try their hand at making their own games or accessories. These activities can also be monetized to earn some of Roblox's custom currency – Robux.
Receive Metaverse Information & Related Topics
Video: The Story of Roblox

Roblox Metaverse Economy & Robux
It's not an exaggeration to say that the Roblox metaverse has a real and thriving economy. You might wonder how a massive system with hundreds of millions of users can operate when the games hosted within it are mostly free to play. Where does Roblox get the money needed to fund such a huge project? The answer comes from the Robux economy. The biggest source of income for the Roblox company stems from Robux purchases.
Players can buy Robux from the website, app stores, and gift cards from many retail stores. Roblox makes a profit from all of these sales. But about 54% comes from app store sales. But those sales would only happen because of Roblox's user base's ingenuity. As previously mentioned, the games on Roblox are primarily free. But they can feature in-game purchases and player-made accessories like avatar clothing.
Video: Opening Cinematic | RDC 2022
Roblox Metaverse Avatars
Avatar clothing and accessories are a big part of what makes the Roblox metaverse so much fun. And why Robux is necessary. Robux can buy your avatar stylish clothing options. But this is only the tip of the iceberg regarding the various ways you can give your avatar, known as a "robloxian," a unique identity. The blocky R15 avatars are the classic Roblox style. But the newer Rthro allows you to use a more realistic style. Both of these options still let you choose from a wide variety of different animations and movement routines.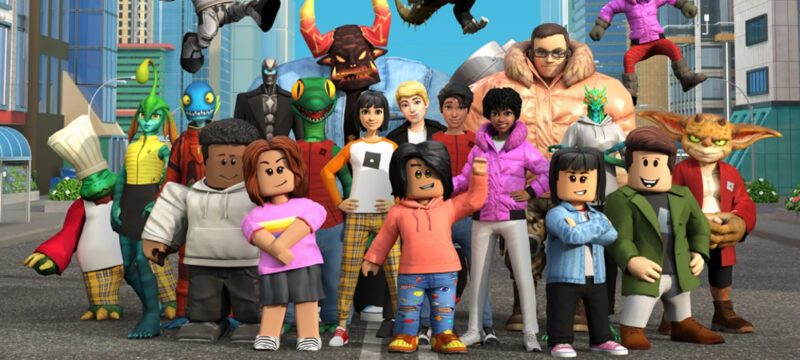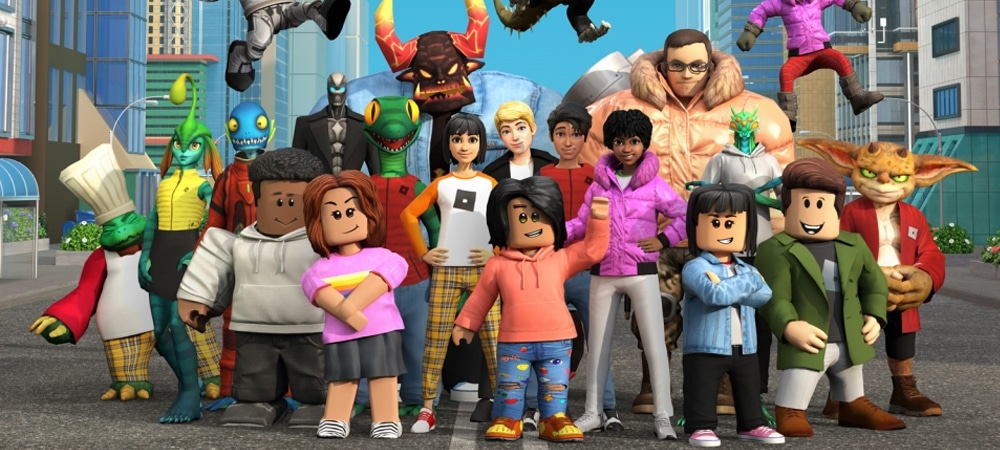 Image attribution: The Sun
An Extensive Overview of Roblox Metaverse Games
The technical elements of the Roblox metaverse can be fascinating. But most people will want to jump in and explore the gaming options as quickly as possible. With that in mind, there's also the question of which games to start with. Estimates put the number of games in Roblox at around 40 million, so there's a lot to choose from.
But the best games tend to have a lot of renown around them. They'll also typically dip into popular genres like murder mysteries or dungeon-crawling adventures. But don't let that fool you into thinking you're not in for many surprises. User-generated content tends to be very genre savvy. People who love those genres will typically subvert expectations through clever twists. You can check out the best that Roblox offers in the article "Roblox Games; The Top 10 You Should Start Playing Today".
Video: Game Fund – Early Access Showcase 2022
Popular Brands Enter the Roblox Metaverse
The metaverse blockchain is almost a given in metaverse games. But it's only just now starting to show up in the Roblox metaverse. However, Roblox is one of the essential metaverse brand options out there. And there's a tremendous amount of interest in it from some of the biggest companies in the world. The following companies are among the most notable who've implemented some form of presence in Roblox.
Gucci
Gucci first joined forces with Roblox to create the Gucci Garden. This temporary space was so successful that Gucci's returned to make a more permanent location called Gucci Town. It has a garden but also includes a cafe, game space, and a store to buy digital Gucci merchandise.
Video: ARCHETYPES | Gucci Garden Virtual Exhibition
Nike
Nike launched a foray into the Roblox metaverse with Nikeland. It's a Roblox-based virtual world with Nike's take on buildings, arenas, and even fields. All of these items and more are themed on Nike's physical headquarters. And users will, of course, be able to buy Nike accessories for their avatars.
Video: NIKELAND on Roblox
Walmart
Walmart has not just one but two areas in the Roblox metaverse. Both Walmart Land and Walmart's Universe of Play offer uses a unique chance to get a different perspective on the company. It has fashion, entertainment, and, most of all, style. It's a destination for digital merch and fun.
Video: Introducing Walmart Land on Roblox
Chipotle
The Roblox metaverse is home to an interactive simulation of Chipotle that puts users in charge. You'll learn authentic Chipotle techniques under the guidance of a virtual chef. And you'll be using Chipotle's unique ingredients as you create the perfect steak and unlock exclusive items related to the Garlic Guajillo.
Video: Chipotle Boorito Maze on Roblox
Clarks
Clarks provides users with a chance to explore Clarks Stadium. This expansive area within the Roblox metaverse contains a variety of competitive events. This includes everything from BMX tricks to racing, parkour, and even breakdancing. And, of course, the Clarks Cica shoe collection is also a centerpiece of Clarks Stadium.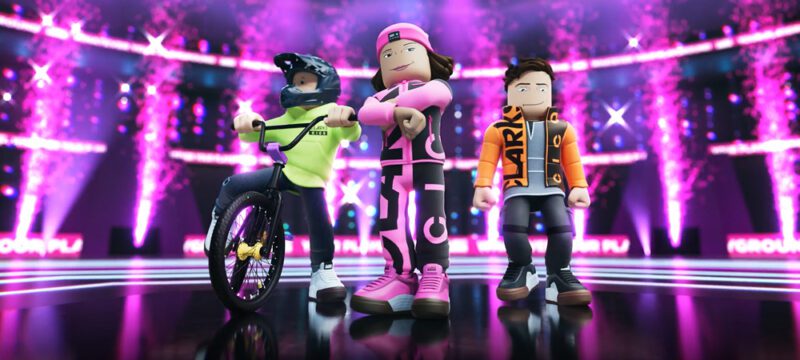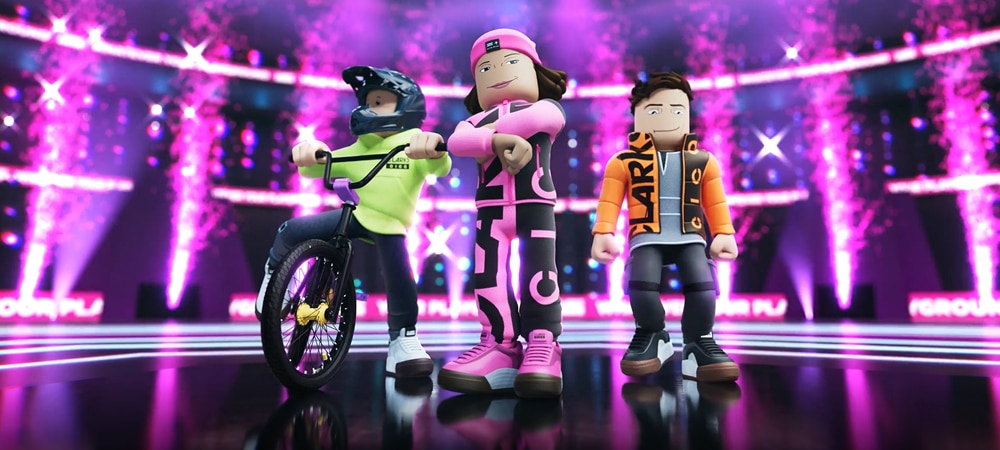 Image attribution: Clarks
Tommy Hilfiger
Tommy Hilfinger has taken an interesting approach to the Roblox metaverse. The company partnered with eight of the best creators in the community to create a digital fashion collection: The Tommy X Roblox Creators. Additionally the company created Tommy Play world with mini-games to further connect with the younger generation.
Video: TOMMY PLAY
Forever 21
Forever 21 doesn't just open up a store to users. Their presence in the Roblox metaverse gives you a chance to run a virtual Forever 21. Some game elements, like non-player characters can be hired to assist within the store and store items work with your avatar.
Video: FOREVER 21 X ROBLOX
Samsung
Samsung's presence in the Roblox metaverse indeed subverts expectations. The company provides a Samsung Space Tycoon game where players can collect digital Samsung products. There's even a crafting system where material from the Mining Zone can be combined in the Lab Zone to create some new products for the player.
Video: Samsung Space Tycoon on Roblox
The Roblox Metaverse as a Launchpad to Other Digital Worlds
The Roblox metaverse is a genuinely massive digital world. But at the same time, it's just one world within the larger universe that is the full metaverse. And unlike space exploration, every one of these digital worlds is teeming with life, culture, and events. Every virtual world in the metaverse has something unique to offer. Some specialize in games, others in art or business. But exploring them is always exciting. You can find your perfect guide to the most popular worlds within the metaverse in the article "Metaverse Virtual Worlds; The Best Way To Experience the Metaverse".
You've seen just how massive the Roblox metaverse is. And you've probably found yourself fascinated by many different elements. This makes it the perfect time to create an account on Roblox and explore it for yourself. Your adventure's just beginning!
Did You Like This Article About Roblox Metaverse?
You might also be interested in the following articles: