Voxels is one of the hottest topics among metaverse enthusiasts. This is partly because the platform uses an innovative mix of metaverse and Web 3.0 technologies. But the system also highlights the myriad ways that the metaverse can mirror real-world infrastructures like roads and buildings. And you'll soon see how to enjoy Voxels for yourself.
Quick Menu:
Reconsidering the Nature of the Metaverse
It's essential to fully define what the metaverse is before looking at Voxel's implementation of it. People often think of the metaverse as a digital universe you leap into with a virtual reality (VR) headset. And you can indeed use a VR headset with Voxels. But Voxels also highlights that the metaverse exists as a digital world that can be accessed in different ways. The metaverse can be viewed with augmented reality (AR) systems on your phone, unique designs on your laptop or desktop, and through many other methods.
Different types of access provide a different metaverse experience. Much like an offline experience differs if you look out a window, step out your door, or see the sights over a live stream. But the metaverse itself is an always-on, persistent world. And it's also both shared and social. Everyone can step into the same metaverse and socialize. It's essential to remember that the metaverse is still experimental and "fully" in development. There are always new concepts to explore. You can find a complete guide to this exciting digital universe in the article "Metaverse Guide; Understanding The Basics Will Open Up a New World".
What Is Considered to be a Metaverse Virtual World?
The metaverse is a considerable domain that encompasses individual virtual worlds. This relationship is somewhat similar to planets in our larger galaxy. And metaverse worlds like Voxels are often just as active as the Earth itself.
Virtual worlds are only limited by the imagination of their creators and user base. But they tend to use the blockchain to allow items within them to be unique and ownable. The metaverse blockchain also allows for Metaverse cryptocurrency. You can explore the virtual world concept in the article "Metaverse Virtual Worlds; The Best Way To Experience the Metaverse".
What Is Voxels (Previously Cryptovoxels)?
Voxels is a metaverse virtual world but has even more surprises than you might expect. It was originally created in April 2018 as Cryptovoxels. Nolan Consulting initially opened its metaverse as a limited-access beta. As such, the early land sales on the platform came from the creator's social circle. The land sales on Cryptovoxels eventually opened up as they made their way onto the OpenSea market.
And finally, the system as a whole went out of beta and opened to the public in July 2018. New users found something truly remarkable. Cryptovoxels, now known as Voxels, can be accessed through VR headsets. But you can also jump into it with nothing more than a standard Web browser. It's a fully functional metaverse with support for the Ethereum blockchain. You can buy, sell, and build on virtual land. It even has purchasable, unique versions of many real-world objects.
Receive Metaverse Information & Related Topics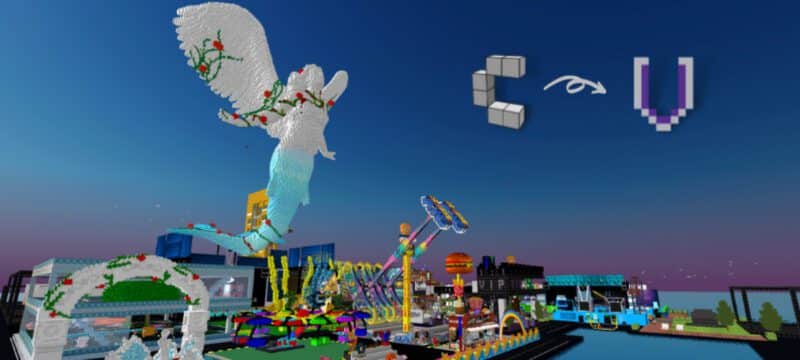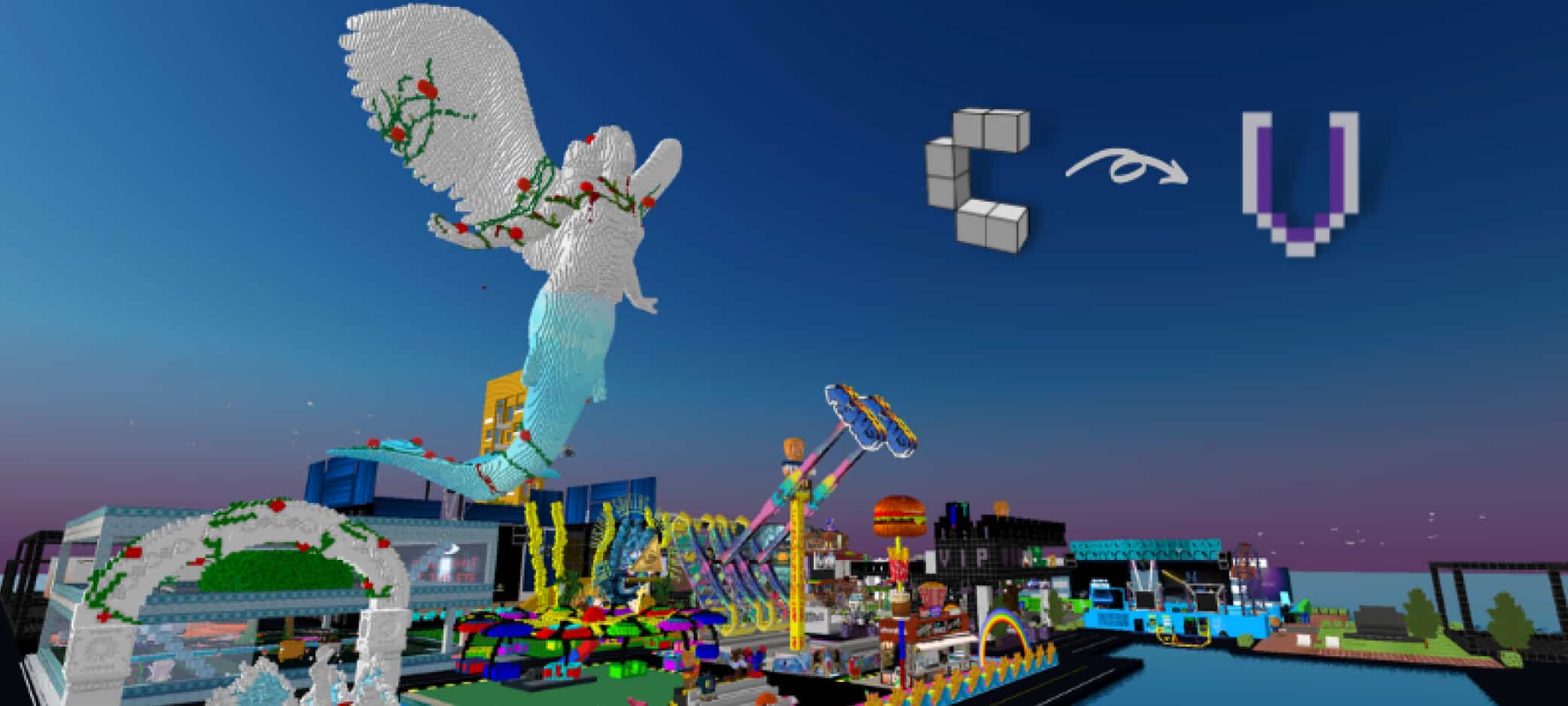 Image attribution: Voxels Twitter
Currency of Voxels
You've seen that Voxels is tied to the Ethereum blockchain (ETH). This allows for elements within the system to exist as unique entities. And functionality can change depending on context. For example, the Voxels Parcel (CVPA) is an NFT and cryptocurrency. But that NFT also represents land within Voxel's Origin City. Just as every token is unique, so is the land it's tied to. So buying CVPA is both a token purchase and a virtual land deal. CVPA is auctioned weekly in-system and continually within the OpenSea market. There are currently 1,583 CVPA holders with a cap set at 5,919.
How Does Voxels Work?
Voxels is part of the larger metaverse. But it has a unique take on the more significant metaverse meaning, which can catch people by surprise. One of the most critical elements that users need to learn about is the Voxels spaces. Spaces are pieces of land that aren't directly accessible by anyone other than the person who initially claimed them. But that person can share access to his space by simply sending friends a URL.
The URL will open up a teleport link on those individual's grid which leads directly to the now-claimed space. And the Web-based nature of Voxels means that this can be done from within a standard browser. This might seem straightforward at first. But one common point of confusion comes from user visibility. The metaverse has the standard 3D features you'd expect, but the social elements are still somewhat limited compared to many other metaverse implementations.
Image attribution: Voxels Twitter
The Role & Importance of Land in Voxels
You might have been surprised to find that currency and land are analogous within the larger world of Voxels. However, this fact highlights how central land is to the Voxels' experience. It's a metaverse brand that's synonymous with digital property ownership and development. The system is made up of huge islands. In fact, Origin City as a whole is the largest of these islands within Voxels. But you and other users can purchase your land to work with. Buying land is as easy as clicking the system's "buy parcels" tab. This will bring up a list of land that's currently available for purchase, along with some relevant details.
You'll see the land's name, area, height, and location within the system. And, of course, the current bidding price is also listed along with those details. You can even visit the land to look around by clicking on its map. But you can also have some fun in the system without owning property. If you click "Play Now" on the system's main page, you'll spawn as an anonymous avatar. This will let you explore the larger world and see what people have built on their land.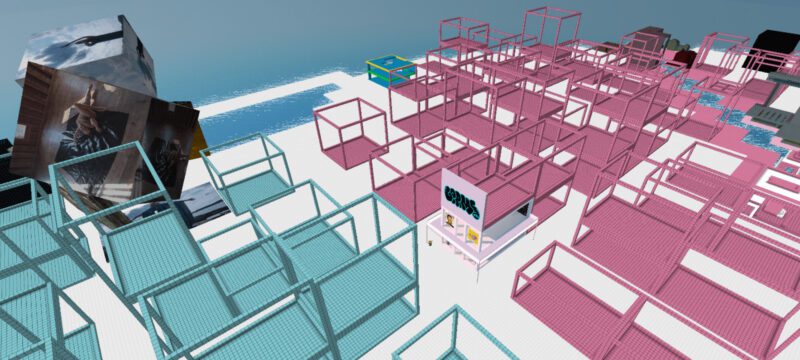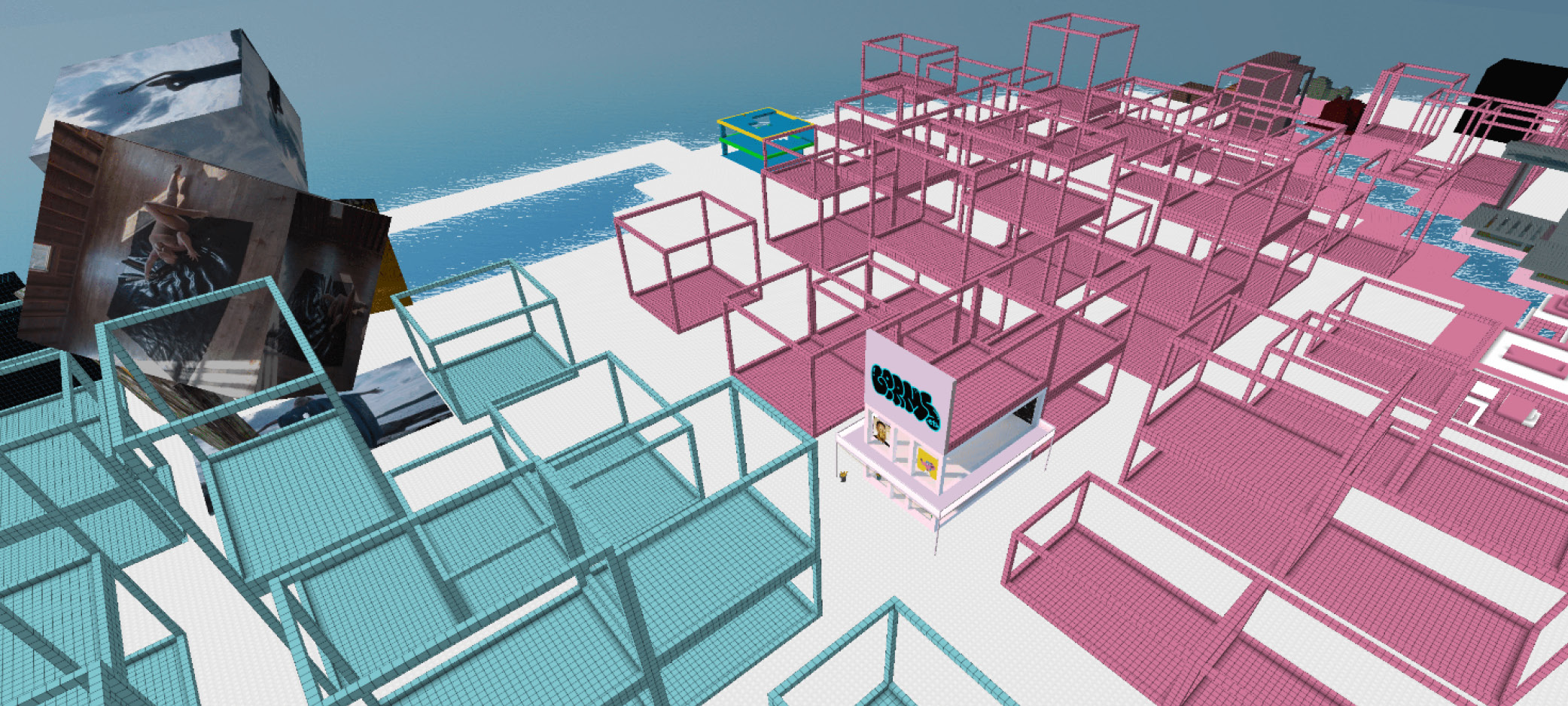 Image attribution: Voxels Twitter
NFTs Are at the Core of Voxels
Part of what makes Voxels, so fun is its emphasis on creativity. You can purchase land and resources within the system. But you can also create wearables in the form of NFTs. Because they're NFTs, the items are all usable and sellable on various markets like OpenSea. And just like in the real world, you can stroll around malls and similar areas to see what goods people have for sale. And these are all user-generated as well. The Voxels economy is NFT-focused. This means that you're free not just to create anything you imagine but sell it as well.
Image attribution: Voxels OpenSea
Voxels Avatars
Most metaverse implementations use avatars to represent you within their worlds. This is analogous to signing up for a Web forum with a username and password. It's how people can recognize you within the digital environment. You can explore Voxels with a default avatar. But the real fun comes from creating an avatar that represents your personality. You can create your wearables, buy them from others, and generally invent a unique look for yourself. And don't feel limited by the restrictions of the offline world. You can even match different colors to different parts of your body.
Video: Cryptovoxels Tutorial – Avatar Customization
The Voxels Community
Voxels is certainly impressive on a technical and artistic level. But it also boasts a community of people who exemplify all of those traits and more. The platform is home to a wide variety of artists, software developers, and visionaries fascinated by the metaverse. Part of why the platform is so welcoming is that it's essentially a labor of love. It began with just one developer – Ben Nolan. The New Zealander's vision for the metaverse has grown in both sizes and reach. Voxels' success continues to draw more developers and ever-growing userbases who love their unique metaverse implementation.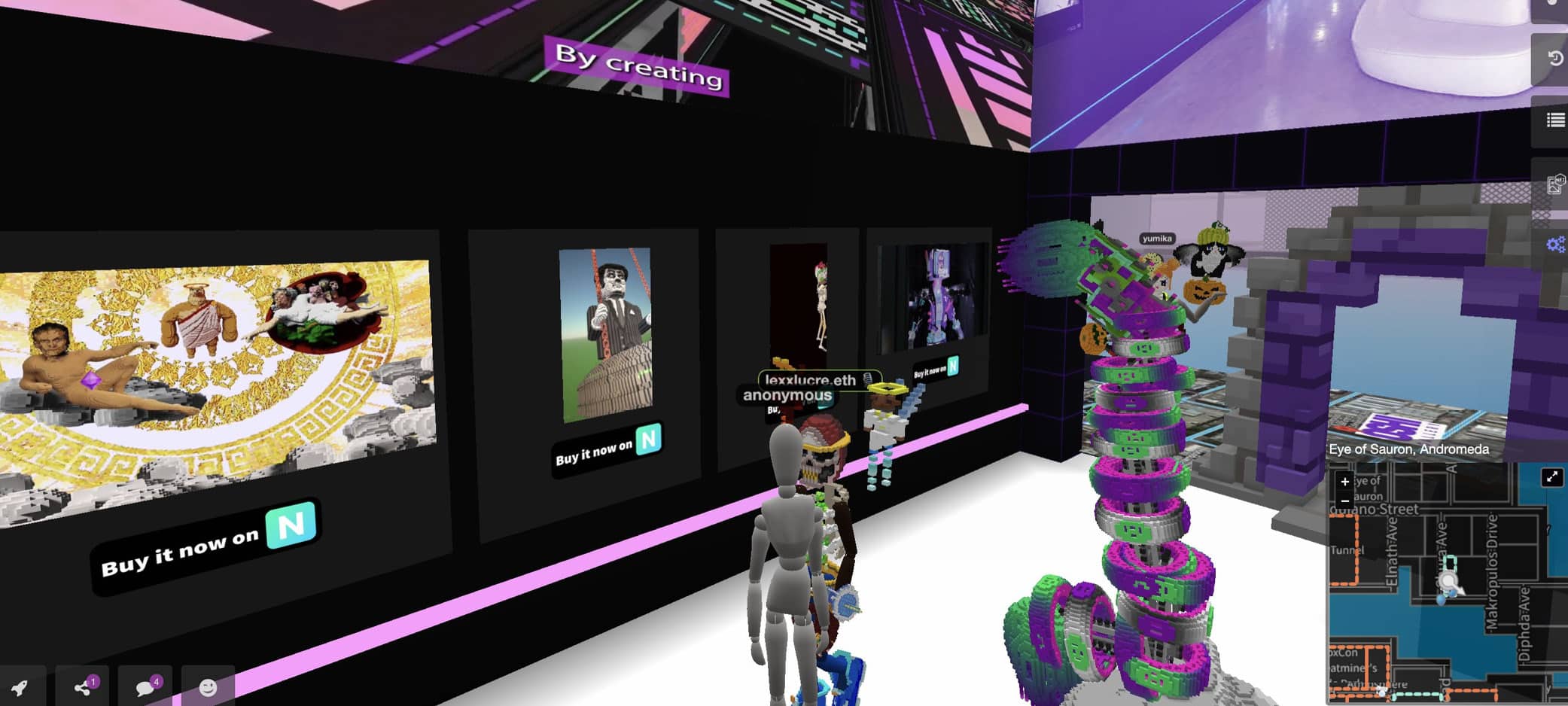 Image attribution: Voxels Twitter
Building Is Only the Beginning of What Voxels Has To Offer
It's true that getting a chance to become a virtual civil engineer, architect, and city planner all at the same time is impressive. But there's much more to Voxels than just building architecture or engaging in land speculation. Talk to any artists, and they'll tell you that one of the things they love most about their calling is the chance to see what other people are creating. And the same is true for the artistry that takes place in the metaverse and over most forms of extended reality.
The Voxels platform allows you to walk through a world made by thousands of creative minds—the areas to explore range from beaches to art galleries and even concerts. And the social networking aspect of the platform is also a significant boon to your overall enjoyment. You can even explore markets that feature NFT wearables made by other users.
Video: bem.builders | NellyRodi™ – Immersive Space In Cryptovoxels
A Sandbox Style Comes to the Metaverse
Voxels is a unique part of the metaverse. But if you like it, some implementations out there can often scratch the same itch. Sandbox is similar in the sense that it's a metaverse system that places heavy emphasis on virtual land. And like Voxels, you can create content within The Sandbox Game.
In fact, the Sandbox developers even provide a complete in-game creation environment that makes it easy to get started. You can take a closer look at The Sandbox Game in the article "Sandbox Game; An Overview of a Groundbreaking Virtual World".
Decentraland and the Expanding Concept of Virtual Real Estate
If you're intrigued by Voxels, then take a look at Decentraland. Like Voxels, Decentraland puts a heavy emphasis on user creation and architecture. And like The Sandbox, Decentraland has a powerful creation system available to users. The result is a metaverse where you can find some truly extraordinary creations.
There's even a gambling hub called Vegas City where you can enjoy everything from card games to horse racing. There's something for everyone in Decentraland. You can find everything you need to start with Decentraland in the article "Decentraland Guide; Overview, Components, Things To Do & More!".
Now that you've seen what makes Voxels so great, there's only one remaining step. It's time to log in and start your own adventure in the metaverse. Have fun and create your own unique experience in an exciting virtual world.
Did You Like This Article About Voxels?
You might also be interested in the following articles: