NFT news provides different benefits to different people. You might simply like to keep up with technology. Your interest in NFTs might come from a shared interest in artistic endeavors. Or you might look at NFTs as an investment. But no matter the reason for your interest, you'll soon discover how to stay on top of this exciting technological marvel.
Quick Menu:
What Are NFTs?
If you're going to get the most out of NFT news, then it's essential to ensure you have a solid grasp of the technology. NFT stands for non-fungible token. It's a seemingly complex term. But it essentially just means that something is unique and has its own individual value. For example, a penny would be considered fungible since any given penny is fundamentally equivalent to any other penny. But a hand-crafted painting is non-fungible because they are fundamentally unique.
You can't reasonably expect to trade a high schooler's art project for a van Gogh just because they're both paintings. NFTs were a huge game changer in the tech world because they provided users with a way to brand digital content as unique or non-fungible. You can deeply dive into the technology, use, and culture of NFTs in the article "What Is an NFT? Non-Fungible Tokens Clearly Explained".
Video: NFTs Explained | WSJ
Why Is It Important to Follow NFT News?
NFTs are hard to pin down or classify. NFTs can be part of a business plan through AR marketing ventures. Many metaverse brands use NFTs within metaverse games to provide unique items or prizes. And of course, NFTs are a hot item in the world of artistic investment. All of these usage scenarios and more also have strong economic considerations. In short, keeping track of NFT news is vital because NFTs can be a significant financial asset.
In this sense, keeping track of news related to NFTs is like keeping up with the stock market. However, NFTs also have unique characteristics which make timely action even more critical. For example, news of new NFT collections might drop during metaverse events. To get a chance at buying them, you'd need to stay abreast of breaking NFT news. This also helps you decide which NFTs might prove to be profitable investments.
What Is the Meaning of NFTs for Different Industries?
Now that you've seen what NFTs are and why NFT news is so important, you're probably wondering why you need to know about multiple outlets. This is in large part because NFTs have a vast scope. NFTs are often used as art. But it's a mistake to define them solely by that trait. NFTs are a complex and emergent aspect of the blockchain. And this means that NFTs can be used in almost any setting with a strong technological component.
NFTs are indeed used as images. But NFT-based technology can also tie medical records to a patient, music to a recording artist, and even digital fashion to specific owners. Every industry attributes its own unique meaning to NFTs. You can find more information and real-world examples of professional NFT use in the article "NFT Meaning for Various Industries; How NFTs Disrupt Digital Markets".
10 NFT News Resources to Follow
You're probably eager to discover what the world of NFT news offers. The fast-paced nature of NFTs means that new events and implementations are always on the rise. Likewise, innovative news resources are constantly showing up to cover them. But the following are the best of the best for up-to-date NFT reporting. And each has something special to offer that makes it especially worthwhile to follow. Prepare to discover your new favorite source of non-fungible token news. And don't be surprised if you learn a little more about nft art, economics, and reporting along the way.
CryptoNews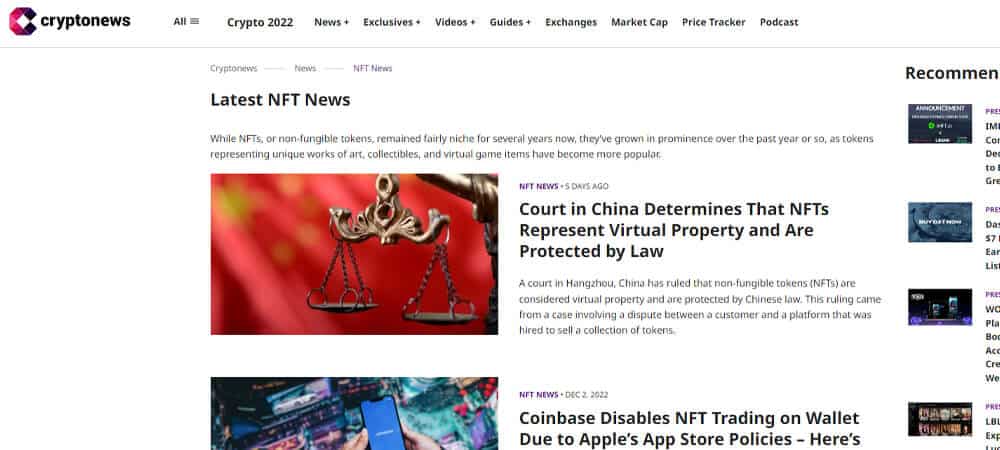 Cryptonews.com keeps watch over everything related to the global blockchain and cryptocurrency. This obviously includes news and important events. But CryptoNews also provides readers with the resources they need to really get the most out of the latest NFT news. You'll find a wealth of resources related to the blockchain revolution. This includes guides, general introductions to new technologies, and opinion pieces. CryptoNews maintains that public understanding is the most crucial part of the changes brought about by the blockchain. And its staff is dedicated to providing readers with everything they need to join the blockchain revolution.
Click here to go to CryptoNews.
NFT now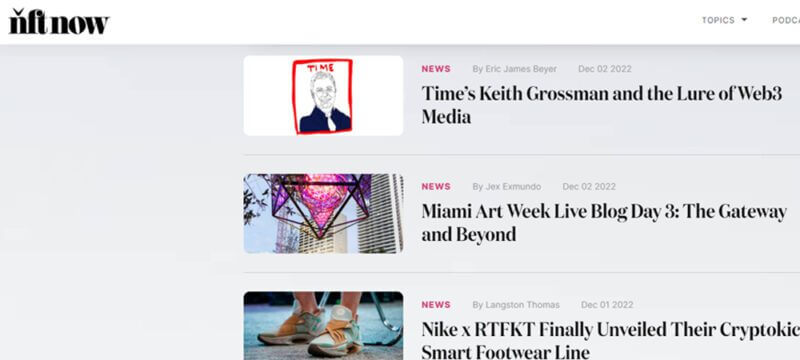 NFT now is all about creating value. It's an NFT news resource that isn't just about reporting what others are doing. It's there to help you add and share value within the larger scope of NFTs. NFT now sees NFTs as more than just a new technology. It instead holds NFTs up as a centerpiece of a whole new economic model. One that holds immense potential for prosperity and empowerment over a wide variety of different industries. NFT now also recognizes the inherent complexity within the subject. They use their platform to translate these complexities into easily understandable, actionable concepts.
Click here to go to NFT now.
Coin Telegraph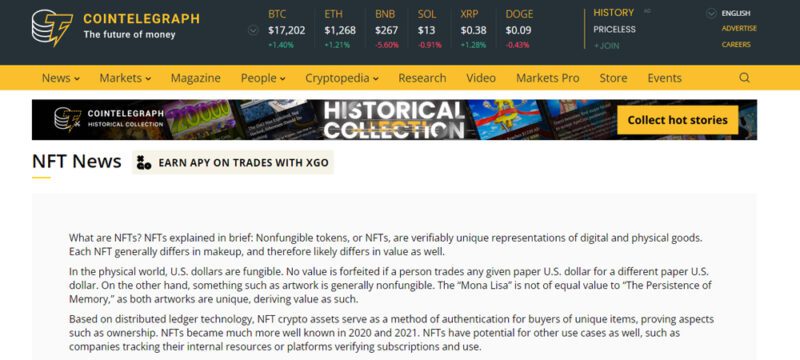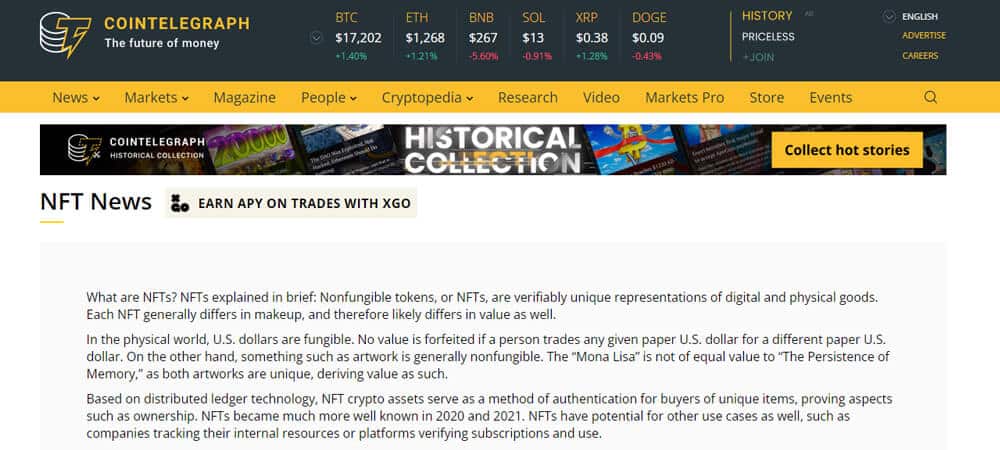 Coin Telegraph was founded in 2013 when metaverse companies first started to gain mainstream appeal. Coin Telegraph has been there from the start to report on this continually evolving industry. This includes extended reality tech such as augmented, virtual, and mixed reality. But you'll also find news on other tech breakthroughs like quantum computing and AI. Of course, NFTs receive a large amount of attention as well. Coin Telegraph is especially notable as an NFT news site because of its wide focus. The service doesn't just keep you up-to-date with NFTs. You also learn about the technology's larger context.
Click here to go to Coin Telegraph.
NFT News Today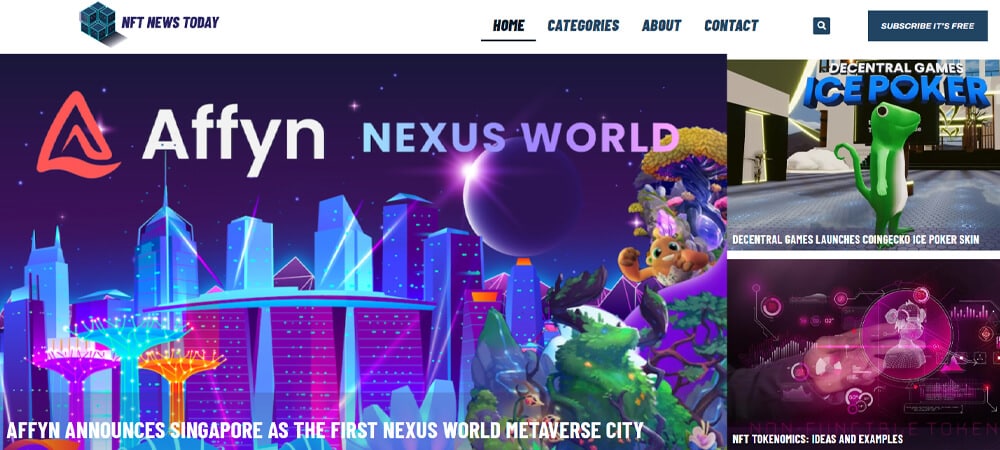 NFT News Today is a UK-based company that collaborates with a worldwide network of fellow NFT experts. They're working toward the goal of becoming technological ambassadors that can inform people of these fantastic discoveries. And the years of NFT news they've been able to provide is more than enough testament to their success. NFT News combines a true passion for NFTs and technology with a finely honed sense of professionalism in reporting, not to mention the organization's solid background in technology. The result is an NFT news source that holds to the highest possible standards in its reporting.
Click here to go to NFT News Today.
NFT Calendar
You've probably had days when you woke up excitedly checking your calendar. NFT Calender is an NFT news source that can give you that same feeling of excitement every time you check-in. It's hailed as the first calendar in the NFT universe. And it lives up to that title by filling readers in on all of the most exciting NFT-related events. It's particularly noteworthy for catching some of the less widely known artistic feats before those artists become household names. NFT Calendar isn't just focused on observation. They also educate readers on how to create their own NFTs.
Click here to go to NFT Calendar.
Wired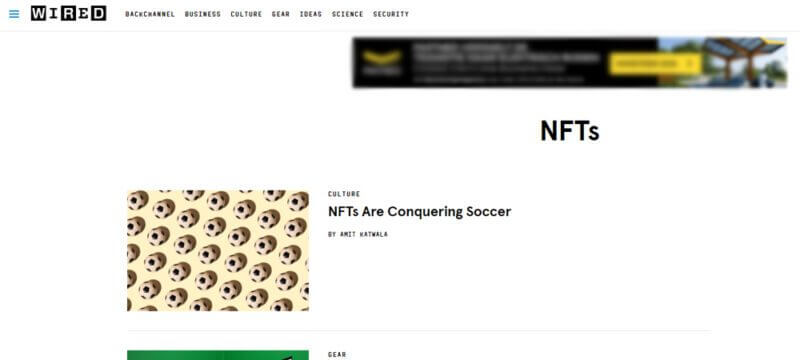 Wired is one of the original voices in groundbreaking new technologies. As those technologies matured, they were at the forefront of virtual and augmented reality. The same holds true of the metaverse. And just as you'd expect from such a forward-focused source, they're equally dedicated to the latest in NFT news. Wired is uniquely positioned to provide that service thanks to its long history and impressive scope. Wired has a proven record of knowing exactly what upcoming technologies will change the world. And with a readership of over 30 million people, you can be sure they're continuing to impress.
Click here to go to Wired.
NFT Gators
NFT Gators is an NFT news source that aims to inform its readership on various topics. This does, of course, include the latest in NFT-related news. NFT Gators is a leading voice in the industry that has covered all of the significant events. From those everyone knows to the wonderful and obscure. NFT Gators is also notable for its dedication to unbiased and factual reporting. They're just as enthusiastic about these technologies as one would expect. But it's a boundless enthusiasm acting as fuel for high-quality reporting. Alongside events, they also cover issues like digital copyright and ownership.
Click here to go to NFT Gators.
NFT Evening
NFT Evening is one of the most well-known and trusted voices in the larger NFT news world. It currently has over 1.2 million views per month. And people are loading the site up for a good reason. NFT Evening provides an up-to-date and trustworthy view of NFT-related events and that viewpoint isn't just focused on any single aspect of the technology. You've seen that NFTs span industries as diverse as art and medicine. NFT Evening is well aware of that fact and provides the latest NFT news in various contexts. You'll find both old favorites and new ones.
Click here to go to NFT Evening.
NFT Plaza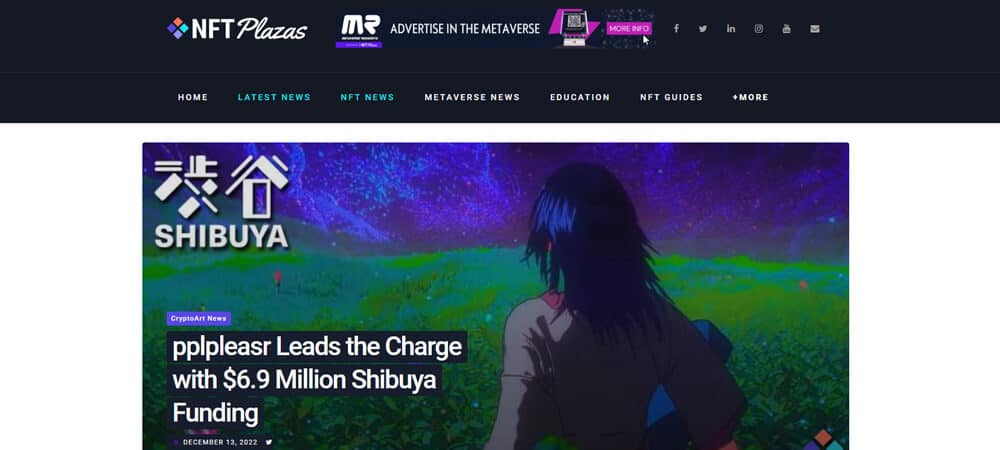 NFT Plaza will provide a wealth of information about the latest NFT news. However, the organization is particularly noteworthy for the context it delivers that information within. NFT Plaza really lives up to the name because it's like you're stepping into a large plaza filled with NFT experts. The Community Content Team comprises over 20 specialists who combine NFT expertise with backgrounds in relevant secondary industries. For example, you might be interested in the interplay of NFT and the legal system. And you'll find NFT Plaza content written by people who are both NFT and legal experts.
Click here to go to NFT Plaza.
Today NFT News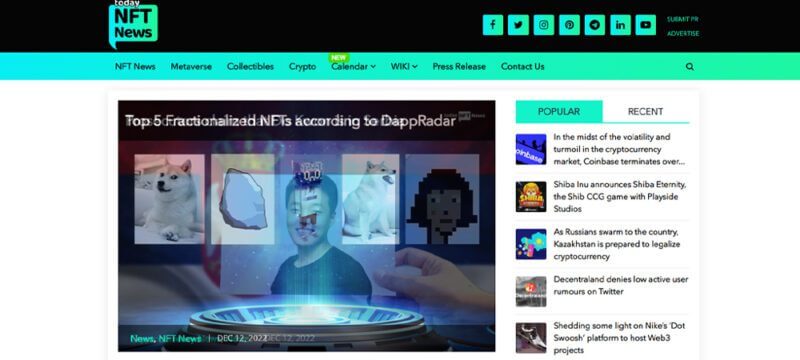 Today NFT News was created by people with a passionate interest in NFTs and for people who share that same passion. But make no mistake about the scope of that interest. The Today NFT News staff is fascinated by everything related to NFTs and the larger blockchain. This includes the metaverse, Web 3.0 technologies, and the extended reality tech used to access them. The Today NFT News core team, over twenty members strong, also bring their own specialties to the table. This means you'll get NFT News with the extra context needed to shine additional light on the subject.
Click here to go to Today NFT News.
Acting on NFT News To Make Your Purchases
You've seen how useful NFTs are, their wide variety of forms, and the ways they can fit into your life. You've also discovered the top ten NFT news sources. Needless to say, you've got what you need to get going with NFTs. The only remaining step is to jump in and buy them for yourself. It's a surprisingly simple process once you get the hang of it. You just need a guide to start with. And you can find a full guide to buying NFTs in the article "Buy NFT Guide; Learn Everything About to Buying NFTs".
Why Crypto Projects Occur So Often Within NFT News
You might start to notice a trend after you've begun reading the top NFT news sources. While all of these sources offer different specialties, one subject tends to pop up within all of them – NFT crypto projects. The exact nature of these projects differs on a case-by-case basis. But you can generally consider them analogous to a high-tech art collection. But one that can appear out of nowhere with new revolutionary ideas. You can delve into the adventurous realm of NFT crypto projects in the article "NFT Crypto Projects; Top 10 Most Famous NFT Collection of All-Time".
NFT news might have seemed complex when you first started looking into it. But now that you have these resources, you're ready to begin in earnest. You know which sites have the news you want – so go get it!
Did You Like This Article About NFT News?
You might also be interested in the following articles: