Metaverse ETF packages are among essential parts of the modern metaverse's economy. If you've ever wished that you'd been able to invest in companies like Meta early on, then you were looking for an ETF. These investment options help both companies and investors. And you'll soon discover how to participate in it.
Quick Menu:
The Larger Metaverse's Development and Relationship to Metaverse ETF
Understanding metaverse ETF options also means understanding the larger metaverse. The metaverse began by essentially blending two worlds – the digital and the physical. Technologies like virtual reality indeed play a part in the metaverse. And it's undoubtedly among the most immersive ways to access this digital realm. But the metaverse isn't tied to one technology. Instead, the metaverse is a continually accessible, shared, social, digital universe.
Your experience with the metaverse is shaped by which form of extended reality you access it with. Headsets let you enter the metaverse with virtual reality or mixed reality. Smart glasses or phones bring options for augmented reality. And some metaverse technologies, like the NFT and blockchain, can even extend into standard Web browsers. Like the physical world, the metaverse is an unlimited domain that offers limitless possibilities for immersive experiences.
This potential is further realized because it's still in development. Nobody knows what the metaverse will manifest as in the future. But developers, and investors in Metaverse ETF, help shape that future. You can discover even more about the nature of the metaverse in the article "Metaverse Guide; Understanding The Basics Will Open Up a New World".
What Is a Metaverse ETF?
So how does all of this relate to ETFs? A metaverse ETF, or metaverse-related exchange-traded fund (ETF), is essentially just a collection of securities that can be traded on the stock market. A traditional ETF is typically highly diversified. But as the name suggests, a metaverse ETF contains assets directly tied to metaverse-related companies. It's essentially a stock option that's themed around the metaverse.
Or, in simpler terms, it's a stock option whose health is tied to the health of the metaverse as a whole. It's important to remember that the specific securities present in a metaverse ETF will usually be handpicked for long-term viability. There will probably be fluctuations in value early on. But these are overall high-value investments designed to provide long-term returns. You should also remember that these ETFs, as a focused thematic option, have a low to moderate level of diversity.
How to Invest in a Metaverse ETF?
Investing in metaverse ETF options couldn't be easier. A metaverse ETF isn't inherently different from any other ETF option. As such, you can simply work with ETF brokers. Of course, you'll benefit from the broker having some in-depth understanding of the industry. And the same goes for you as an investor. It's always important to do some basic research on an industry before investing. In this case, that means looking into the state and history of various metaverse brands and companies. You should also know about the current top-ranked metaverse-related ETFs. This includes some of the ETFs' history and importance.
Top Metaverse ETFs to Invest In
The idea of researching ETF investments might seem offputting at first. But have no fear. You'll find everything you need to know in the following list. These nine ETF options give you a broad overview of different metaverse-related investments. This includes companies working with everything from metaverse games to the graphics processing units powering virtual reality displays.
Roundhill Ball Metaverse ETF
METV holds a vital place in the larger metaverse ETF market. It's not just one of the most popular options. It also has the honor of being the very first metaverse ETF. The fact that it holds both of these honors speaks to its performance. And as you might expect, this also highlights the fact that it's one of the most stable and safest ways to invest in the metaverse. This ETF consists of 40 separate stock options from some of the biggest metaverse companies.
The stock options have included NVIDIA, Microsoft, Apple, and Roblox, and you might notice that these companies have a distinguished history and track record. In short, the stocks found with METV aren't a gamble. They're instead chosen for a track record of solid performance. This investment strategy puts a heavy emphasis on long-term stability. And it's this stability that has made METV so popular.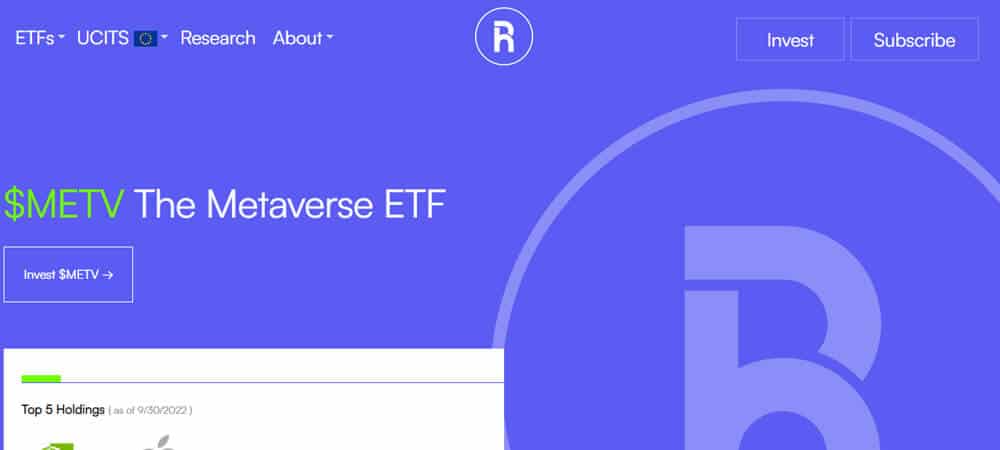 Image attribution: Roundhill Investments
Subversive Metaverse ETF
One of the more exciting elements of metaverse ETF investments is the raw passion of the entities involved in the process. And it's clear that the Subversive Metaverse ETF (Ticker: PUNK) is truly passionate about the future of the metaverse. Subversive Metaverse ETF operates based on a philosophy centered around Jon Radoff's Metaverse Market Map. This model divides metaverse-related technologies into seven separate layers. The ETF is able to cover various types of metaverse investment through the use of this system.
It also highlights emerging technologies from companies not ordinarily associated with the metaverse. Their use of Radoff's system also highlights the expertise within the Subversive Metaverse ETF. The people decide on which stocks to include the metaverse and the larger economic system built around it. As such, they're highly qualified to lay out a portfolio that protects investors and promotes financial health.
Video: Subversive PUNK ETF
Horizons Global Metaverse Index ETF
This Canadian-based ETF is a reasonably new addition to the stock exchange. In fact, it's new enough that there are few solid predictive metrics yet focusing on it. You might wonder how such a wild card would end up on a list of the top metaverse ETF options. And the answer comes down to innovation. MTAV differs from most top contenders in some meaningful and fascinating ways.
To begin, MTAV takes a fairly broad approach to categorizing metaverse-related subjects. People tend to link the tech sector and the metaverse directly. But remember that the metaverse isn't just about technology. The metaverse is a merging of the online and physical worlds. And the MTAV tends to lay out investments within that context. It avoids limiting stock options to companies outright defined by metaverse technology. Instead, MTAV has a more wide-range approach to metaverse categorization.
Video: Horizons Global Metaverse Index ETF (MTAV)
Evolve Metaverse ETF
Evolve Metaverse ETF (MESH) is another relative newcomer to metaverse ETF options. And, likewise, this means there's a lack of long-term performance to use as a predictive metric. But you'd be right in assuming that Evolve Metaverse ETF has something essential to qualify it for this list despite its relative youth. And that quality is equal weighting. ETF options tend to weigh investments unevenly. The reasoning usually differs on a case-by-case basis.
But the performance of one stock within an ETF might cause greater change to the overall value than another included stock. The stocks have uneven weight. MESH avoids this uneven weight and instead works to ensure that all included stocks are evenly balanced against each other. This, along with strong multi-national investing, offers a tremendous advantage in terms of evenly spreading out risk among the various options to increase stability.
Video: Evolve ETFs. A leader in disruptive innovation.
Simplify Volt Equity Web3 ETF
The metaverse, blockchain, and crypto market are all highly interconnected. Each can be seen as an outgrowth of the other. And what helps one tends to help the other two as well. The Simplify Volt Equity Web ETF operates under that principle as well. The metaverse ETF invests 10% of its fund toward the Grayscale Bitcoin Trust. By doing so, they can help bitcoin grow in several ways. As the name suggests, the Simplify Volt Equity Web3 ETF is also heavily invested in Web 3.0 and technologies that sit on the periphery of the metaverse.
The WIII's devotion to innovation makes it an exciting option for anyone interested in metaverse ETFs. However, this focus also makes it one of the riskier options among the top nine. Focusing on newer innovations means that stock choices have a higher chance of loss and extremely profitable success.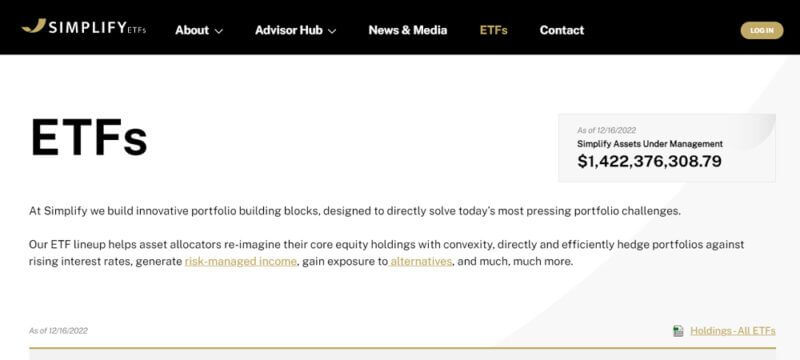 Image attribution: Simplify ETF
ProShares Metaverse ETF VERS
The ProShares Metaverse ETF mirrors many of the other options in trying to tie itself to the health of the metaverse as a whole. Most metaverse ETF options work under the principle of linked outcomes. If the verse is doing well, then the ETF should do well. And if the metaverse ETF is doing well, then the metaverse should be thriving too. Of course, theory and practice are often two wildly divergent things. And perfectly pairing these two elements together is by no means an already solved problem.
VERS ties itself to the health of the metaverse through the Solactive Metaverse Theme Index. This model offers a way to track metaverse investment prospects through a forward-looking index. The ultimate goal is, in part, to let people's portfolios grow alongside the metaverse. However, VERS also aims to capture new and exciting opportunities as they become available while not incurring much risk.
Video: ProShares Metaverse ETF (VERS)
The Fount Metaverse ETF
The Fount Metaverse ETF, also known as MTVR, earns top listing thanks to some particularly inventive methodologies. One of the most readily apparent is found when looking into how MTVR chooses investment options for its metaverse ETF. The Fount Metaverse ETF appropriately works with the Fount Metavese Index. This index helps the MTVR make educated decisions about the ultimate viability and future of any given metaverse-related investment. The index follows about 50 particularly significant companies in enough detail to make up-to-date decisions.
On top of this, the MTVR also bases additional decision-making around a standard industry classification system that uses particular keywords. The categorized data is fit into a model that works around a four-tiered metaverse definition. This finalized data and additional information are processed by a proprietary artificial intelligence algorithm. The end result is a full index that lays out probable forecasts for the upcoming year.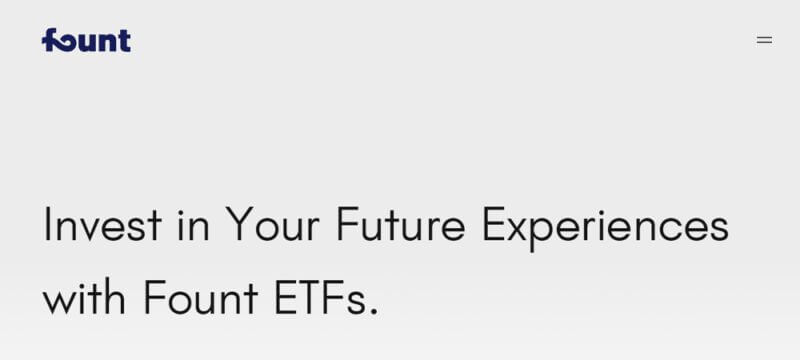 Image attribution: Fount
21 Shares Decentraland ETP
So far the metaverse ETF options have looked at investment from the perspective of the physical world. But anyone who's used Decentraland will recognize the name MANA as the metaverse implementation's cryptocurrency. And the 21 Shares Decentraland ETP is indeed heavily tied into Decentraland. This can be seen as either a positive or a negative investment trait.
Some people will see this tie to Decentraland as a net positive since it's such a successful platform. Metaverse real estate deals on Decentraland have gone for as much as 1.9 million. It's a built-in solid economy platform, and the MANA ETP is directly tied to the MANA crypto coin used within Decentraland for those transactions. But at the same time, part of what makes an ETF appealing is that there's usually no single point of failure. Introducing one into a metaverse ETF is inherently problematic to some.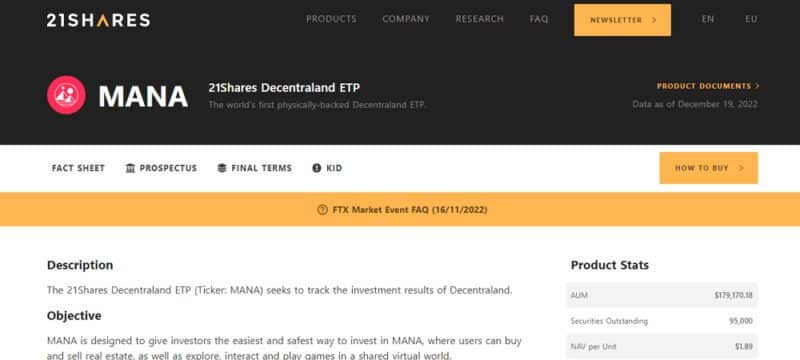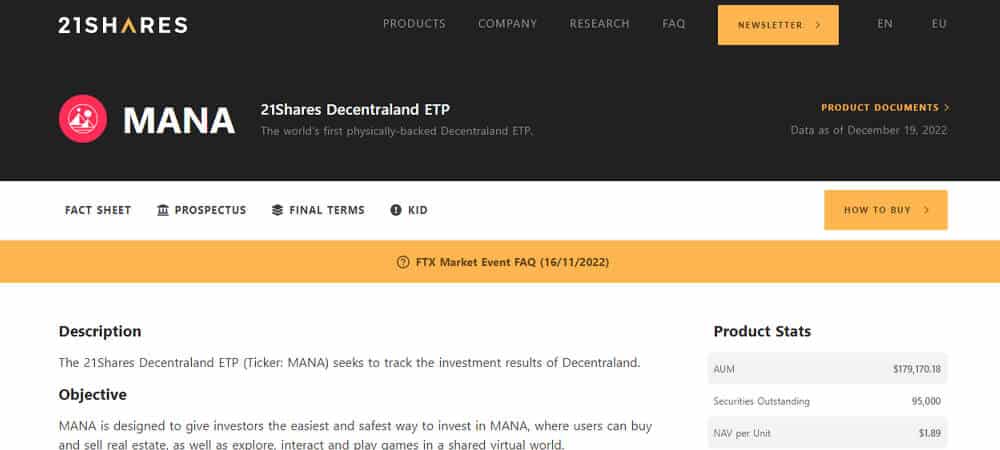 Image attribution: 21Shares
Franklin Metaverse UCITS ETF
The Franklin Metaverse UCITS ETF operates through careful observation of the Solactive Global Metaverse Innovation Net Total Return Index. And, of course, while doing so, UCITS also seeks to downplay any tracking errors. Or at least to do so as much as anyone possibly could. As with the other top metaverse ETF, UCITS is driven by a passion for the metaverse. And along with this comes a firm belief that metaverse companies will revolutionize how people interact with most elements of their lives.
The UCITS strategy is ultimately driven by the belief that technology can and should make the world better. And this belief also impacts how the UCITS chooses investment options. It's common for an ETF to emphasize long-term economic stability for investment options. But the UCITS takes this further by also insisting on sustainability. It excludes companies deemed harmful by the UNGCP.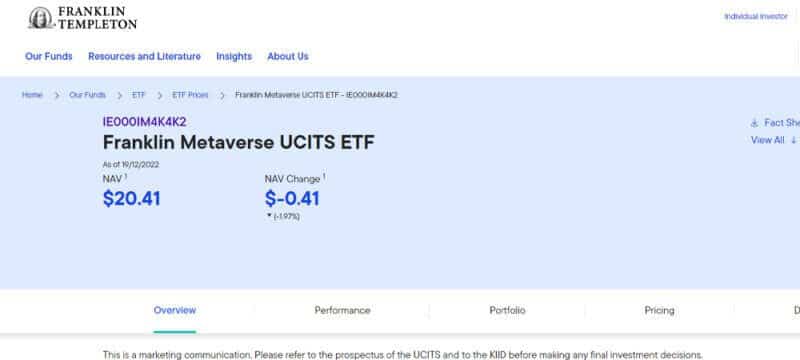 Image attribution: Franklin Templeton
Startups and the Cyclical Nature of History
One of the perks of metaverse ETF comes from the fact that you can work with multiple investments within a singular container. But it's also essential to keep track of individual standouts within the economic sphere of the larger metaverse. How can you tell which companies are going to hit it big? Studying the traits of the breakout metaverse startups of the past is one of the best ways to spot future metaverse trends. And you can discover the history and traits of the most amazing startups in the article "Metaverse Startups; 10 Compelling Metaverse Startup Companies in 2022".
The Standards Forum That's Essential Knowledge for Metaverse ETF Investors
Many of the more significant metaverse events bring together some big names in metaverse development and investment. But there are few organizations more important than the metaverse standards forum. It's a collection of some of the most critical players in metaverse development. Companies involved with the forum include NVIDIA, Meta, and Microsoft. These companies come together to work on universal metaverse standards. Metaverse ETF investors can also learn a lot by watching the organization. You can discover more about the standards forum's goals and organization in the article "Metaverse Standards Forum; What Is it & Why Is it Needed?".
Now that you know about the best metaverse ETF options and the metaverse, there's only one thing left to consider. You need to decide which of the options appealed to you the most and take action.
Did You Like This Article About Metaverse ETF?
You might also be interested in the following articles: