HTC Vive Pro 2 is part of a new generation of virtual reality headsets. People have been understandably taken by its combination of features and design aesthetics. But at the same time, it's often difficult to know which VR headset is a perfect match for someone's unique preferences. However, you'll soon learn everything you need about the device.
Quick Menu:
The HTC Corporation
Discussion of the HTC Vive Pro 2 needs to begin by looking at the company which created it. The company's story started back in 1997. HTC launched as a Taiwanese laptop manufacturer in the Xindian District of New Taipei City. But the company also had its sights on the then-nascent mobile market. HTC's initial work was largely centered around Windows Mobile. But that scope widened dramatically when HTC co-founded the Open Handset Alliance.
The alliance was formed to foster the development and distribution of the new Android operating system. The HTC Dream (T-Mobile G1) would become the first phone to run Android. And Android's rapid growth would, in many ways, mark the rise of HTC. However, increasing competition prompted HTC to once again diversify into other markets. This includes a partnership with Valve to produce the HTC Vive – a powerful virtual reality system.
More About Vive
HTC's partnership with Valve eventually led to the HTC Vive Pro 2. But every technological journey begins with a single step. And for HTC, that meant creating a separate brand specifically focused on virtual reality. This brand is, of course, known as either HTC Vive or just VIVE.
But there's more to the brand than just hardware. HTC Vive also includes the software running on HTC's headsets, initiatives to promote VR in sectors like art and business, and additional accessories to enhance the VR experience. However, the Vive VR headset is easily the brand's most recognizable product.
The first model, known simply as the HTC Vive, leaned heavily into HTC's partnership with Valve. The original HTC Vive innovated integration with Valve's SteamVR software and hardware ecosystem. The headset's consumer release came in April 2016, and updates have continued. However, the most significant change has come from the VIVERSE.
What Is the VIVERSE?
VIVERSE has, in many ways, laid the foundation for advanced headsets like the HTC Vive Pro 2. Metaverse companies often hold up this digital domain as a universe that's meant for everyone. However, logging into these systems isn't always a simple matter. VIVERSE is HTC's answer to this pressing issue.
It's a system that opens up the metaverse accessed by Vive to non-VR devices like smartphones through VIVE Connect and similar apps. This has created a whole new metaverse ecosystem. VIVERSE offers metaverse access, avatars, and wallets that can work with 3D VR headsets and non-VR devices like smartphones.
Video: Welcome to the Metaverse: Inside HTC's VIVERSE Vision
HTC Vive Products
At this point, you've seen that there's more to HTC Vive than a single product. As impressive as the HTC Vive Pro 2 is, the device is one element of a much larger ecosystem. The following are some of HTC's most important offerings within the more prominent HTC Vive brand.
Vive Flow
Metaverse brands often tailor products to meet specific audiences. The Vive Flow puts a strong emphasis on lightweight and immersive usage. People who want to lose themselves in the flow of a virtual experience will totally appreciate the VR headset's 189 g (0.4 lb), lightweight design.
But the lightweight still packs in some impressive power. It provides a 100° field of vision portrayed in 3.2K. And all of this with a fluid 75 Hz refresh rate. The headset's comfort level is pushed even further with cooling vents. It even provides phone app casting to integrate your digital lifestyle.
Video: VIVE Flow – Mindfulness with immersive VR glasses | VIVE
Vive Focus
The Vive Focus was also created for a particular usage scenario. These powerful devices were designed from the ground up for use in enterprise-level environments. As such, it packs some serious power. This includes high-res 3k AMOLED screens powered by a Qualcomm® Snapdragon™ 835 processor and advanced positional tracking.
Use in business environments is further aided by the fact that the Vive Focus is entirely self-contained. The original model used a controller somewhat similar to a remote control. But a later update, the Vive Focus Plus, added motion controllers that provide full six-degree motion. The plus also improved weight distribution.
Video: Introducing VIVE Focus 3 | VIVE
Vive Cosmos
The Vive Cosmos series marks a first for VR as a whole. It's a PC-VR system with modular options, which takes the potential for VR applications to a new level. But the default options are also remarkable. The device offers a 2880×1700 screen resolution at 90 Hz with a whole 110-degree field of vision.
The Cosmos series also provides users with a unique interface. Additional tracking is enabled through an inside-out method using the headset's six frontal cameras for positioning. Additionally, the headset's faceplates can flip up. This lets users easily switch between the virtual and physical worlds.
Video: HTC VIVE – VIVE Cosmos Trailer
Vive Pro
This is, of course, the HTC Vive Pro 2's predecessor. The original Vive Pro was created to meet the demands of people who need cutting-edge performance. This makes it ideal for both metaverse games and high-end professional use. Each eye is provided with a 1440×1600 resolution screen. The Vive Pro's video connection leverages a small Mini DisplayPort rather than the HDMI system in VR headsets.
Of course, there's more to fully immersive multimedia than just graphics. The Vive Pro also offers over-ear speakers and a noise-canceling microphone. The headset is also comparatively light, despite having such powerful features.
Video: HTC VIVE Announces the VIVE Pro – CES 2018
Features of HTC Vive Pro 2
At this point, it's pretty clear that HTC has mastered the art of targeted hardware design. The company's engineering has matched the needs of various demographics with the perfect VR headset to meet those needs. And as you'll soon see, the company has incorporated its extensive VR history to create something truly unique with the HTC Vive Pro 2.
The Build
The HTC Vive Pro 2 has been designed with comfortable adaptability in mind. Users will notice that it's perfectly balanced to avoid unequal weight distribution. It also provides users with a larger facial indentation that can accommodate glasses. The fit is further enhanced with an IPD slider.
A dial allows people to adjust the headset's fit to their unique needs perfectly. The Vive Pro 2's headphones come in a flip-down over-ear design. This helps envelop the user in a truly immersive soundscape. This also creates an encased and immersive feel – especially with the IPD's enhanced fit.
Video: Meet VIVE Pro 2 | VIVE
Visual & Audio Specs
Visuals are an essential part of a VR experience. The original HTC Vive Pro had a reputation for visual excellence. And the HTC Vive Pro 2 builds on that legacy to provide users with a truly unprecedented experience using a 5K display. The 4896×2448 display offers a full 120° field of view.
And the 120Hz refresh rate ensures that movement always feels fluid and natural. The device's sound quality is equally immersive. The Vive Pro 2 uses 3D spatial sound integration to ensure that users feel just as immersed by sounds as they do with the system's sights.
Video: VIVE Pro 2 Display
Controls
For an environment to be truly immersive, you need to be able to move about naturally within it. The HTC Vive Pro 2 allows people to do so through an impressive control scheme. SteamVR™ tracking provides users with full 360-degree coverage. And it tracks movement right down to the millimeter.
The tracking system is so precise that you can even bring real-world objects with you into virtual reality's digital realm. Imagine playing virtual baseball with your favorite bat. And the tracking can even monitor your expressions to mimic them as your avatar's smile mirrors your own.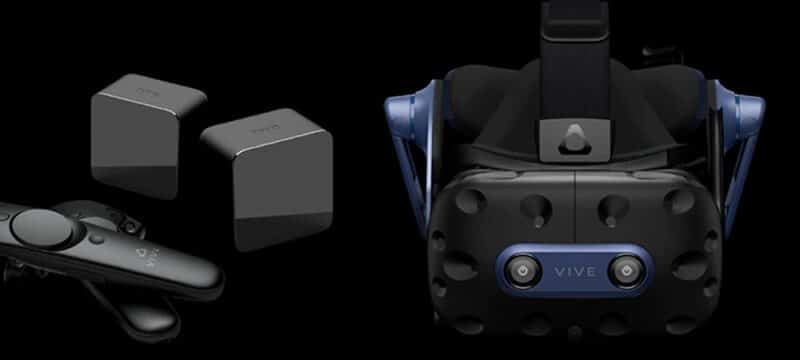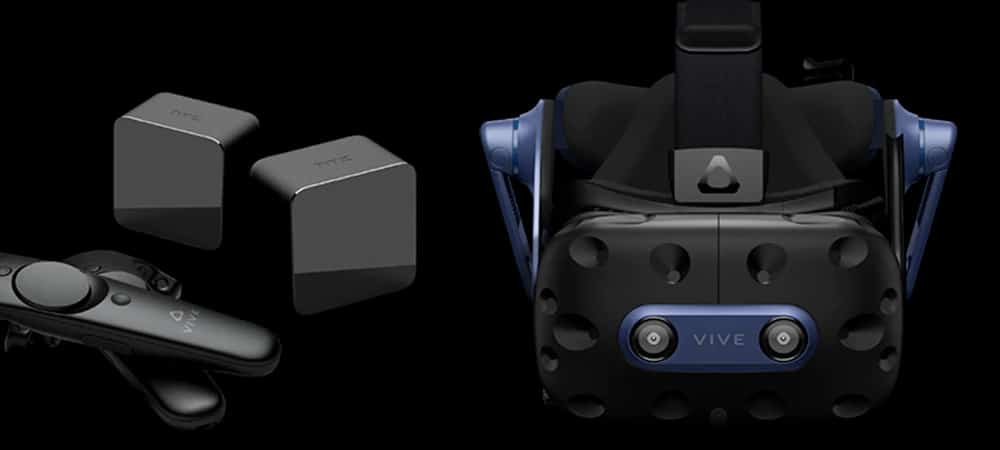 Image attribution: Vive
The Experience & Setup
Setting up the HTC Vive Pro 2 can be a little time-consuming. The main obstacle comes from the VR headset requiring a minimum of 2×1.5 m of empty space. It can take some work to free that much space up in smaller rooms.
But once you have and place the two base stations, it becomes clear why that space is essential. The Vive Pro 2 lets you feel like you're freely roaming around the metaverse through its wider tracking area. Setup is fairly simple past that initial step, thanks to the headset's sharp text and UI.
Video: VIVE Education – Setting up Your VIVE Pro 2
VivePort Infinity
Game passes, such as the Xbox Game Pass, are incredibly popular. And the HTC Vive Pro 2 comes with a free two-month subscription to HTC's take on the concept – Viveport Infinity. INFINITY subscriptions give you access to various exclusive offers, promotions, new apps, and of course, games.
After the free subscription ends, people who want to continue using INFINITY can choose from two subscription plans. The Vista plan is the budget option and only offers select Mobile VR options. However, the Standard program provides unlimited access to almost everything within VIVEPORT except some Annual subscriber-exclusive promotions.
Video: Viveport Infinity – Unlimited Adventure
The Price of the HTC Vive Pro 2
Cutting-edge hardware usually comes at a higher price point than the competition. And it's true of the HTC Vive Pro 2. But while the device might have a higher than average cost, it also provides what's arguably among the best VR experiences money can buy. And if you want the top-tier option, you can also push the price a little higher by adding the Valve Index base stations and controllers to create a premium experience.
Click here to view the official HTC Vive online store for information on up-to-date pricing.
Public Feedback & Opinions
Any particular metaverse meaning is typically formed around a platform's hardware. And the HTC Vive Pro 2 is remarkable in its ability to provide users with almost any take on the metaverse they could desire. The system's biggest strength is arguably the 5K display. It gives people the power to see virtual worlds with unparalleled clarity. In doing so, they can delve into the larger metaverse to discover whole new realms, games, and vistas to enjoy.
It's essentially hardware that meets almost any individual need. And in doing so, it opens up nearly every possible usage scenario. However, the high-performance means it must be paired with an equally powerful PC. And the reliance on base stations can impose some limitations on gamers who want a larger area of motion. But most people will find that the Vive Pro 2 meets and exceeds expectations.
How the HTC Vive Pro 2 Fits Into the Larger World of VR Gear
The HTC Vive Pro 2 is a huge step forward in VR technology. However, it's crucial to keep in mind that the larger ecosystem of VR tech is constantly expanding in various ways. VR, and the larger metaverse, have potential applications in almost any conceivable field. Likewise, most industries are leveraging virtual reality tech in new and innovative ways.
And they're accomplishing these feats with everything from VR-based suits to treadmills. You can discover even more of the cutting-edge hardware going into VR in the article "VR Headsets; Your Complete Guide to the Top Virtual Reality Gear".
The Wider World of Virtual Reality
The HTC Vive Pro 2 is one of the most exciting VR headsets on the market. But it's important to take a moment to consider just how large and active that market's become. VR has gone from a niche technological field to one filled with new and exciting developments. And the history of VR itself is just as amazing.
The only thing more exciting is the fact that the future is clearly centered on VR. You can learn all about the wider world of virtual reality in the article "Virtual Reality; Discover VR, Its Components, Technology, and Players".
The HTC Vive Pro 2 is an undeniably impressive platform. But it's even more amazing in the context of HTC's long history. Using the Vive Pro 2 means participating in a chain of development that's helped create the modern metaverse.
Did You Like This Article About HTC Vive Pro 2?
You might also be interested in the following articles: