Epic Games tends to come up in any discussion of gaming. But one of the most amazing things about the company is its scope. You might think that you know everything about Epic. But a company that expansive almost always has some exciting surprises. And you're sure to discover a new favorite game, franchise, or service as you continue reading.
Quick Menu:
A Brief Overview of Epic Games
Of course, it's always best to start learning about a company by starting with its creation. Epic Games was born from surprisingly humble origins. It was initially created in 1991 by Tim Sweeney as Potomac Computer Systems. The company was created as a foundation for Sweeney's first game – ZZT, the success of which pushed the fledgling company from a project run out of the home to a much larger endeavor. Mark Rein was brought on as vice president and has held that position ever since.
Some name changes would also follow the success. The first was a more game-focused Epic MegaGames, Inc. When the pair moved development to Cary in 1999, the studio was once again rebranded. This time the change was to shorten the name. The pair pushed the company forward under the new moniker of Epic Games. They'd eventually create numerous games and the Unreal Engine.
What Is the Unreal Engine?
Epic Games is responsible for some amazingly successful games. But their biggest success is arguably the Unreal Engine (UE). Unreal Engine was originally showcased in Epic's video game Unreal. The game itself was a groundbreaking success. But people were also enthralled by the prospect of using the 3D Engine powering the game in their projects. The Unreal Engine provided an impressive level of multi-platform support. But that capability didn't come at the cost of any features. Unreal Engine was arguably the most cutting-edge 3D Engine around. And the fact that it let developers make and port games for various platforms was even more impressive.
Today Unreal Engine is on its 5th release. This relatively recent iteration came out in April of 2022. And like most previous releases, Unreal Engine 5 pushed state of the art to the next level. It features Nanite and Lumen support to improve visual fidelity and provide fully dynamic worlds. These elements go beyond typical polygon-based systems to micro polygon geometry. It also provides more intelligent rendering for the processing, which can intelligently focus on specific details to lower system requirements. It's clear why game and metaverse companies depend on it.
Video: Unreal for All Creators | Project Spotlight | Unreal Engine
What Is the Epic Games Store?
Epic Games began working with other game developers after Unreal Engine was released in 1998. The Engine is arguably why many successful games and franchises were able to get their start. But Epic eventually began considering whether there might be other ways to aid game developers. This led the company to expand from creating development tools to acting as a publisher. Epic's decision came to fruition in 2018 with the launch of the Epic Games Store.
Typically, an endeavor like that would have difficulties competing with the defacto leader – Steam- at the time. But Epic Games was able to leverage Unreal Engine, their popular Fortnite game, and some exclusive deals to gain a significant market share. For example, if you wanted to play Borderlands 3 on PC, that meant using the Epic Store. This strategy has made the Epic Games Store a big success.
Receive Metaverse Information & Related Topics
Video: Epic Games Store – The Store Launch Trailer
Fortnite: The Iconic Game of Epic Games
You've seen that Fortnite was a large part of Epic Games' success as a publisher. The game's popularity helped the Epic Game store gain users, popularity, and traction. But understanding that aspect of Epic means looking a little deeper into Fortnite because there's a lot more to Fortnite than is apparent at first glance.
Overview
Fortnite quickly caught on as the latest free Battle Royale-style shooter after launching in 2017. And that game style did bring people into the game. But what arguably kept them returning was the variety of different experiences within the game's larger environment. Epic Games included three distinct modes of play.
The first was Fortnite Battle Royale. This free-to-play system brings up to 100 players into an expansive environment to pit their wits against each other. The Fortnite: Save the World mode takes a more cooperative stance to let players team up in a tower-defense-shooter.
Finally, Fortnite Creative allowed players to let their imaginations run wild. They could create worlds, arenas, and gaming experiences to share with friends. Despite the different modes, there was one constant. You could always enjoy a fun, fast-paced, and exciting game with old friends or new ones. It was a winning strategy for Epic.
Video: Fortnite Chapter 2 | Launch Trailer
Money Through V-Bucks
One of Fortnite's biggest innovations came in the form of microtransactions. Microtransactions were a known concept by 2017. But Epic Games was able to innovate by balancing free content with paid bonuses. It's a balance that most companies still struggle with. But Epic was able to get a perfect implementation right from the start. This also came about through the in-game currency used for those transactions. One USD is equal to 100 in-game V-Bucks.
And these V-Bucks can purchase various outfits, pickaxes, backpacks, gliders, and Battle passes. The Battle Passes are some of the essential items. They give players access to new characters. And in an ingenious move by Epic, those new characters also provide incentives to buy new cosmetic packages to adorn them with. Some Battle Passes even give more V-Bucks, incentivizing additional purchases and larger-scale investments.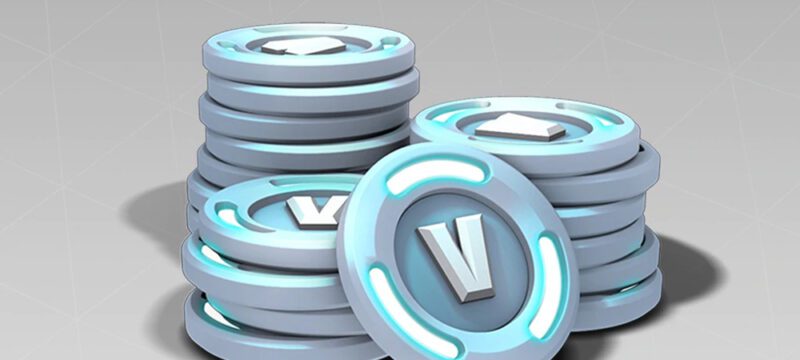 Image attribution: PlayStation
Celebrity Influences & Social Impact
Part of Fortnite's success came from how deftly Epic Games wove motivation into the very foundation of its microtransactions. The more people bought, the more incentive there was to keep doing so. But more than that, it also gave players more enjoyment when they joined in. Epic took this further by inventing something similar for the game's narrative. The company put things together in a way that led to emergent storytelling.
When official narratives were lacking, players could essentially fill in the gaps. People even rose to celebrity status by playing. And things went in the other direction as well. People famous outside the game, like Drake and Ariana Grande, lent their names and presence to the experience. Epic wasn't just creating a battle royale. The company was also opening the path to more expansive social interactions, whether with each other or with the larger celebrity culture.
Video: Fortnite Presents: Rift Tour Featuring Ariana Grande
Digital Fashion
Epic Games also cultivated a new aspect of online digital fashion. Interestingly, this would become a considerable aspect of mixed reality, the metaverse, and virtual reality. But Epic was an early innovator with Fortnite. You've seen that the game's economy is heavily tied to the idea of buying cosmetic enhancements for a player's avatar. But the impact of this focus is hard to understand without seeing it for yourself. The world of Fortnite is a world of high fashion.
And real-world collaborations have followed that increasingly evident trend. After all, Fornite has over 400 million registered players. It's a huge market that's very fashion-conscious. And offline brands like Balenciaga have moved from creating real-world fashion items to digital Fortnite creations. Balenciaga even has an in-game destination for players to explore. More recently, Moncler produced two outfits inspired by Matthew Williams as part of a "Moncler Classic Set".
Video: Balenciaga Brings Digital Fashion to Fortnite
How Is Epic Games Transcending to a Metaverse Ecosystem
You might have noticed some obvious parallels between Fortnite and the larger metaverse. And, in fact, over time, Fortnite has grown from a game to a metaverse implementation. Consider that Fortnite has persistent data and a vast social environment where people interact or enjoy the ambiance.
Epic Games is leaning into the metaverse aspects of Fortnite for its newest development path. The company's invested heavily in metaverse infrastructure developer Hadean. It's fair to say that this is a significant sign, given that it's part of a $30 million round of funding. Epic will leverage Hadean's computing power to scale the existing Fortnite infrastructure to a new level.
Combining Hadean's expertise and Epic's Unreal Engine should produce impressive results. One remaining question is what role the blockchain will have in these developments. Hadean has blockchain experience so that it might appear within Fortnite.
Image attribution: Hadean
Most Popular Games of Epic Games
Fortnite tends to receive much attention when people talk about Epic Games. And there's good reason to give Fortnite a lot of attention. But Epic has created various excellent, industry-changing games over the years. The following are the most notable and famous games from their catalog.
Unreal
Unreal was initially launched when Epic Games was still Epic MegaGames. It might seem like a standard shooter to the modern eye. But Unreal's place in history can't be overstated, which was a groundbreaking first-person shooter at the time of release, with over 1.5 million sales. And this was when PC gaming was still in a reasonably early stage. Unreal also helped popularize the idea of expansion packs.
The Fusion Map Pack and Return to Na Pali added a massive amount of additional content. And the new content was even rolled into an update that brought everything to parity with Unreal Tournament's Engine. Obviously, the Unreal Engine itself was equally game-changing. Unreal Engine popularized the idea of letting an engine developer focus on that element of gaming while a separate company creates content. Epic continued to create new updates to Unreal Engine and retained its continued popularity.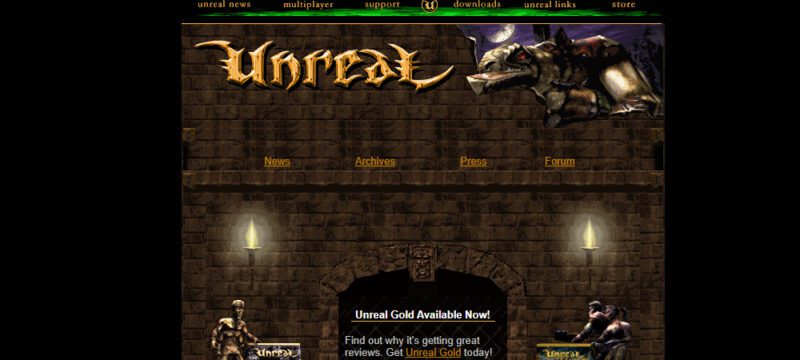 Image attribution: Unreal
Battle Breakers
Battle Breakers continues Epic Games' trend of melding or breaking through the limitations of any one genre. It can be seen as a collection game, action RPG, and turn-based strategy system. The story revolves around rescuing heroes trapped in a Technomagic Crystal. These heroes are needed to help fight off monsters invading the depths of outer space. Players control a party of heroes located at the screen's lower edge.
You need to break the virtual glass on the other edge of the screen to progress. There could be almost anything under the glass. Part of the fun comes from exploring these fields. The expansive Battle Breakers universe consists of over 100 heroes. And investigating the game will slowly unlock those new heroes for use. Battle Breakers also shows the power of the Unreal Engine. Unreal Engine helps the game look great while running on PC, Android, and iOS.
Video: Battle Breakers – Official Launch Trailer
Infinity Blade
Infinity Blade isn't just a popular RPG. The game was released in 2010 and proved that Unreal Engine could power mobile, PC, or console games. It was the first example of an iOS game that used the Unreal Engine. But don't think for even a minute that it's little more than a tech demo for Unreal Engine. Infinity Blade provides a fun world to explore within your phone.
The game casts the player in the role of an unnamed hero. He needs to make his way through a haunting castle to track down a seemingly immortal God King. The game also uses an innovative swipe system during combat. This leverages a phone's unique control system to make everything feel immersive and self-apparent. Just twelve people made Infinity Blade. But it was popular enough to warrant four expansions.
Video: Infinity Blade Debut Trailer
Gears of War
Today Gears of War is well known as a wildly popular franchise. But in 2006, it was a single new game released by Epic Games and published by Microsoft Game Studios. One of the exciting things about Gears of War is the partnership with Microsoft. Epic is a game publisher of its own now. But when Gears of War was released, it came as a Microsoft Xbox 360 exclusive. However, it would soon see another release on another Microsoft platform, Windows.
Gears of War also highlighted something Epic would become exceptionally well known for. The game had an immersive plot and world-building baked into the gameplay. The player was put into a war against a subterranean enemy called Locust. Meanwhile, the players were tasked with saving humanity as a whole due to the war's long-term consequences. Gears of War was so successful that a sequel quickly followed it in 2008.
Video: Official Gears of War: Judgment Launch Trailer
Shadow Complex
Chair Entertainment developed Shadow Complex in association with Epic Games. Microsoft Game Studios would also handle publishing for the Xbox 360. This 2.5D Metroidvania-style platformer begins with a simple premise: Jason and his girlfriend Claire decide to go caving. But Claire suddenly disappears, and Jason realizes the answer has to lie somewhere in the newly discovered underground complex. But once Jason enters he realizes what he's up against. There's a mysterious collection of enemies to fight and powerful tools to manage.
Shadow Complex was quite famous, selling over 200,000 units on Xbox Live Arcade in just a week. The game also serves to highlight Epic's expansive view of game design. They're known for FPS and Battle Royale games. But they've also worked with almost any conceivable genre or gameplay style. And Shadow Complex highlights just how adept Epic is at mixing and matching different thematic elements.
Video: Shadow Complex Remastered
Epic Games and Games That Are Epic
Epic Games has changed the face of gaming. But there are some epic options out there from other companies. This is especially true for companies working on metaverse-related content. For example, some games use augmented reality to bridge the gap between the physical and digital realms.
Other give people the chance to create, share, and sell digital content in online markets. These metaverse systems are often virtual universes unto themselves. You can instantly jump into the best of the best metaverse games by trying out the options in the article "Top 10 Popular Metaverse Games To Explore Right Now".
A Metaverse Game Brings Open World to a Whole New Level
Discussions of the metaverse tend to focus on extended reality and its various implementations. But it's important to remember that the blockchain also intersects with the metaverse. And one game in particular, the Sandbox Game, offers an exciting combination of open-world sandbox gaming, NFT support, and creativity.
It's essentially a game that aims to let you create your own unique experiences. The game maker system allows you to make new games or earn cryptocurrency. You can delve further into one of the most freeform metaverse games in the article "Sandbox Game; An Overview of a Groundbreaking Virtual World".
A Metaverse World Where You Can Make Your Own Games
Meta, formally known as Facebook, is one of the most influential proponents of virtual reality and the metaverse. The company has singlehandedly defined the underlying metaverse meaning for many people. Meta is easily one of the most crucial metaverse brands in the market.
And much of their success has come from the company's underlying metaverse implementation – Horizon. The larger banner of Horizon encompasses a universe of creativity. One where you can even create and share your own multiplayer games. You can explore Meta's digital frontier in the article "Horizon Worlds Guide; Everything to Know To Start Playing".
Epic Games has been so successful, in large part, because of the company's impressive scope. The company has something for almost any taste. And now that you've sampled the options, it's time to jump into one of them for yourself.
Did You Like This Article About Epic Games?
You might also be interested in the following articles: