Google Glasses brought concepts like augmented reality and wearable computing devices into public discussion. Many people don't know that Google Glasses remain in continual development, and Google has created a device with some remarkable abilities. And they've been quietly iterating on those concepts while laying down some exciting plans. You'll soon see for yourself just what Google Glasses can do.
Quick Menu:
A Brief Overview of Google's History
Google was officially launched on September 4th, 1998. Larry Page and Sergey Brin started the company while they were still Ph.D. students at Stanford. Google essentially pioneered the concept of an Internet search engine. And their widespread success there led to rapid growth in other industries. Google LLC has had notable success with artificial intelligence, online advertising, cloud computing, e-commerce, consumer electronics, mobile operating systems, and quantum computing.
Google has been so successful that they're often the default choice within many different technological spheres. For example, they've created Gmail, Google Maps, the Chrome web browser, and YouTube. Many of their biggest successes are less apparent. For example, Chrome's rendering engine powers many other browsers, such as Microsoft Edge. Google is known for big success stories. But the underlying reason is the company's willingness to experiment with innovation. And the Google Glasses are a great example of that propensity.
Video: How Google Search Works
Google's Take on Augmented Reality (AR)
Augmented reality (AR) is a relatively common phenomenon. For example, many popular phone apps make use of it. But there was a time when AR was rare and mostly unknown to the general public. Google was among the first large tech companies to work on it.
Google created what's known as a software development kit (SDK) for augmented reality developers to use on their projects. This was initially known as Project Tango but has since evolved into the Google Play-affiliated Google ARCore. ARCore vastly simplifies the process of writing apps that can leverage augmented reality.
Google has also integrated augmented reality elements into many of its services, like Google Maps. Google Lens also provides more advanced AR integration. The service has grown from a basic translation app into something that can translate items to the metaverse. But Google Glasses are an incredibly intriguing and famous take on AR.
Video: Make the world your canvas with the ARCore Geospatial API
Google Glasses: The Initial Version and Release
The first Google Glasses prototype appeared in mid-2011 as part of Project Glass. The glasses looked like a standard pair of eyeglasses with lenses replaced with a heads-up display (HUD). The prototype was an unwieldy 8 lbs. But by 2013, Google had reduced that to the weight of sunglasses.
By April 2013, Google was ready to release the Google Glass Explorer Edition to Google I/O developers. Access was limited and carried a $1,500 price tag. People began to receive their Google smart glasses in the mail by 2014. This is also the point where the public began to raise privacy concerns about the product. People were worried about the possibility of Google Glasses users covertly recording them. This would, in turn, lead to some restaurants and businesses banning the glasses before they even had a true public release. Many people assume that was the end of the story.
Video: Google Glass How-to: Getting Started
The Return of Google Glasses: Enterprise Edition 2
Google Glasses largely faded from public view in 2014. But Google never stopped the development of its glasses. Changing markets opened up new opportunities for professional use of Google's technology, and in 2019 Google released the 2nd edition of its Enterprise Edition glasses. The technology is aimed at healthcare, manufacturing, and warehouse logistics positions.
Google's marketing often focuses on smart glasses allowing professionals to multitask with electronics without needing to hold any devices. Google also announced a new prototype of their augmented reality glasses at the May 2022 I/O developer conference.
Video: Glass Enterprise Edition 2: A hands-free device for smarter and faster hands-on work
Features of Google Glass Enterprise Edition 2
The new version of Google Glasses is a significant improvement over the original. Everything from the hardware build to the end-users experience offers something unique. The glasses provide a whole platform to explore. But the following features give a good overview of what they can do.
The Build
Google glasses can pack a lot of power into a surprisingly small package. And the Enterprise Edition 2's titanium-based design only weighs 51 grams. The lightweight is a significant benefit given that professionals will want to wear the glasses throughout their workday.
But the build also highlights a stylish design that won't be noticeable in normal day-to-day activities, as the glasses fit within any social context. These points give it a significant advantage over AR devices from competing for metaverse brands. Despite the lightweight design, the glasses can handle reasonably heavy processing thanks to Qualcomm's Snapdragon XR1 processor.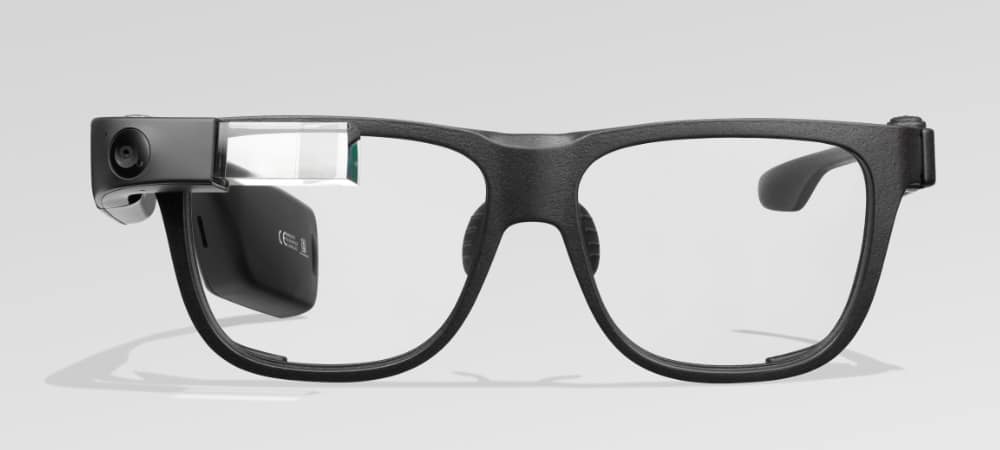 Image attribution: Google
Visual & Audio Specs
Google packed a lot of power into a 212x57x29 mm frame. This is largely thanks to its use of Qualcomm's Snapdragon XR1, which also aided the platform's transition to Android. Google glasses provide a 640×360 RGB display to users. And it even has 3 near field beam-forming microphones.
The glasses can capture images and video up to 1080p and 30 fps. The combination of high power and small size makes it an impressive offering among metaverse companies. The XR1 even lets the glasses perform advanced processing. For example, programmers can incorporate computer vision and machine learning into the glasses.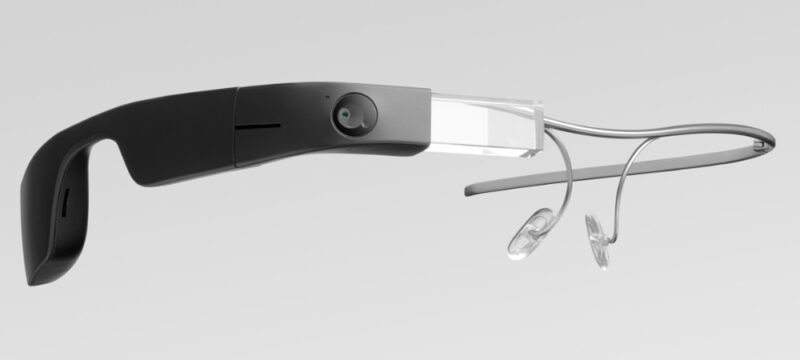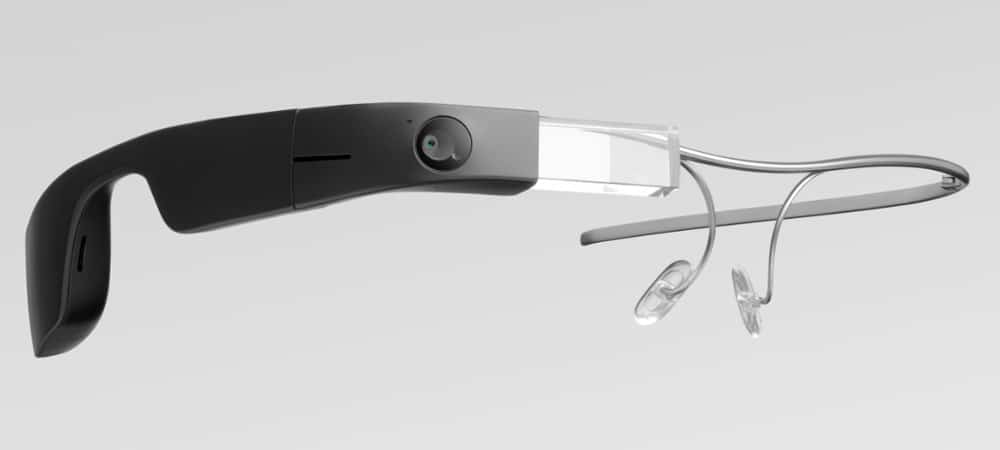 Image attribution: Google
Controls
Google Glasses Enterprise Edition 2 provides users multiple options for their preferred control scheme. The glasses have speech recognition, which lets them respond to the wearer's voice. This is extremely useful for hands-free control of Google glass. The Google smart glasses can also be controlled through touch sensors.
The right side of the glasses provides a touchpad and selection button. The temple possesses a separate selector and power button. Metaverse startups working with AR often devise unique controls. But Google has created intuitive and easy controls without the risk of distraction from ongoing tasks.
Image attribution: Google
The Experience
The experience of using Google Glasses is largely centered around the hands-free advantages. It allows people to combine access to reference materials with in-depth tasks. Additionally, the view of those materials doesn't interfere with one's normal range of vision.
The Enterprise Edition 2 displays all data at a fixed point above the user's field of vision, so it never gets in the way. The glasses can even connect workers. People can essentially share what they see with others through a live stream. This makes it easy to collaborate on complex tasks even when a co-worker is off-site.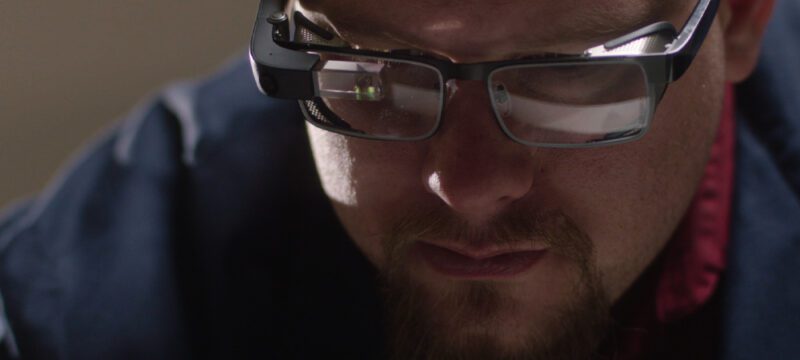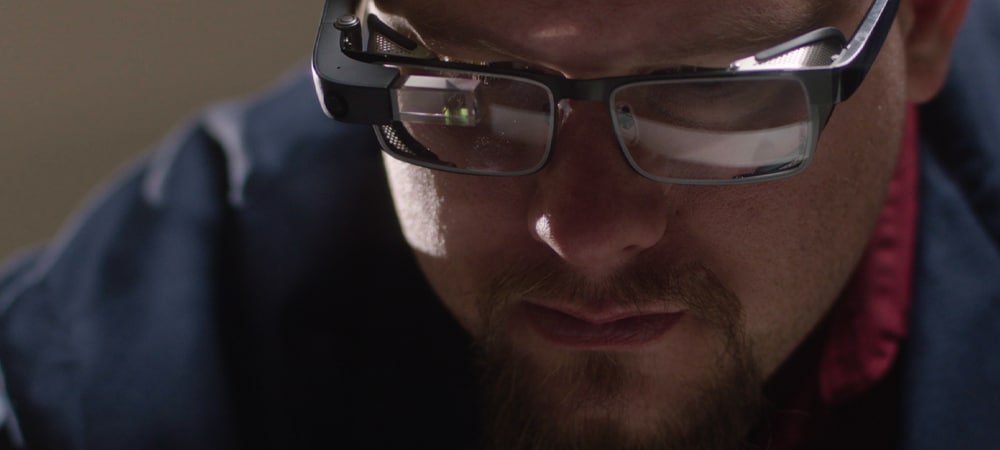 Image attribution: Google
Highlights
This new version of Google Glasses possesses some significant new features. One of the most impressive is its ability to translate language in real-time. The speech shows up as translated text within the glasses HUD. The glasses also open up various communicative possibilities for the hearing impaired.
The glasses can take spoken communication and transcribe it onto the HUD. The new Google Glass also incorporates advanced hand-tracking. This may well form the foundation of automated sign language support. Either for communication or in-unit controls. While these functions are all varied, they share a common theme of enhanced communication.
Video: Breaking down language barriers with augmented reality | Google
The Price of Google Glasses
It's essential to remember that Google glasses aren't currently available to private individuals as Google exclusively targets professional spaces. As such, you need to get in touch with either Google or their suppliers if you're interested in Google glass.
The prices also tend to reflect that higher-priced market. The exact cost of Google glasses is expected to vary over time, especially in the next 12 months, as other vendors enter the enterprise-level smart glasses market.
Public and Corporate Feedback & Opinions
The original Google Glass is considered a failure within the general consumer market. Especially given that it never even made it to widespread availability. However, this allowed Google to focus more heavily on the enterprise-level market. This has led to something that's both the device's most prominent benefit and detriment. Google glasses are an advanced piece of technology that's not very user-friendly. And there's not much need for it to be when it's targeting business users.
A business user doesn't need an app store or the like. It just needs to be easy for a company's IT department to develop for and deploy in a pre-configured state to co-workers. And it's been a success in that respect. Companies like DHL, AGCO, and Boeing have reported increased operational performance thanks to the glasses. Likewise, with overall efficiency. The Enterprise 2 is a success so far in terms of general feedback.
Google Glasses and the Broader World of VR Gear
Google glasses are an exciting part of the larger world of extended reality. But there's a whole trove of other technological treasures to discover. Virtual reality, in particular, provides users with various options. VR headsets are part of the larger world of VR gear.
But you can also find selections as diverse as virtual reality suits, gloves, treadmills, and even shoes. And these items often meld into both the professional and consumer markets. The article "VR Headsets; Your Complete Guide to the Top Virtual Reality Gear" reveals to you just how wide the VR market is.
The Many Elements of Mixed Reality
The original Google glasses introduced many people to an entirely new concept. The idea of augmented reality hadn't been brought up much when Glass first entered public awareness. But the world is now at a point where AR is relatively well known. And AR tech innovations have created mixed reality (MR).
New devices are poised to do for that subject what the original Google glass was able to accomplish for augmented reality. You can learn more about the new field of MR in the article "Mixed Reality; Everything to Know About MR Technologies".
Google glasses are very tightly focused on the enterprise-level market. But it's important to remember that all of these trends are part of a larger whole. One that you can always participate in by checking out the latest new developments.

Did You Like This Article About Google Glass?
You might also be interested in the following articles: