Tech blogs are one of the best ways to stay up to date. But every year brings innovations. To stay on top of things, you'll also need to follow the best tech blog for any given subject. You'll soon find out which tech blogs are the best news sources for various topics. You'll always stay up-to-date by following them.
Quick Menu:
What is The Importance of Technology?
Why are tech blogs so important? It's because technology itself is a unifying force in the world. It connects processes and tools while facilitating the exchange of information. New technologies help people and companies solve problems, optimize time usage, and even save lives. Anything people do can be optimized with technology. And new technologies always hold the possibility of taking those improvements to the next level.
As the 21st century moves forward, the world becomes increasingly tied to developing technologies. This will ultimately result in every aspect of society improving alongside it. Humanity benefits as technology improves.
What Are The Benefits of Following Tech Blogs?
The importance of technology goes hand in hand with tech blogs. A tech blog presents new and developing technologies from the perspective of various expert writers. This provides you with the context needed to see precisely where these technologies are heading.
The foresight provided by tech blogs can help someone within the business sector be seen as a leader with solid credibility. After all, people want to follow the lead of someone who can see past the horizon to a new technological future.
Keeping up with tech blogs also means that you're constantly learning. You're learning about new techniques, tools, and applications. Along with that, you'll be imagining new ways to use those new innovations. You'll be creating new ideas to use those tools and won't be caught unaware when developing technologies appear. Being ready to use tech when it's released is a huge advantage. Likewise, it means that you're prepared to find and create the new opportunities presented by these technologies.
Every new technology opens the way for new projects, experiences, and explorations. Following a tech blog means that you aren't just finding out about new technologies. It means that you grow along with them.
7 Big Tech Blogs Discussing Multiple Tech Topics
These first seven tech blogs cover technology as a whole. These blogs examine almost any imaginable aspect of modern technology. The amount of material covered in these blogs can be more significant than more specialized ones. But they also provide a much broader scope within the tech world as a whole.
The Verge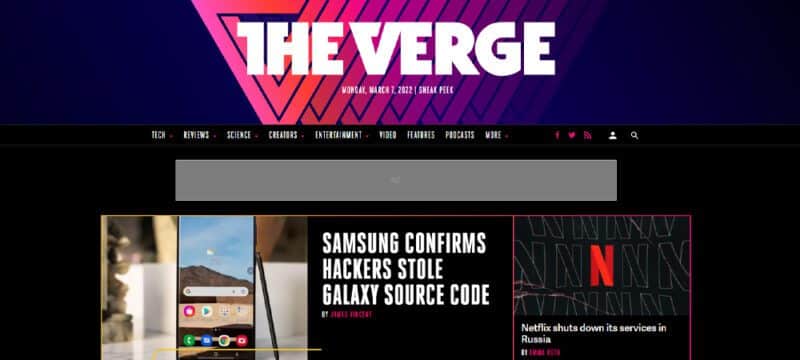 The Verge is one of the tech blogs with a generalized focus on the entire tech ecosystem. It successfully tackles that problematic task thanks to a combination of longevity and highly talented writers. The blog has been around since 2011. And in that time, it's amassed a staff with a disparate set of backgrounds. All of this has centered around a singular focus on technology. The result is a tech blog with expansive coverage.
Click here to go to The Verge.
Wired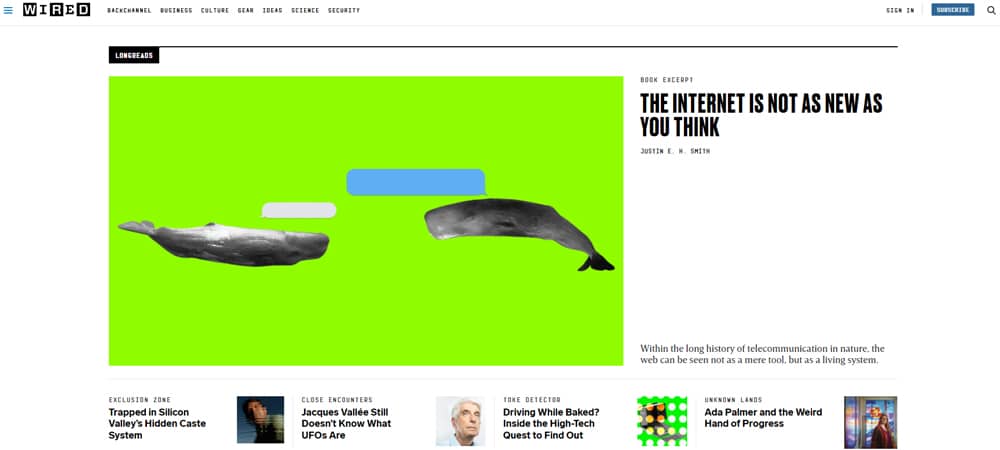 Wired was initially launched in 1993 as a print magazine. Over time it transitioned into the online blog format seen today. The background in print has made it one of the oldest tech blogs and solidified a particular style. Wired is a tech blog with a particular type of polish often seen in print. It doesn't just talk about tech news. Instead, Wired brings tech news to life with visual flair.
Click here to go to Wired.
VentureBeat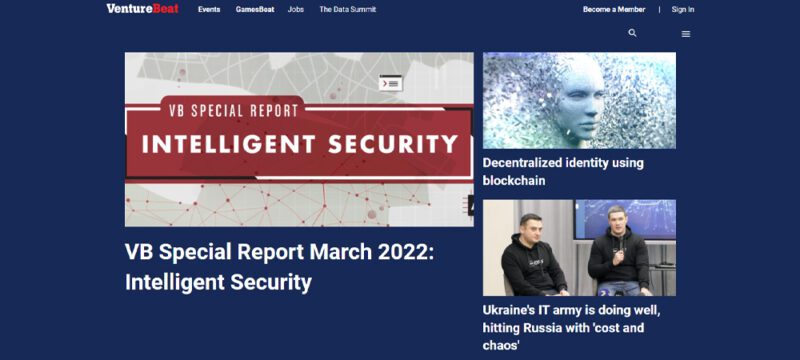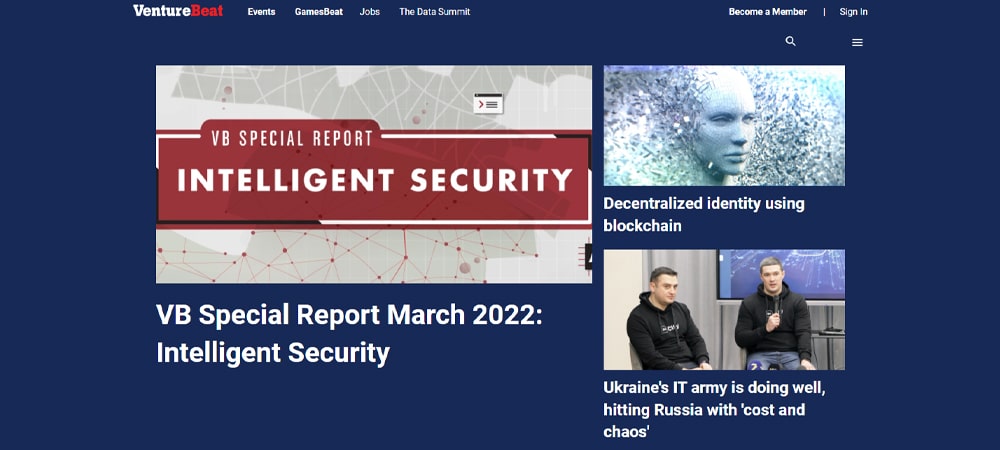 VentureBeat is a tech blog founded in 2006 to cover many technology-related subjects. Its longevity certainly proves that it's been able to do so. It has 6 million unique visitors per month with about 12 million page views. VentureBeat covers almost everything related to technology. But it's particularly noteworthy as one of the tech blogs that provides expert coverage of AI and machine learning. All are covered with an impressive style.
Click here to go to VentureBeat.
CNET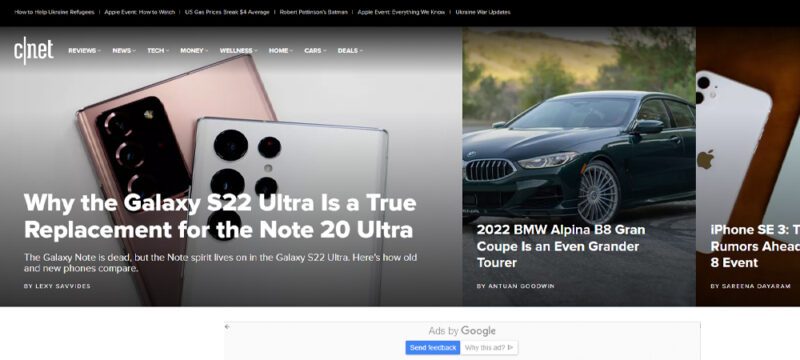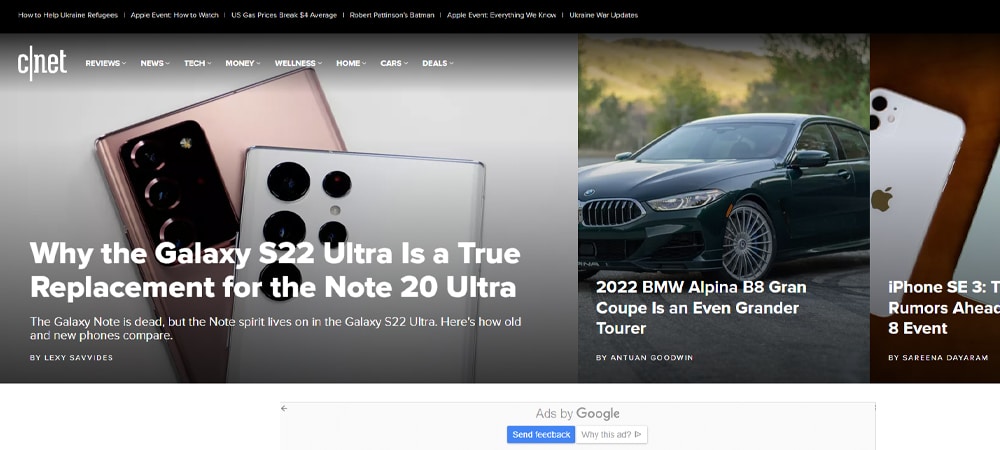 CNET is a foundational tech blog even among the older tech blogs. It was created in 1994 when computers were still seen as somewhat exotic. Since then, CNET has always sat on the bleeding edge of technological innovation. CNET's coverage extends beyond standard tech news to look into some of the social effects. This can include product reviews and highlights how technology impacts health, wellness, and entertainment. CNET's lengthy history translates to admirable dependability.
Click here to go to CNET.
Gizmodo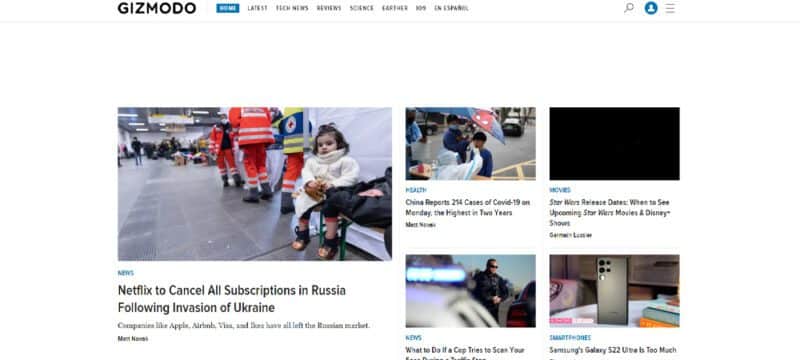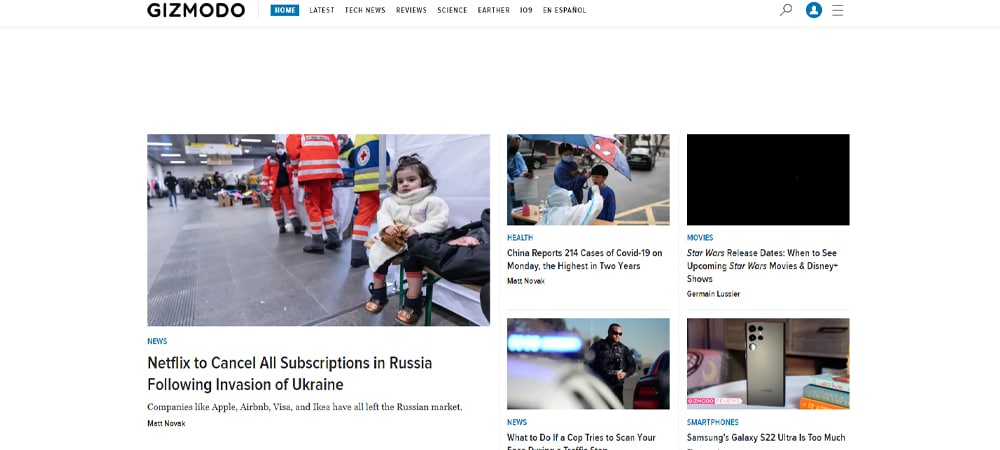 Gizmodo sits among the tech blogs as a noteworthy example of general interest. If something relates to technology, then it relates to Gizmodo. Gizmodo tends to have a more significant focus on science as a whole. This focuses on technology discussions with issues such as environmentalism or labor concerns. Part of Gizmodo's appeal is the unique tone found within this tech blog. It presents tech news with in-depth coverage that's highlighted with humor and transparency.
Click here to go to Gizmodo.
Digital Trends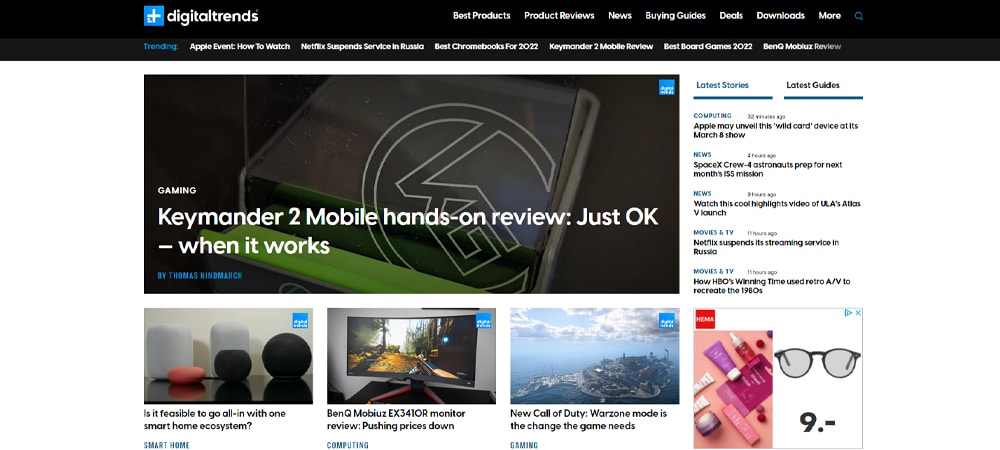 Digital Trends is a part of the larger Digital Trends Media Group. It has a mission to cover tech in a way that helps inform people's lives. Digital Trends isn't a tech blog content on just describing the technology. Instead, it's among the tech blogs that work to show how these new technologies can be used to reshape life and the world. Digital Trends portrays technological innovation through a human lens. This elevates coverage beyond specs.
Click here to go to Digital Trends.
Mashable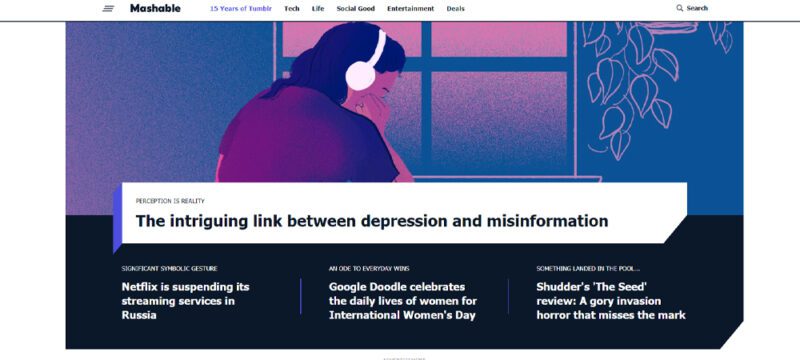 Mashable is another one of the tech blogs with admirable staying power. It first came to public attention in 2005. Since then, Mashable has become one of the most popular online sources for tech news. At last count, it had over 3,200,000 fans on Facebook and 6,000,000 followers on Twitter. This tech blog presents its news in a way that casually mixes genres and topics. Mashable helps ensure readers see a broad overview of the news.
Click here to go to Mashable.
4 Tech Blogs Specialized in The Metaverse
The following four tech blogs specialize in one essential new technology – the metaverse. The metaverse is one of the most important and rapidly developing technologies for the future. And each tech blog focusing on the metaverse brings a different perspective on this critical new technology.
Building The Metaverse Blog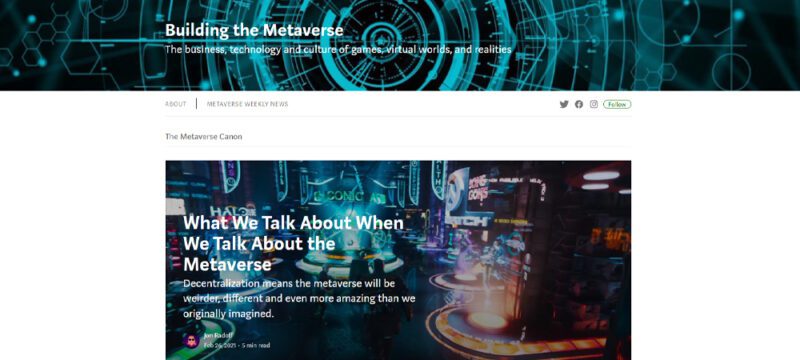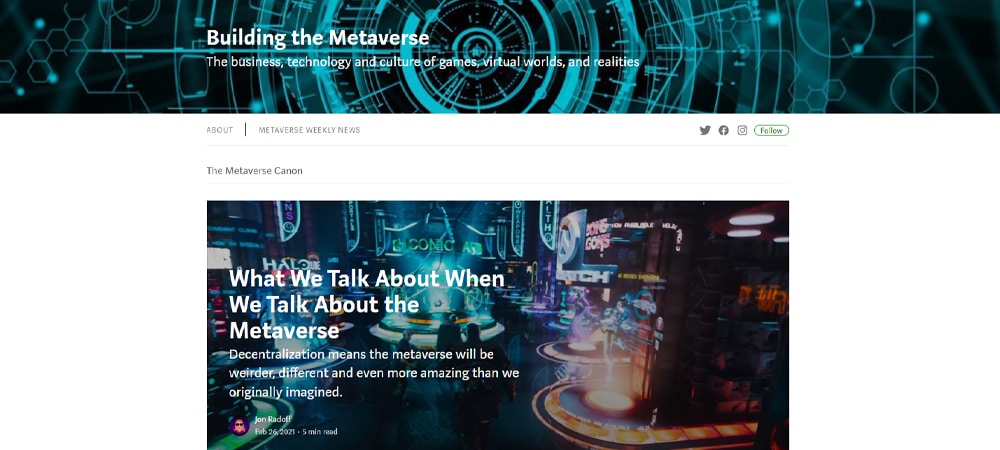 Building The Metaverse Blog is created and written by John Radoff. Radoff is best known for "drawing up" the seven layers of the metaverse. This large-scale examination of the metaverse is quite typical for the tech blog. Tech blogs typically look at the metaverse. But Radoff does so with a particular insight that's uniquely his own. He doesn't just examine the entire metaverse; he analyzes it down to the most fundamental or essential components.
Click here to go to Building The Metaverse Blog.
Metamandrill.com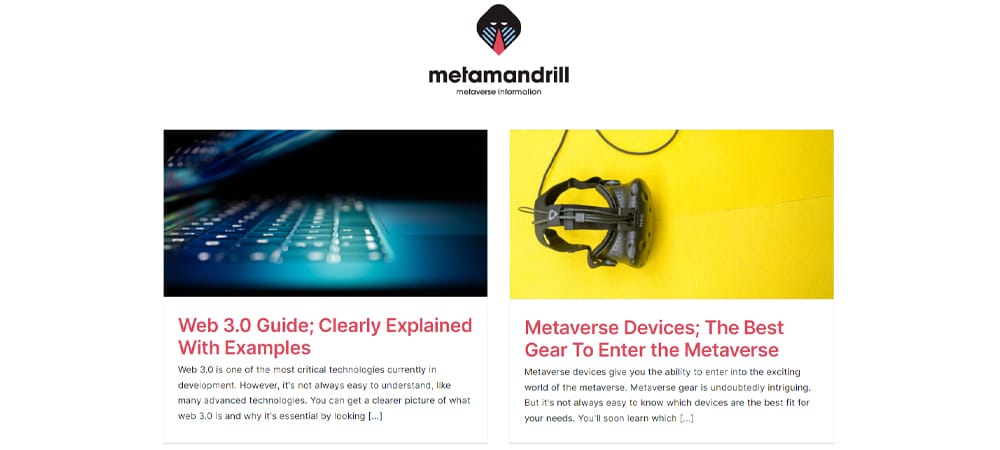 MetaMandrill.com is a tech blog that seeks to inform and educate readers about the metaverse. The blog works from a perspective based on the fact that the metaverse merges the online world with the physical world through the latest technologies. Because the metaverse is experimental, nobody knows how it'll turn out. But the complexity can be explained to readers. Metamandrill.com is a tech blog that essentially makes the metaverse world clear.
Click here to go to MetaMandrill.
MatthewBall.vc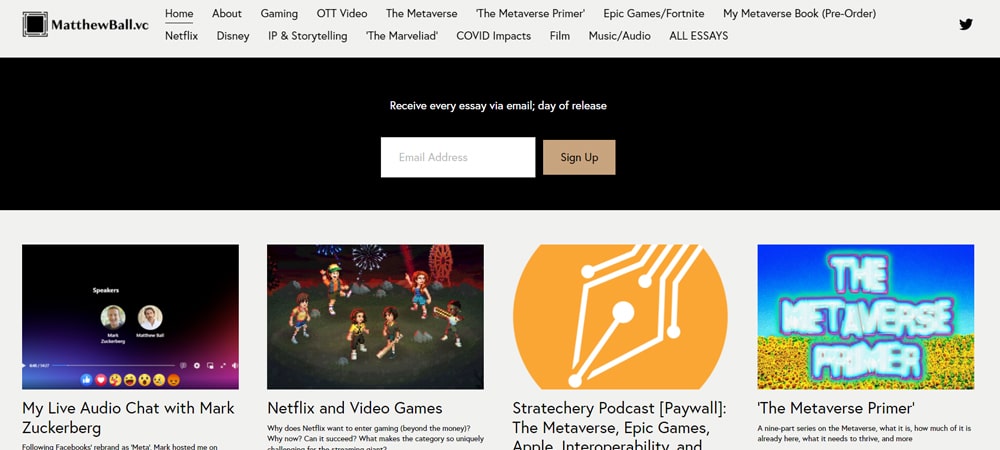 MatthewBall.vc is a tech blog whose focus on the metaverse also comes with business expertise. Its author, Matthew Ball, has a strong background in business. This makes it one of the tech blogs with the most substantial focus on the business of the metaverse. For example, he can talk about or even with Mark Zuckerberg concerning Facebook's expansion into the metaverse. The blog sits as a primer on the intersection of business and metaverse.
Click here to go to MatthewBall.
Ryan Schultz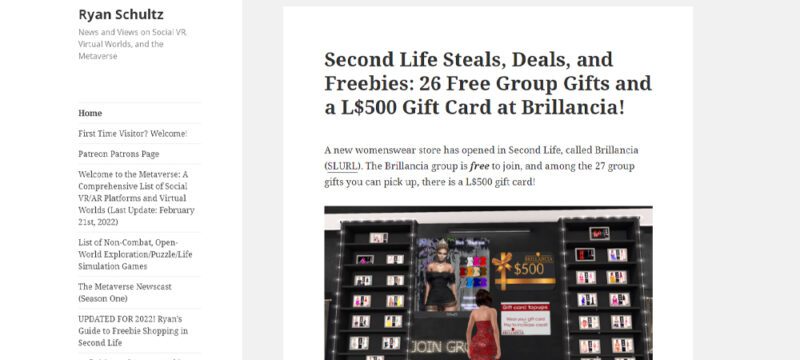 Ryan Schultz is a tech blog that is the eponymous creation of academic librarian and writer Ryan Schultz. It's one of the tech blogs to follow if you're interested in Social VR, the metaverse, and virtual worlds. As with many tech blogs, it's heavily informed by the author's expertise. In this case, a reader can see the metaverse from the perspective of someone who started over 14 years ago with Second Life's system.
Click here to go to Ryan Schultz.
4 Tech Blogs Specialized in Virtual Reality (VR)
The metaverse can be further examined in light of how users access it. Virtual reality, or VR, fully immerses users in the metaverse. Each of the following tech blogs gives people a different perspective on these new digital worlds.
Road to VR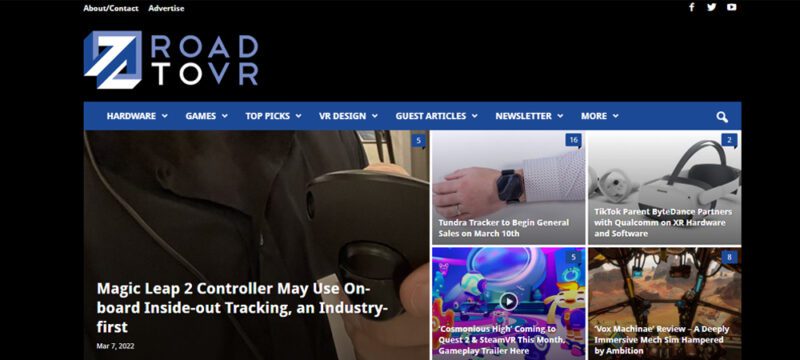 Road to VR has a special place among tech blogs thanks to its heavy focus on VR. As the name suggests, this tech blog is dedicated to everything related to consumer-oriented virtual reality. This is often realized by focusing on the VR trends that are most popular in the consumer market. For example, this tech blog typically deep dives into the most popular VR-oriented video games. And, of course, it looks into the metaverse.
Click here to go to Road to VR.
Upload VR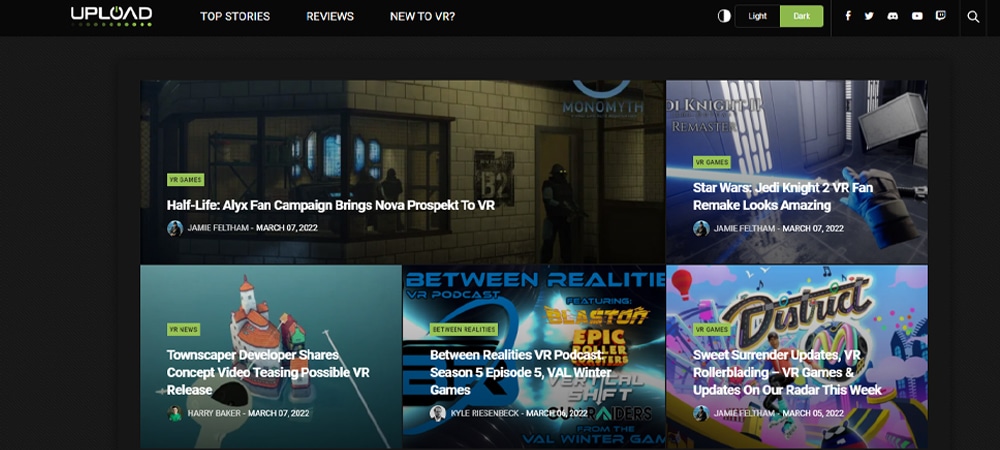 Upload VR is one of the tech blogs that focuses on VR by examining its more expansive world. Of course, this tech blog does cover the technical side of VR. But it also looks at the thoughts and lives of both researchers and developers who work on VR. Upload VR's unique viewpoint on VR culminates in a blog that presents a different side of the subject. Readers can learn about new tech and its developers.
Click here to go to Upload VR.
VR World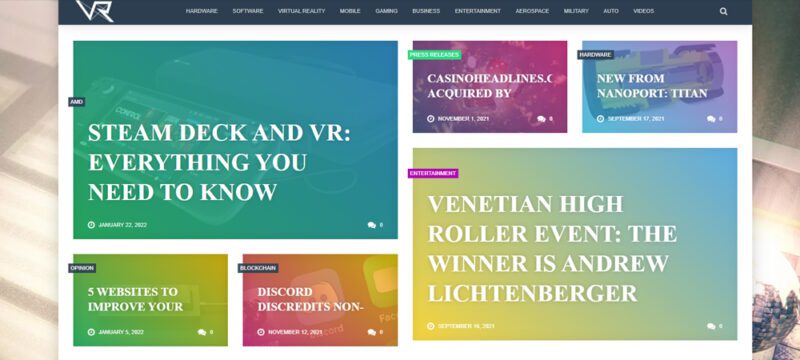 VR World is an online digest with a particular emphasis on VR. This is one of the tech blogs which leverages its impressive expertise to highlight how various new technologies work together. This includes covering white papers, trade shows, and innovative ways to use the latest tech. VR World is particularly notable for its ability to offer in-depth analysis. It tends to look at new tech in the context of a larger ecosystem.
Click here to go to VR World.
The Ghost Howls
The Ghost Howls is a VR-oriented tech blog written from the perspective of an author who's been invested in the industry since its earliest days. This particular timeframe often provides readers with a more foundational outlook than other tech blogs. For example, predictions for the future can be made by understanding how the past technology progressed to where things stand right now. This wide-scale provides an impressively broad view of where VR's heading.
Click here to go to The Ghost Howls.
4 Tech Blogs Specialized in Augmented Reality (AR)
People can also use augmented reality to access the metaverse. This typically overlays aspects of the metaverse on top of the natural world through specialized displays. The following tech blogs highlight new developments in the realm of augmented reality.
Next Reality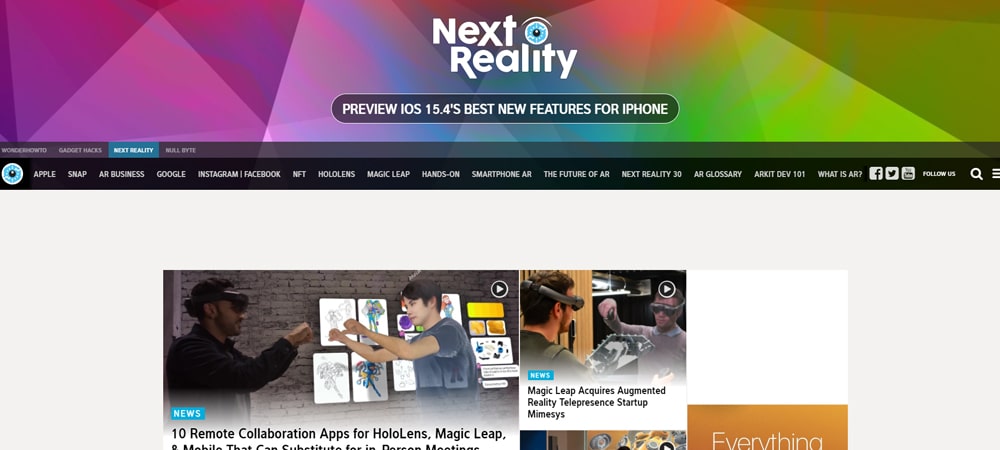 Next Reality is a tech blog that's part of the more extensive WonderHowTo network. It's heavily invested in the idea of offering a combination of focus and expertise. And Next Reality highlights that fact by providing an expert examination of topics related to augmented reality. It's one of the best tech blogs to follow if you're curious about AR. The blog covers the latest news related to AR. It also gives practical tips for AR users.
Click here to go to Next Reality.
AR Post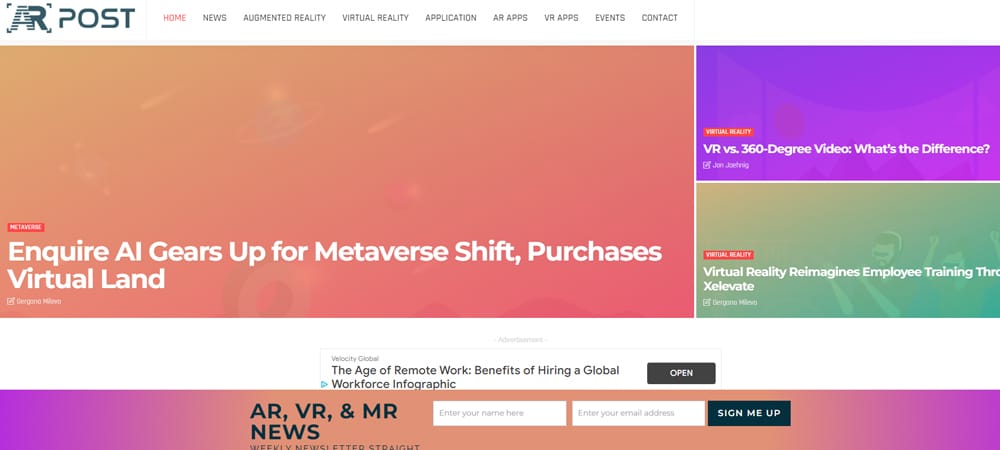 AR Post provides readers with the latest news and examination of topics under the larger XR banner. This includes augmented and mixed reality. And it also takes a look at VR-related topics. AR post is particularly noteworthy among tech blogs for its ability to examine how AR impacts people in different cultures, subcultures, and situations. For example, the AR Post might look at the intersection of AR and disabilities or sports.
Click here to go to AR Post.
AR VR Magazine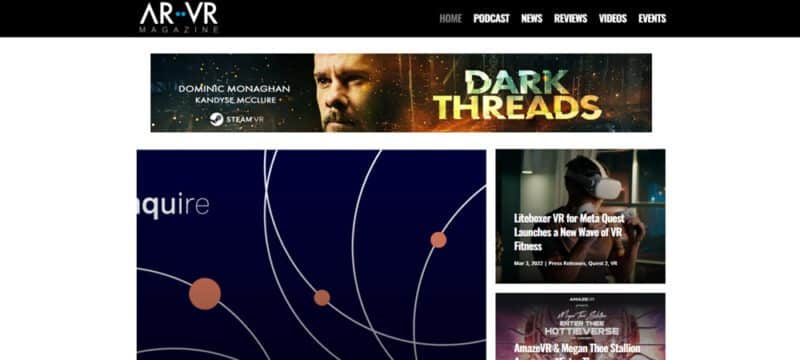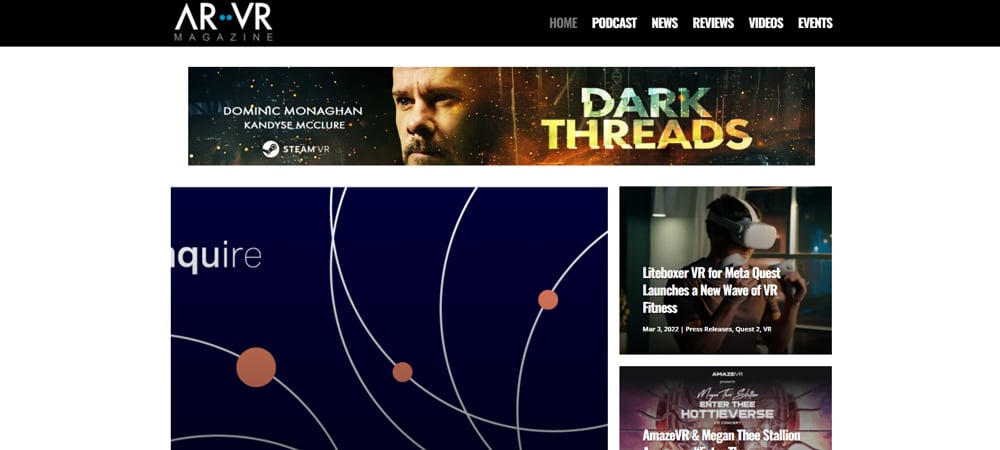 AR/VR Magazine is a B2B resource covering everything related to AR. On top of that, it looks into standard VR, sim-tech, and the other immersive experiences associated with the larger metaverse. This is one of the tech blogs which can examine AR from both a business and consumer perspective. It looks into the fact that these technologies are part of an industry that will shape the future. But it also examines the present.
Click here to go to AR/VR Magazine.
AR Insider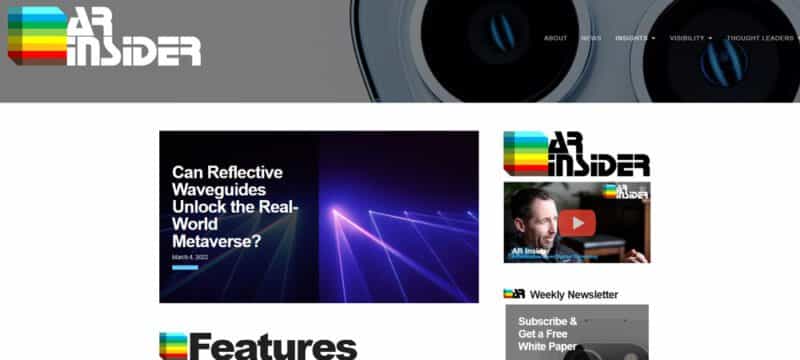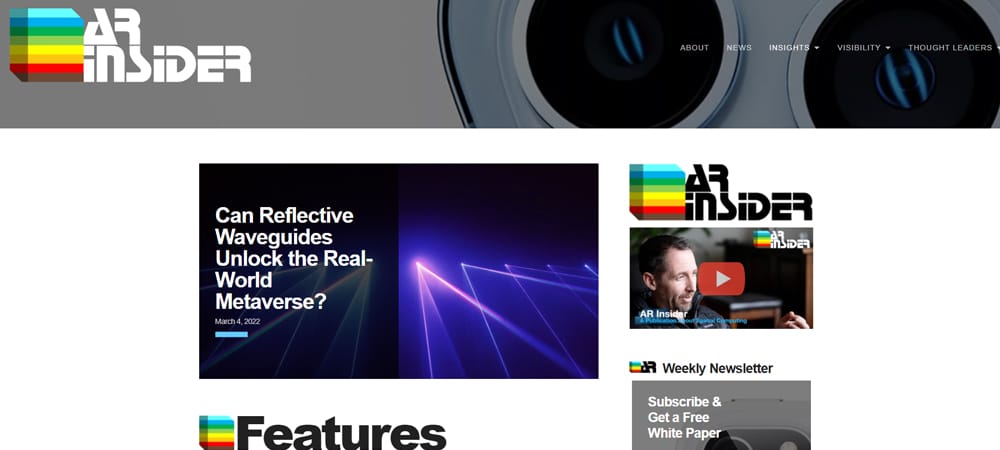 AR Insider is one of the tech blogs which presents AR information in a stylish magazine-style format. AR Insider works with a set mission statement that emphasizes analytical views of spatial computing. This essentially means that the analysts and journalists within AR Insider strive to provide readers with a disciplined and reportorial view of any given subject. Reading AR Insider provides people with an experience akin to reading an expertly researched magazine.
Click here to go to AR Insider.
Tech blogs have a lot to offer. It's essential to remember that every tech blog has something unique for the readers. By following these blogs, you're getting the chance to see and plan for the future.
Did You Like This Article About Tech Blogs?
You might also be interested in the following articles: