The Academy of International Extended Reality (AIXR) is proud to celebrate another ground-breaking year of VR excellence with today's announcement of the VR Awards 2022 Finalists. The nominees in line to potentially bring home a prestigious VR Award are some of the most distinctive, high-caliber submissions the Academy has seen in the history of the VR Awards. The Academy wishes the finalists all the luck as they enter this Year's judging stage.
Summary:
Schell Games' 'I Expect You To Die 2: The Spy And The Liar', Meta, Capcom, and Armature Studio's critically acclaimed 'Resident Evil 4' and Ramen VR's 'Zenith: The Last City' are among the finalists running for VR Game of the Year 2022.
The 'Pico Neo3 Link', 'Varjo Aero', and 'VIVE Flow' will be battling for the title of VR Hardware of the Year 2022 and non-headset nominees like the 'Maestro DK3'.
David Attenborough and Alchemy Immersive scored double nominations for VR Film of the Year with 'First Life' and 'Kingdom of Plants'.
Partnership AIXR and Immersive Tech Week
The 6th International VR Awards, the largest international awards ceremony celebrating outstanding achievements in the virtual reality industry, has announced its finalists for 2022.
After hosting the last two editions of the VR Awards virtually, AIXR is proud to bring the ceremony and celebrations back to real life in collaboration with Immersive Tech Week in Rotterdam, Netherlands. AIXR recently announced a unique partnership which means that the 2022 ceremony will be held live in Rotterdam at the venue: de Doelen on 1st December 2022. The collaboration between the two events is significant as it will allow ITW and The VR Awards to reach more immersive enthusiasts and professionals from around the globe.
The VR Award's expert judging panel will now deliberate over the finalists in preparation for the big night on 1st December 2022.
Tickets are now available! If you want to join the VR Award's 2022 ceremony celebrating all things VR excellence, please click here to book your tickets.
The Finalists of The VR Awards 2022:
Below you find the finalists of the VR Awards 2022 per category.
VR Healthcare of the Year:
Born Studios Limited – The Forest of Resilience
Fresenius Medical Care – stay. safe MyTraining VR
FundamentalVR – Versius in VR: A FundamentalVR and CMR collaboration
Ghost Productions – Ghost VRSE II Surgical Simulation for Spineology's Optimesh MIS
Spinal Implant
Osso – Osso VR: Virtual Reality Training for Surgical Teams
PrecisionOS Technology – Virtual Reality Training for Doctors Doing Orthopedic
Surgery in Low-resource Countries
SimX – Emergency Medicine Services (EMS) VR Simulation Training
Rendever – RendeverFit™
VR Medical – VR Medical
VR Education and Training of the Year
Avantis Systems – Avantis World
Digitalnauts – VBEE (Virtual Building Element Environment)
Fectar – Fectar MeetUp – work together in VR and AR – multi-user/multi-device
Flint Systems – Forklift VR training simulator
Immerse – The leading education metaverse platform
Ludus – LUDUS GLOBAL: TO INDUSTRY AND BEYOND
Make Real – Make Real Ltd / 55E5 / St James' Place Wealth Management – Immersive
Role Play
MEDIASQUAD GmbH – BRP-Rotax VR Safety Training
Nexefy Pty Ltd – The KiwiRail Infrastructure Programme
NextWave Safety Solutions, Inc. – Ladder Safety VR
Refense AG – Refense Advanced Tactical Training Simulator (ATTS)
Rezzil – Rezzil Index 2.0
VR Enterprise Solution of the Year
Accenture – Orchestra 1 – Supply Chain Control Tower of the Future in the Metaverse
Accenture GmbH (together with E.ON SE) – The Republic – The Community for
Sustainability
Contact CI – Contact CI Haptic Integration: Lightweight VR Training Simulators Enabling
High-Fidelity, Physics-Based Effects Within the Training Simulator
Dynepic – MOTAR (Member-Operations-Training-Analysis-Reports)
Immerse – Immerse Marketplace
Immersionn – Immersionn
Make Real Ltd – Make Real Ltd / Tunnelskills / CITB – VR Induction Suite
SEAT SA (SEAT & CUPRA) – Immersive Design Check (IMDCH)
Spinview – Spinview's Vision OS for Global Media & Entertainment
Spinview – Spinview's Vision OS for Transport for London
WaveFunction, Lda – Metaverse Car Showroom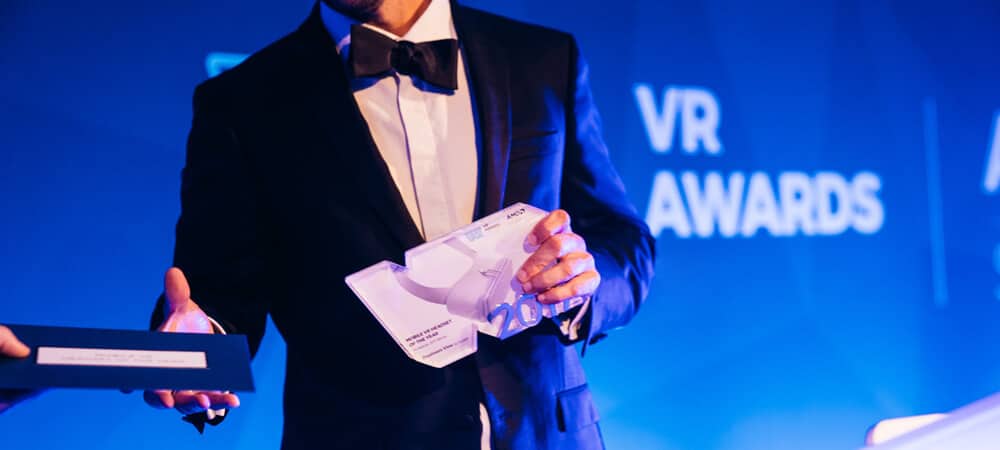 VR Social Impact Award
Big Rock Creative and Microsoft – Microsoft Pride: Pride has no borders
Cooperative Innovations Ltd – Museum of Plastics 2121
DiVRse Technologies Ltd – LGBTQ+ VR Museum
Edstutia – Barnga: Social Impact in Virtual Reality
Found Object Media – The Future of Energy
Hope for Haiti – Inspiring Hope
Lucid Reality Labs – Seeing the Problem
Magika VRx – Hospice Savannah – SCAD – VR for Good: Transforming End-of-Life and
Palliative Care with VR
Naima Karim – The Anticipation of Rain
Upstream / Yazda / Surround Vision – Nobody's Listening
Virti / Maudsley Learning – VR to tackle discrimination and inequality in mental health
Care
Rising VR Company of the Year
Anotherway
Born Studios Limited
GeniusX Inc.
Shattered Lands
VR Future
Innovative VR Company of the Year
Andromeda Entertainment
ARuVR Ltd
Emerge
FundamentalVR
Future House Studios
Immerse
Magos
nDreams
NXRT
Owlchemy Labs
Rezzil
Sensorium
The Edge VR
VR Location-Based Entertainment of the Year
BackLight – Ascenders
Divr Labs – The Lost Lab
Emissive / Orange – Eternal Notre Dame
INFINITY Experiences – THE INFINITE
Museum of Future Experiences – Gnosis
Red Bull – Red Bull The Edge Matterhorn VR
Red Raion / Loveland Living Planet Aquarium – The Ecosystem Exploration Craft &
Observatory (EECO) Voyager
SPREE Interactive – Battery Powered VR Bumper Cars
Universal Studios Japan, Osaka – Monster Hunter World: Iceborne XR Walk
VIRTUAL ZONE NEXUS SL – Dead Mansion
VIRTUAL ZONE NEXUS SL – INVASION
XR Immersive Tech – UNCONTAINED Hyper-Immersive VR™
VR Marketing Campaign of the Year
canVERSE – Arksen 85 Digital Twin
INVIDAR – Milwaukee HUB
MyDearest, Inc. – Project: Gathering
NEKONATA XR TECHNOLOGIES GMBH – XQ Avatar by NXRT
Philips – The Wonder of You
VR Film of the Year
Alchemy Immersive – David Attenborough's First Life
Alchemy Immersive – Kingdom of Plants with David Attenborough
Atlas V, Arte France, BBC, Serendipity, PTS Taiwan, Wild Fang Films, GIIOI – Missing Pictures
Baobab Studios – Namoo
CityLights – Experience Yosemite
Fluffy Cactus – Diagnosia
Infinite Frame Media – The Choice
New Canvus – Lustration
TARGO – Surviving 9/11
Virtual and Physical Media Integration Association of Taiwan – Samsara
VR Experience of the Year
Really Interactive – Virtuoso
Film Addict – Le Bal de Paris de Blanca Li
Hakawati Studio – Wamdah | Journey to the future
Interactive Media Foundation – MYRIAD. Where we connect. | VR Experience
Meta Platforms Inc. – Post Malone's Twelve Carat Toothache: A VR Experience
Meta, ARTE France, BFI; Archer's Mark, Atlas V – On The Morning You Wake (To the
End of the World)
Schell Games – Lost Recipes
SENSORIUM – Out-of-This-World Experiences
The MetaMovie – The MetaMovie Presents: Alien Rescue
YORD – LifeboardVR | YORD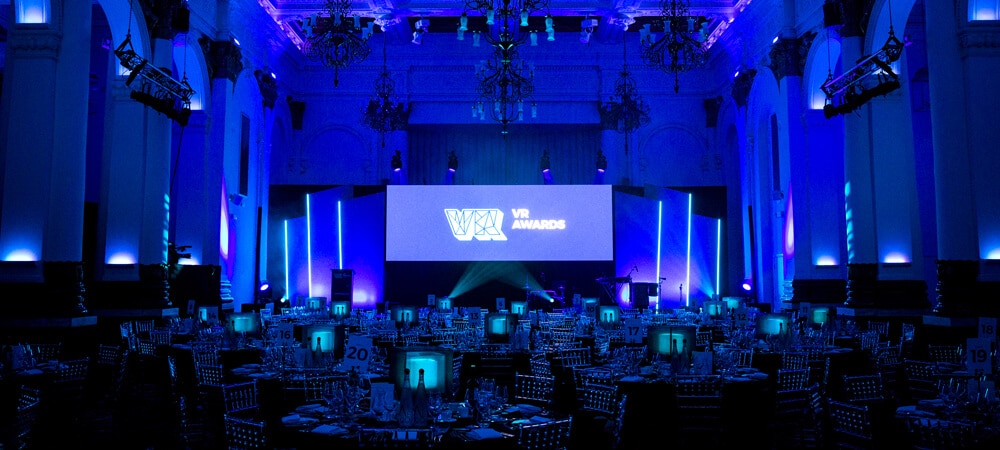 VR Hardware of the Year
Contact CI – Maestro DK3
Emerge Inc – Emerge Wave-1
Pico – Pico Neo3 Link
Varjo – Varjo Aero
Vive – VIVE Flow
Vrgineers Inc. – XTAL™ 3 Mixed Reality
VR Game of the Year
AEXLAB – VAIL VR
AMATA K.K. – The Tale of Onogoro
Fast Travel Games AB – Cities: VR
ILMxLAB – Star Wars: Tales from the Galaxy's Edge – Last Call
Meta / Capcom / Armature Studios – Resident Evil 4
Mighty Eyes – Wanderer
Miru Studio – Finger Gun
Neat Corp – Garden of the Sea
POLYARC GAMES – Moss: Book II
Ramen VR – Zenith: The Last City
Ready at Dawn / Meta – Lone Echo II
Schell Games – I Expect You To Die 2: The Spy And The Liar
Vertigo Games – After the Fall
Click here for the complete list of finalists on the VR Awards website.
VR Awards Winners
In the article "VR Awards Winners", you'll find an overview of all winners of the latest international virtual reality awards.
Watch the (Live Stream) Video of the Latest VR Awards
In the article "Watch the International VR Awards Via Livestream", you can rewatch the latest VR Awards.